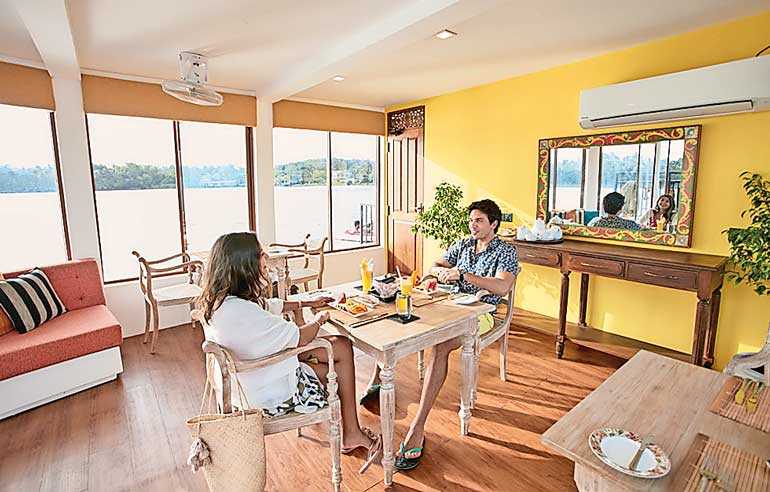 Love is in the air this February aboard the Flow Houseboats by the Amber Collection part of the Debug Hospitality and Leisure chain, offering several exciting and elegant experiences.

Flow by The Amber Collection has revolutionised the luxury romantic holiday experience by introducing three new exciting Valentine's Day packages till 8 February where this exclusive new offering combines relaxation and elegance with adventure and excitement!

'The Chill' package starting at Rs. 37,800 consists of a three-hour sunset cruise, BBQ dinner, two-hour morning cruise with Naturalist for bird watching, access to swimming pool and Jacuzzi at The Marina (our land based property), candle lit dinner and meals aboard a quaint and romantic setting where couples are invited to dine on an exceptional four-course set dinner amongst lotus flower tea lights and scattered rose petals for an unforgettable Valentine's Day experience.

'The Thrill' package adds in the couples Jet Boat ride while 'The Platinum package' further adds an adrenaline pumping Jet-Ski and Doughnut ride.

For those looking to celebrate a quiet evening cruising the Bolgoda Lake, 'The Valentine's Day Dinner Cruise' is the perfect experience guaranteed to be a breath of fresh of air.

Celebrate Valentine's Day with your loved one on an ideal romantic getaway aboard the Flow Houseboats. 'The Valentine's Day Dinner Cruise priced at Rs. 14,500 nett per couple consists of a five-course candle lit dinner in a romantic setting that exudes comfort and elegance.

With its classically elegant ambiance, enchanting lake views and delectable menu, Flow by The Amber Collection is the perfect place to share an unforgettable evening with your Valentine.

This exciting offer is valid on 14 February from 7 p.m. onwards. Anchored on the scenic Bolgoda Lake, the two purpose built houseboats, encapsulate the essence of a traditional Walauwa, the symbol of luxury living from bygone days, and are decorated with antique furnishings and wood carvings. The cabins are equipped with all the amenities and facilities required to enjoy a truly comfortable and luxurious holiday. The 'Flow 1' houseboat offers 1,500 sq. feet of space, with two bedrooms, while the 3,500 sq. foot 'Flow 2' is a three-bedroomed, two story houseboat which boasts a beautiful upper deck and lounge area. Apart from mesmerising lake views, the cabins are equipped with attached bathrooms, comfortable king sized beds, freestanding baths and outdoor dining areas.

You can wake up to the breathtaking view of the lake and either relax on deck while enjoying the natural environs of the lake or take the more adventurous route by exploring miles of rarely visited waterways and engaging in thrilling water sports such as jet skiing, kayaking, tube riding and jet boating.

Learn to fish in the traditional way from a local fisherman, enjoy a scrumptious barbeque with your catch, take an idyllic picnic to a surrounding island, refresh under a cold gushing water spout or explore the tropical flora, exotic bird and aquatic life on a morning cruise accompanied by our naturalist.

The Flow Houseboats are a unique getaway for even just a weekend, as they are situated in close proximity to Colombo. They also offer an exciting and different setting for events and occasions that can truly enthral your guests.

Flow is part of the Amber Collection, which is a high-end offering for business and leisure travellers by Debug Hospitality. Apart from Flow, the Collection consists of boutique serviced apartments under the brand 'FR 16' as well as 'The Marina', which is a marina, country-club style club house situated on the Bolgoda Lake.