The Maya Family Fiesta has been organised for our own fraternal inmates of the Apeksha Cancer Hospital, at the Maharagama Urban Council Sports Arena. The event, to get underway on 23, 24 and 25 November, has been organised by Fathima Himaya Niyaz, a mother of two, and hers is a very special story. Here is a Q and A with Himaya: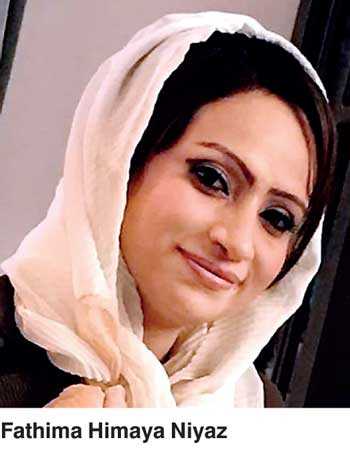 Q: What's your motivation behind organising such an event?

A: From my young days, I had nurtured this dream that I should earn something with the sweat of my own brow, and do something useful for my country. I run my own salon. It is in the meanwhile, that I got to associate with the Fight Cancer Team. I consider it my good fortune to meet with this volunteer group of people. I felt I am serving the needs of somebody by my own effort, by teaming up with this set of folk. It is along with this sentiment that I began to realise that I have to do something with my hard earned cash for cancer victims. This is how I began organising this fiesta.

Q: How did you decide to set aside the money realised through the Fiesta, for the purpose of the welfare of cancer patients?

A: I met many cancer patients while I worked with this group. In all of those instances, I was severely affected mentally, watching their plight. Sometimes I used to think all day about them. We do not know the path our lives would take in the future. I decided to donate the money realised through this project, to the welfare of cancer patients, because I thought I should do something, when I am still able to.

Q: Please tell us how you teamed up with the Fight Cancer Team?

A: A close friend of mine is one of its members. He made me a part of the event surrounding the first scanning of a patient with the PET scanning machine. I was then able to make a full tour of the Apeksha Hospital, and to talk to the patients there, and empathise with their pain, and their plight. I was deeply hurt seeing as I did the suffering of these people who were engaged in a battle between life and death. Several times, I broke down and cried. I decided to join the Team so that I would be able to do something for these folk. I witnessed first-hand the experiences of those who were cancer victims, even as we were enjoying our lives, being able to eat, drink and be merry.

Q: A special feature of the event is dedicated to children, you said?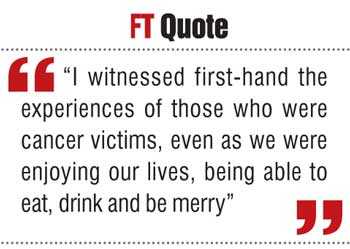 A: Yes, I spend most of my leisure hours with kids. I'm a mother of two kids too. Children have minds as fragile as flowers, and they are so innocent. The Himaya Maya Family Fiesta event is exclusively for the entertainment of kids. I made Uncle Upul who organises events for the benefit of children a part of this effort, and he has incorporated magic shows, and activities such as face painting, into it. There are musical shows with the participation of Sri Lanka's most talented musicians. I enjoy along with the children, more than I enjoy watching them having a good time. I believe we must be their age, rather than make them act ours. I ask parents earnestly to bring their children along for this fiesta.

Q: Who helps you organise this event?

A: My husband is of tremendous assistance. He sacrifices his own time dedicated to his business ventures, to ensure that my goals in this regard are met. Also I would like to take this opportunity to convey my gratitude for media friends as well.

Q: Please tell us about your future plans?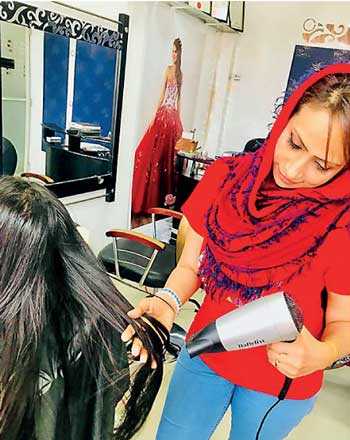 A: I would try to do the best I can for the Apeksha Hospital. If anyone desires to do anything for the patients there, I urge them to stop thinking and get involved. I am organising this Fiesta with good intentions. I need the strength to reach my goal. I will not stop at that, if this mission is a success. I hope to assist patients in a different hospital in the same way. There are many people, such as kidney and heart patients who suffer in silence. A patient is a victim in serious need, and the family members suffer along with such a person. I learnt this at the Maharagama Apeksha Cancer Hospital.

Q: How does anybody get in touch with you?

A: Himay Bridal Salon is my workplace, and anyone can meet me there. I am someone who derives pleasure from making someone happy, stylish and fashionable. You could also connect with me on Facebook on Himaya Bridal, and you'd be able to learn about the work I do. Also you can contact me via this number: 077 799 9438.