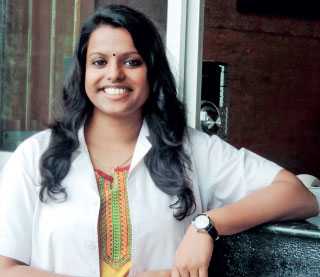 Dr. Sruthi Thejus
---
The Swami Vivekananda Cultural Centre (SVCC), High Commission of India, Colombo in association with Kerala Samajam of Sri Lanka will be holding a lecture on 'Ayurveda Approach towards immunity and stress during COVID-19' by Dr. Sruthi Thejus from Kerala on Friday, 31 July at 6 p.m. on SVCC, Colombo Facebook page https://www.facebook.com/ICCRSriLanka.

Dr. Sruthi Thejus is an Ayurveda Doctor and Co-Founder of Enliven Veda Ayurveda and Yoga Retreat Centre, from Thrissur, Kerala. She has completed her BAMS from GAM & RC, Goa University and specialised in Dietetics and Nutrition. Dr. Sruthi belongs to a traditional Ayurveda family from Thrissur, Kerala which has the legacy named Sidhavaidyashramam.

Her dream is to spread awareness about Authentic Ayurveda and that's how Enliven Veda evolved, with an idea of redefining and restoring life for a healthy generation. The thought behind establishing it is to serve and share what have been acquired through traditions, literatures and years of experiments, studies, along with experiences.