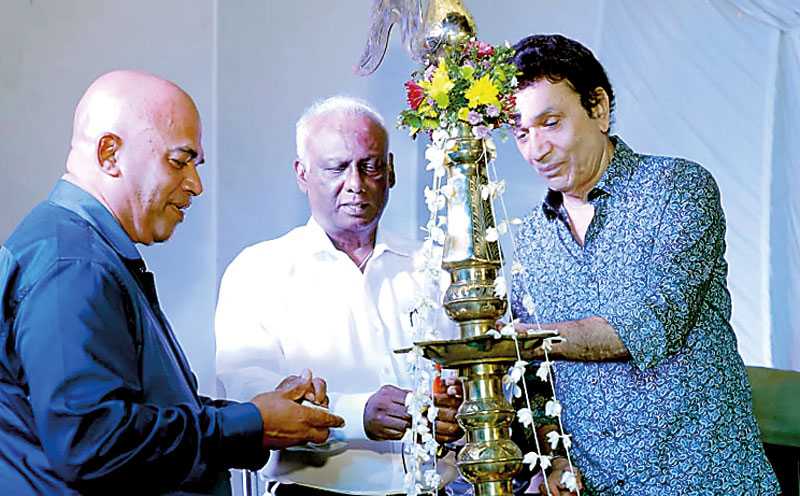 Sunil T. Fernando with Jayanatha Dharmadasa and Ravindra Randeniya at the launch
---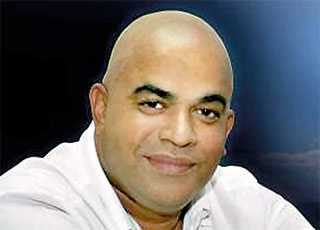 Chairman Sunil T. Fernando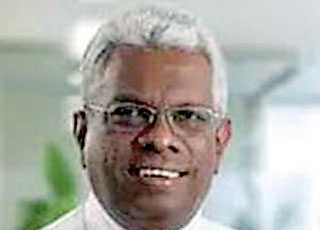 MD Udaya Kanth Fernando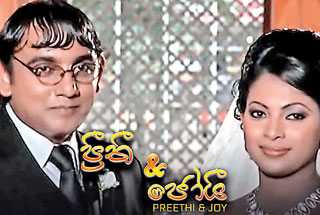 A scene from the film 'Preethi and Joy'
---
Most industries today in the world are suffering due to the pandemic situation and Sri Lanka is no exception. Major foreign exchange earning industries, factories and other ways of living are at risk due to this situation. The film, music and entertainment industry is the very first segment to cease operation under these circumstances. Thousands of direct and indirect employees of the film, music and entertainment related industries are at risk or already economically sinking without a way of living due to this situation.

Like musicians, film makers, actors and actresses and all connected employees are at risk of losing their jobs. In fact the people are wondering whether year 2020 is to remember or forget. Well in this challenging world, that surely was a year to remember.

This applies to Sri Lanka too. From the once-in-lifetime extraordinary experiences we had, there is a need to convert those as opportunities; to embrace, learn, and reflect on – how to make things differently towards the betterment of our lives, making the future more meaningful and purposeful.

Creating a 'digital platform' seems to be the correct solution for most of the questions. Schools are now on digital learning platforms, daily businesses are on digital platforms – virtual meetings, webinars and work from home through digital media.

Like everything else, the entertainment industry too now goes digital with virtual concerts, digital screening for films, digital platforms for performers and live web concerts, etc.

In this context, Sunil T. Fernando, the magnate in the Sinhala cinema production, has taken a bold step forward to adapt the local cinema to the 'new normal' environment in order to protect the local film industry. Popularly known as the founder of Sunil T Films, the largest producer of Sinhala films, with 72 productions to date, Fernando has now embraced the digital arena to make our local industry to be on par with global standards.

In doing so, he has partnered with an emerging digital learning platform provider, Learning Management Solutions Trends Ltd., to establish the Home Cinema concept under the new entity Ricky Flicks Ltd. The launch of its digital platform 'rickyflicks.com' was held recently under the patronage National Film Corporation (NFC) Chairman Jayanatha Dharmadasa.

The salient feature of this Over the Top (OTT) streaming site is that, in addition to the exclusive film library maintained by the site, it would stream new releases of Sinhala films.

Rickyflicks is the brand-new virtual home cinema experience to all Sri Lankans around the world. Incidentally, the launch of this site coincided with the premiere of comedy film 'Preethi and Joy', the new cinematic creation of the renowned film director Chandraratne Mapitigama. The debut of this new film hit the new digital platform Rickyflicks for Lankan viewers worldwide. This is the revolution of virtual home cinema and a gift to Sri Lankan fans as an approved film by the SFC for public viewing.

Ricky Flicks Ltd. Chairman Sunil Fernando commenting on his new venture said, this site would benefit both local film enthusiasts and the artistes in the industry in particular, as more films would be produced to cater to the emerging demand for streaming of films, both locally and globally. This is the newest trend in the world and I think the future is this. We bring you new film releases, tele dramas, music concerts to your own device.

The launch of rickyflicks.com on 21 December coincides with the celebration of Sunil T.'s 60th birthday. He also disclosed that he was inspired by his daughter Christine's constant plea to him to make a difference in his films to go international and said the site was named as a mark of respect and gratitude to his son, Ricky who passed away in 2010, when he was only 10 years.

The Managing Director of this new entity, Udayakanth Fernando, a former banker and presently a Consultant in Digital Learning and Development, said that this site would be expanded in the near future to accommodate feature, discovery and educational films to be streamed exclusively from this site, while new releases would also be made on a continuous basis.

"Rickyflicks will be a new platform for not only movies but for all musical concerts live and recorded," said MD Udayakanth.

He was thankful for the valuable consultancy provided by Dilshan Lankatihilaka, an expert in the local digital Learning and Development and also a dynamic young resource person for Training and Development, in making this web site a success. The site is managed by 'IT Signature' under the ownership of Shanmugadas Prashanthan.

The films of the Ricky Flicks library could be viewed from its website www.rickyfilicks.com.