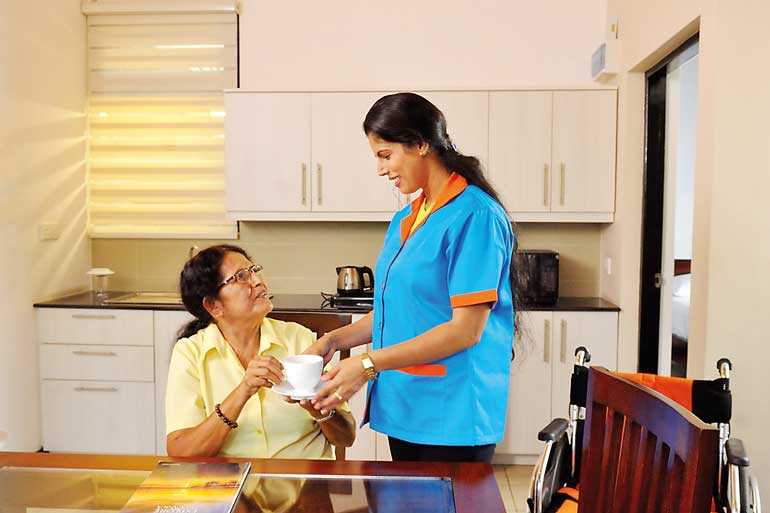 La Serena, Sri Lanka's first ever retirement resort for independent senior citizens, has announced it is now offering an assisted living option to further accommodate the unique needs of its clientele.
La Serena is a purpose-built 44-unit beach-front facility styled on a resort hotel and is a wholly-owned subsidiary of Ceylinco Life.

Retirees over the age of 55 who consider La Serena, especially for the ideal amalgamation of privacy and companionship it offers, can now choose from two 'assisted living' options offered by the Resort – one for those who are mostly independent but require assistive modifications to their unit that would significantly increase convenience in their living spaces with extra fittings such as grab bars and railings; and the second option of a dedicated live-in assistant who would help with daily activities such as washing, feeding and mobility within the Resort.

Depending on the degree of assistance required, La Serena residents can choose the option most suited to them, or choose to live independently and enjoy the facilities of the Resort, until such time when assisted living may be required, the Company said.

Modifications available to those with 'assisted living' requirements include wider doorways to accommodate walkers and wheelchairs, grab bars and railings for the toilet, walk-in showers with a chair, wheelchair accommodation in the shower enabling direct transfer to the bath-chair, raised commodes and emergency alarms.

Commenting on the assisted living facility, La Serena Chairman Mr R. Renganathan said: "We believe the assisted living facility will provide senior citizens the confidence to choose to live by themselves, on their own terms, without being completely dependent on their families. The concept behind La Serena was always to be a home away from home, and now even those who need some extra care can benefit from it."

Recreational facilities available to residents at La Serena include a swimming pool and the beach, a library and reading room, common lounge for socialising, a mini gym, and jogging path.

Built on almost three acres of scenic beachfront land in Uswetakeiyawa, just 14 km north of Colombo, at No 562, Bopitiya Road, Uswetakeiyawa, the Resort comprises 28 single chalets and 16 double chalets. Each living unit has its own living room, dining area, kitchenette, Wi-Fi and Cable TV facilities, and en-suite bathrooms, one for every bedroom, cleverly designed and furnished for optimal use of space – 535 square feet per single bedroom unit and 680 square feet per two bedroom unit.

A restaurant to dine in, room service for meals, laundry service, CCTV camera systems for security, janitorial services and the use of own vehicles are some of the additional perks of staying at La Serena.

The market leader in Sri Lanka's life insurance industry for 16 of the 32 years it has been in operation, Ceylinco Life has close to a million lives covered by active policies and is acknowledged as a benchmark in the local insurance industry for innovation, product research and development, customer service, professional development and corporate social responsibility.

Ceylinco Life was adjudged Sri Lanka's most valuable life insurance brand by Brand Finance in 2019, ranked among the 10 'Most Admired Companies' in the country by the ICCSL this year, named the Best Life Insurer in Sri Lanka for the sixth consecutive year in 2019 by World Finance, and has also been declared the most popular life insurance company in the country for the past 13 years by SLIM-Nielsen.