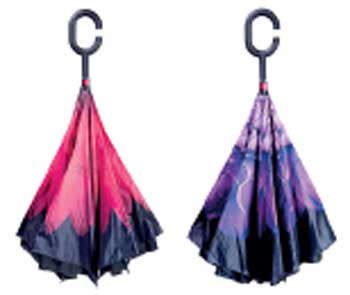 A revolutionary car umbrella has been introduced to the Lankan market by the country's premier umbrella manufacturer, Kandurata Umbrellas.

The Kandurata car umbrella is a must-have product for every vehicle owner, and it is packed with loads of plus-points which can make lives easier for its users.

The exquisite and compact Kandurata car umbrella saves space in your car and is a perfect alternative to a large and bulky umbrella. It is a carefully designed beautiful and practical product and features a C-shape handle that leaves your hands free.

Its smart and drip-free inward folding design is different from any other similar product keeps the dry side outwards once you fold, so you can say goodbye to messy puddles and wetness on your car's floor.

The Kandurata car umbrella is made of premium quality windproof fabrics, durable fibreglass and Nano-waterproof technology so this product is three times as waterproof as your common umbrella. The Kandurata double-layer inverted car umbrella is the perfect gift you can offer your loved ones. This affordable and impressive car umbrella comes in a wide variety of colours and you can choose exactly what matches your taste.

The windproof double-layer inverted car umbrella is one of many amazing products which comes from the Kandurata family which manufactures various kinds of umbrellas, tailor made to kids, gents, ladies and special occasions. Kandurata umbrellas are designed by the masters of the trade and manufactured using the state-of-the-art machinery at their manufacturing plants at Kadugannawa, Gampola and Nawalapitiya. The company also manufactures mosquito nets, rain coats and socks, expanding their product range to fulfil the needs for quality goods.

Kandurata Umbrellas has come a long way since it was founded in 1978 and has already secured the top slot in the market at the manufacturer of umbrellas for ladies, gents and kids. Their excellence has also been recognised at a number of premier business award ceremonies in Sri Lanka as one of the 10 best brand names of the country.