---
Renowned locally and internationally as a fashion innovator, Vogue Jewellers has created history with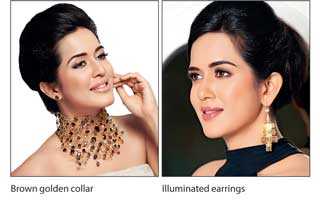 exotic masterpieces that are truly distinguishing beyond mere beauty. Virtuous to create, evolve and excel, Vogue Jewellers – Sri Lanka's leading jeweller offers an eclectic mix of unique masterpieces only a true legend can create.

The grand '22 karat collar necklace' is an exotic creation that embodies timeless fashion, lasting value and distinguishing quality beyond beauty. The pure brilliance SWAROVSKY Cubic Zirconia centre-piece with a mesh like collar makes this creation a distinguishing piece of fine jewellery that makes the wearer everyone's envy.

The 'Brown Golden Collar' – a collar necklace set with Brown Tourmalines, a concept by renowned fashion icon Michael Wijesuriya is an awe-inspiring creation. The abundance of striking Tourmaline in 18 karat yellow gold wire work make this collar necklace a true classic.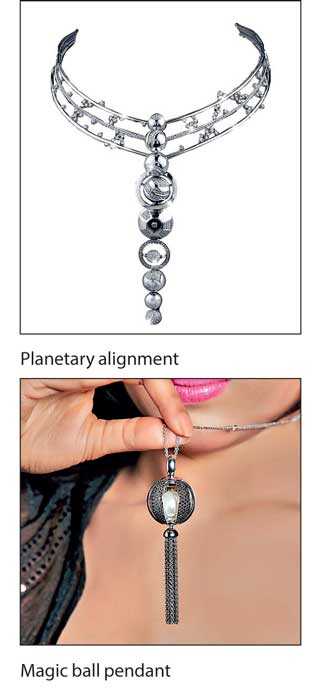 Exotic 'Vogue Illuminated Earrings' designed by the Founder Chairman of Vogue Jewellers, the late Sarath Hemachandra, literally lights up making heads turn. This revolutionary classic has come back, evolving with the latest technology.

Another exquisitely unique item is the two-in-one 'Vogue Magic Ball Pendent'. A genuine South Sea Pearl is nestled among the finest quality Black Diamonds forming an aesthetically created sphere. This masterpiece is characterised further by its charcoal hued delicate tassels. The sphere can be simply transformed into a completely different design of opened petal like formation.

And for those who appreciate futuristic designs in white gold, the five-in-one 'Vogue Planetary Alignment' is a unique creation inspired by the rare natural phenomenon that took place on the winter solstice of 2012. This precision work of art that embodies craftsmanship and aesthetics can be worn as a grand three-strand necklace complete with the 'six aligned planets' forming a long drop pendent; or only the three strands; or the 'six aligned planets' going around the lasso; or the lasso with the long drop pendant of 'six aligned planets'; or the 'six aligned planets' as a bracelet!

All these distinguishing creations come with a lifetime guarantee from Vogue Jewellers – Sri Lanka's most awarded jeweller and the world's first jewellery company to be ISO 9001: 2015 certified. Each item assures true value beyond beauty, enabling you to pass on to the next generation with confidence.

Vogue Jewellers offers a wide choice of payment options including 0% interest easy payment plans. Visit the nearest Vogue Jewellers showroom to experience these exquisite masterpieces and many more distinguishing creations beyond mere beauty.