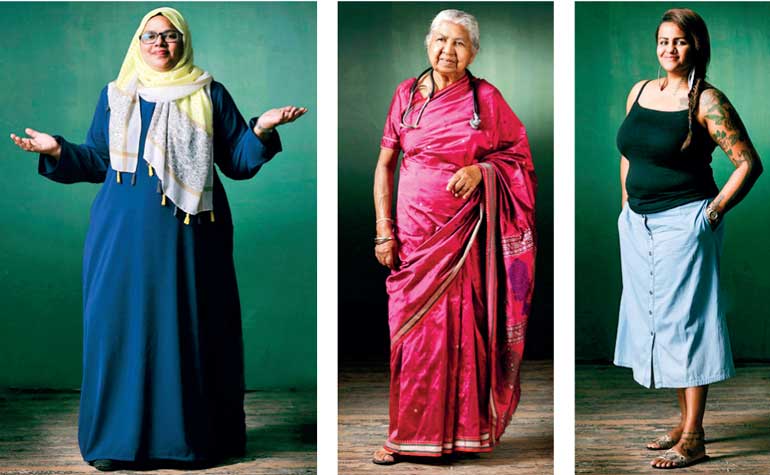 Chris Burgess, an international photographer associated with many leading Hollywood blockbuster movies such as 'Gladiator,' 'Batman Begins,' 'Band of Brothers,' 'Harry Potter' and 'Star Wars: The Force Awakens' amongst others, recently joined forces with local cause marketing agency Vision1 and ethical fashion label STHRIbySelyn to collaborate on an empowerment passion project in tribute to the Sri Lankan woman.

In celebration of International Women's Week, the collaboration launched a special online photo gallery – 'STHRI' – that celebrates diversity; a project executed with the goal of inspiring and uplifting women across the island to take pride in themselves without conforming to superficial social norms. The online exhibition consists of portraits of women and girls of all religions, ethnicities, ages, shapes, social backgrounds and communities who volunteered to be a part of the campaign and spread the message of self-love.

The project was inspired when Burgess noticed a recent whirl of derogatory advertisements that objectify women and perpetuate superficiality in the eyes of the local audience. From digital advertisements to billboards, some brands take the phrase "any publicity is good publicity" too much to heart. However, these controversial campaigns didn't go unspoken about – social media users have begun to stand together and rally against the sexism that's easily dismissed in a predominantly patriarchal nation.

Married to a Sri Lankan and raising their daughter in Colombo, the current discriminatory gender-toxic environment in the country doesn't sit quite well with Chris.

"My mother brought my two brothers and sister up while working as a full-time Sister in a large hospital specialising in cancer in children. I always admired her strength and warmth. I'm especially sensitive to the underpinning of women in advertising and the workplace. I'm also married to a talented, strong woman and my daughter is growing up in a household that encourages free spirited thinking. There is a movement right now of equality and it's up to us to carry that torch for the next generation. We're moving forward in attitude and understanding that we as humans are capable of anything and not limited to gender specific roles," Burgess said.

He pitched his interest in changing the narrative to Vision1 which spearheaded the creative idea and introduced Chris to Selyn Handlooms, one of Sri Lanka's only Fair Trade guaranteed organisations known for its woman-power practices. The ethical brand founded with the philosophy of women's empowerment recently introduced a sub-brand, 'Sthri,' an empowered fashion collective that benefits disadvantaged rural women.

"When the agency and Chris approached us about a collaboration for this project, we jumped in without hesitation, as it is important for private sector organisations to take active steps to inspire confidence among women about being who they are," said Selyna Peiris, Director Business Development for Selyn.

"It's important that women are confident in their bodies, that they are given the strength to stand up for what they believe in and to be proud about who they are. As an organisation and also personally, we are fully dedicated towards the holistic empowerment of women in Sri Lanka and this collaboration is just one such way we choose to raise our voice to further our cause," she added.

The empowerment exhibit will be launched on International Women's Day 2018 along with a bold, inspirational social media video featuring the volunteer models. The project's intention is to spread the message that being yourself unapologetically is the best version of you. The gallery can be viewed at www.sthri.com.