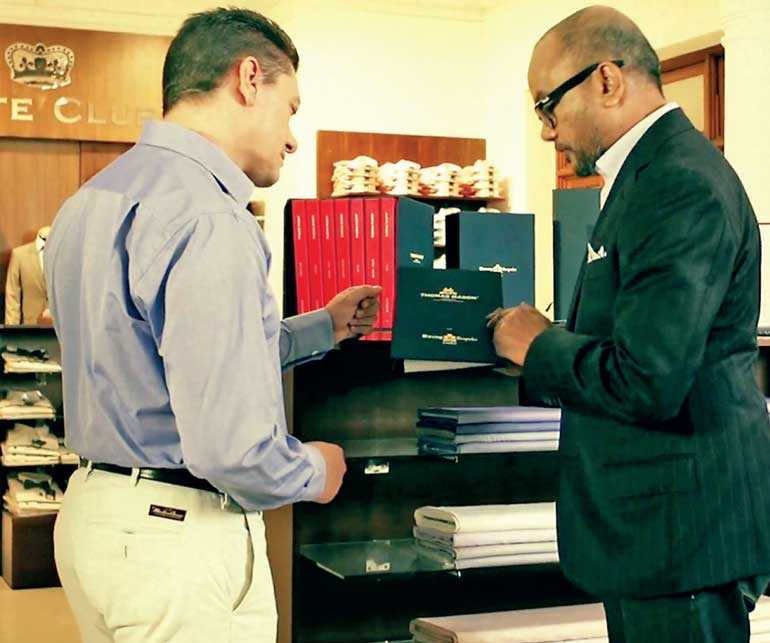 Hameedia Create Your Own Style
---
In order to meet the diverse needs of fashion conscious Sri Lankan men and their constant demand for better styling options, Hameedia recently launched its new tailoring campaign, aptly titled 'Create Your Own Style'.

Its three pronged tailoring service; Made-to-Order (MTO), Bespoke Tailoring and Made-to-Measure (MTM) now offers customers a totally customised, high quality service and product at all times.

Made to Order (MTO) allows customers to customise ready-made clothing options from over 300 designs across a range of fabrics, sizes and fit. Literally 'made to order' this method provides customers with perfect fits in the most impeccable and trendiest of styles.

The 'Bespoke Tailoring' method is more individualistic and allows customers to acquire a uniquely customised fit with individually hand-sewn and specifically designed segments.

'Made to Measure' (MTM) is very similar to MTO except that customers can get alterations done to existing and available ready-made pieces according to their fit.

"We are very pleased to extend our custom tailoring services packaged to the 'Create Your Own Style' concept. With this we bring our expert tailoring systems and wide range of fabrics and designs to discerning and fashion forward Sri Lankan men. Our highly trained and skilled staff are ready to provide our customers with the best in quality, style and service as we are always fully committed to offering the best in men's fashion and at the highest quality," said Hameedia Managing Director Fouzul Hameed. Hameedia additionally provides monogramming, ready-made finishing, sleeve length adjustments, a range of design options for collars, cuffs and plackets and 24-hour tailoring services for pre-arranged special requests.

In celebration of this exclusive 'Create Your Own Style' campaign, a special offer is currently on until 15 October at all Hameedia showrooms. This campaign allows customers who tailor four Bespoke, Made-to-Measure or Made-to-Order shirts or trousers to receive a fifth item free of charge.

With an extensive network of showrooms located across Colombo and its suburbs, Hameedia provides its customers a world class retail experience that delivers a seamless customer centric service, products of the highest quality and ultimate satisfaction.

Hameedia, Sri Lanka's leading home-grown menswear brand renowned for its style and quality has achieved phenomenal growth to become a leader in the retail men's fashion industry. Established in 1949, and with over 70 years of expertise, Hameedia is exclusively known for delivering high quality custom tailoring under the bespoke category for gentlemen.

With an extensive range of men's fashion, the Hameedia portfolio consists of a collection of its own high-quality menswear brands and strategic business partnerships with menswear brands from around the world. Some of these brands include Envoy London, Le Bond, Signature, Van Heusen, Louis Philippe, Park Avenue, Raymond, and Adidas.