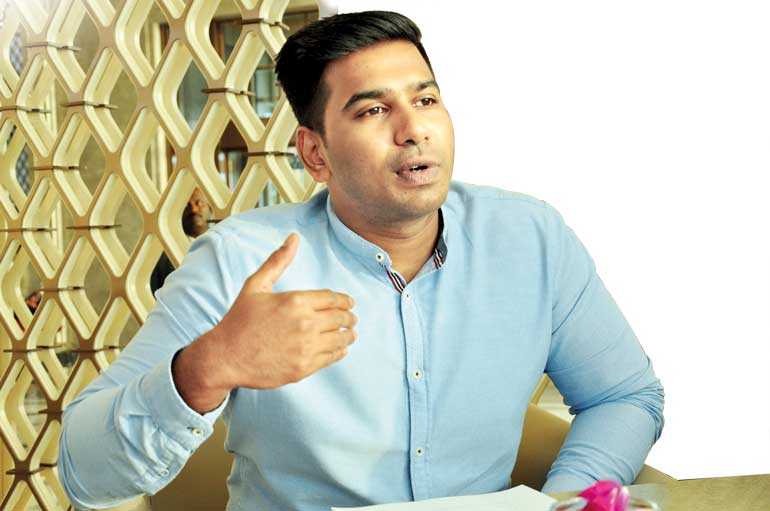 KiMO Ceylon Co-Founder Zamrin Mabuthoon
Joining the fastest growing retail fashion sector and bringing a variety of Korean franchisee products to Sri Lanka, KiMO Ceylon Co-Founders Zamrin Mabuthoon and Tasneem Siddeeque are to introduce global franchise MINIGOOD to Sri Lanka within the next month, creating a quality simple lifestyle to all consumers.

While practicing its 'fast fashion' consumerism, MINIGOOD strives to create a novel shopping atmosphere, where consumers can experience a happy, fashionable and healthy lifestyle. With tens of thousands of new arrivals per month in eight categories, lower prices, as well as its brand core advantage of positioning as a fast-fashion chain store.

In this interview with Daily FT, both Mabuthoon and Siddeeque share the exciting story on the franchise entering Sri Lanka and highlight the inflow of brands coming in while sharing light on the brand's future plans as well. Following are excerpts:
By Shannon Jayawardena



Q: Could you start by giving a brief introduction on MINIGOOD and what link it has with KIMO?

Zamrin: MINIGOOD is a Korean brand that provides consumers with simple, durable and quality products that are affordable with the current market and targeting the fast fashion consumerism is what separates MINIGOOD from the other stores. MINIGOOD things are made very simple, of very high calibre material and it is very affordable for everybody of all segments. MINIGOOD was founded in 2013 just five years ago by Mike Wu in South Korea and within the last five years over 1,000 stores have been opened worldwide, many across Europe and America as well. They are still expanding with a target of 2,000 stores by 2020.

Mike Wu started this company with very simple and humble beginnings with just one store and products made at home and now it is a global multinational company. When we talk about how it links with KiMO Ceylon, it was a brand that we created completely by ourselves but housing completely Korean products. Ever since we opened last year, we've always been in search for fresh products which will be similar to what we sell at KiMO but we wanted a brand itself. That's when we found MINIGOOD. So the prices are also comparatively the same and are very cheap and affordable for all Sri Lankans. KiMO was created for an experience that we enjoyed. Everything that we wanted, we wanted to give the consumers as well. That's how we started KiMO and now we are expanding to MINIGOOD.


Q: When and where are you hoping to open the four stores and why those specific locations?

Zamrin: We are opening four stores, to launch with we are opening three and the first will be in Rajagiriya, the second in Wattala, the third down Hill Street which is in Dehiwala and the last one in Wellawatte which is currently KiMO which will hopefully be turned into MINIGOOD in the future. The reason why we chose these locations; Rajagiriya because of the high residential area now, it's very close to the commercial capital Sri Jayewardenepura and many residential developments are coming towards Rajagiriya. Secondly, Wattala is also another hub that has been growing now because of the many developments that have been coming through and because of the highway which is connecting towards that side and all the high supermarkets are coming towards that end, including Arpico. We are based right into a bus stop which every night bus stops all the way up to Jaffna, so because of that we hope that there will be a high foot traffic to the store day in and day out. That will capture us into the larger market segment of the country. Hill Street because there are many restaurants, it is like a street of restaurants and because there is high foot traffic in the night. Plus, all the residential housing schemes are all there all the way towards Attidiya. We are open from 9:30 a.m. to 9:30 p.m. every day, 365 days.


Q: Are you planning on expanding the stores with time?

Zamrin: Yes, we are. The speed of growth of the franchise around Asia has proven that this brand is very successful and they are opening 240 stores just in Mexico next year. So they are expanding rapidly. In support to that growth, we really believe that this brand is taking a good place in Sri Lanka because of the colours, the schemes, the product quality and prices. We see a greater potential in MINIGOOD and we are looking for more opportunities to grow the brand in Sri Lanka with expansion which is underway. We are opening around 10 stores within the next two years and in Shangri La with about 3,000 square feet which will be opening in June. Most of these products are designed and made in Korea.


Q: Where are these products manufactured and what are some of the countries that they are already based in?

Zamrin: 70% of them are made in Korea and 30% in terms of plastic are made in China. High end plastic is manufactured in China. They are in Malaysia, all of the South Arabian nations, Dubai, Mexico, Chile, Korea, China, New Zealand and Australia.

Tasneem: Australia is a big franchise for them and I think currently, the economic retail climate is quite tough but we are very confident that this brand will take us forward as it is meeting a requirement in the market currently.


Q: What made you bring in this franchise to Sri Lanka and how do you plan on succeeding compared to other companies in the market?

Tasneem: We actually had a lot of inspiration that made this a possibility for us. Zamrin comes from a family company which has been in the wholesale industry for 30 years. So he travelled to China a lot where he would see these brands and he was a long standing fan of them. He was looking to retail and after we got married we started travelling a lot more, where we found ourselves in stores like this. We went to Malaysia and walked into MINIGOOD, the queues were really long and that's what really made us want to go in.

The brand itself in Malaysia is quite strong and they have established their brand presence in the country. We started our conversation with the franchise right there and came back and did some research locally and saw the gap in the market. We have been working on this for over a year now and our key strength is our team, who are all handpicked individuals who basically help us grow the brand.

Zamrin: In terms of us choosing MINIGOOD as the brand, the main focus was the product range which was the household products and so forth. That is why we went into the store and we initially fell in love with it because of the range that they had. At the time, we were doing KiMO, so we knew which range was our pick. So we chose MINIGOOD then and there. So KiMO was always something to gage the market, so we were able to gage it from that within a couple of months to come to MINIGOOD.


Q: What are some of the key product ranges at the stores that makes it a key differentiator in the market?

Zamrin: MINIGOOD has eight categories of products ranging from general products which include sunglasses, socks, belts and so forth, household which is our main segment of items that we are going for MINIGOOD. Household is one of the categories that we know that Sri Lankans need daily because they need simple things of high quality. Then we have digital accessories from cables to phone holders, chargers and speakers which is mostly for teenagers and parents, health and beauty. Koreans are known for their cosmetic products so we are hoping that the market will be really good. Then we have stationary from cool and chic pens to notebooks, tapes among many others.

Tasneem: It's very simple but very attractive. They are what even an adult would want and a kid would want. It's Korean so it's cute.

Zamrin: We also have cases and bags which range from bag packs to handbags, travel kit bags and makeup purses. We have the whole range of bags of high quality. Then we have plus toys as well which are really soft and of high quality. Those are the eight categories that we have.

Tasneem: The key differentiator is the price and price range that keeps people coming into the store. Our price range starts from Rs. 99 and goes all the way up to Rs. 5,000. The majority ranges from Rs. 395.


Q: MINIGOOD has made a hit among consumers worldwide. How big do you think it will hit Sri Lanka?

Tasneem: MINIGOOD's entry to all the new markets has been really successful and we think that this would be the case for Sri Lanka. All of us including Zamrin and I, are consumers and all we want is high quality and affordable prices. We would never ask for a low price with poor quality, so that is what the company has done. They have taken retail expertise from all over the world and they have made it a standard across all their stores, not just in Sri Lanka but worldwide and that would be its success criteria. With KiMO we have seen Sri Lankans responding very positively, so we hope to reach many other people around the island with our growth plans. It's basically the affordable prices and the aesthetic of the store that paves the way for the franchise's success story. It's a very nice atmosphere to shop in and it is a very enjoyable shopping experience. We hope that we could make it a household name in Sri Lanka.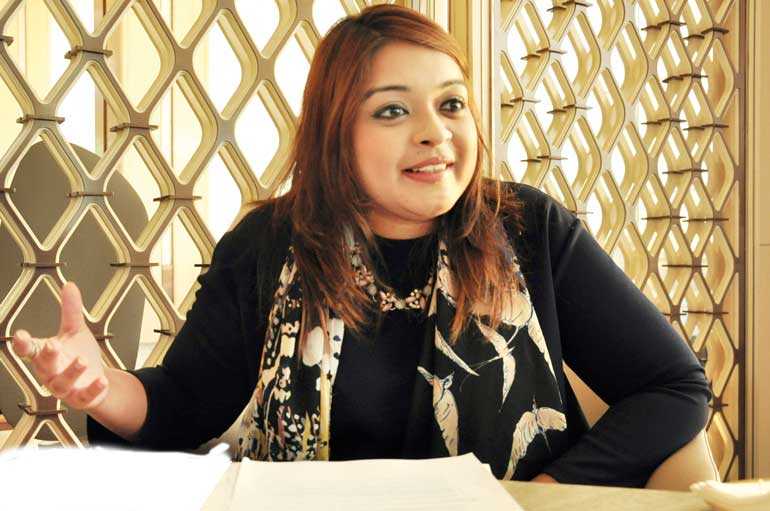 KiMO Ceylon Co-Founder Tasneem Siddeeque


Q: The company's activity is projected to reach 2,000 stores and a sales turnover of more than $1 billion by 2020 worldwide. Could you share with us some numbers targeted to being achieved here in Sri Lanka?

Zamrin: MINIGOOD started only in 2013 and they have reached more than 1,000 stores worldwide. So there has to be something that Mike is doing right for the company to grow so fast. They have a pricing system which combats with the inflation of every country. They have a very strong business model, so even though the prices go up, they are able to control the prices of products using high quality material. That is their business model and the success behind them. Even though in Sri Lanka, our prices are so high because of our duty structures, still these products are very affordable to everyone. Because of this model, I think in Sri Lanka it will be a true success. The brand aims to provide pleasant daily merchandise with goods designed at affordable prices and as a global pioneer in the fast fashion that sends customers to go shop. Because it is affordable and cheap, it always makes the customer walk in to the shop.

Tasneem: Usually when the economy raises prices, the shops increase prices but they try and maintain the same standards at lower prices affordable across all its stores and that is the real strength of it.

Zamrin: Like I said, if a product is going to be too expensive in a country because of that country's duty structure, they make sure that they don't send that kind of product to their market because it affects their brand and this brand's model. So they don't allow us to take in those kinds of products and they do a thorough research on the current duty structures before they send us the products. Within the next two years we are hoping to open about 10 stores and within the next five years we are expecting $ 4 million to $ 5 million turnovers.


Q: What makes MINIGOOD unique and stand out from the rest?

Tasneem: Innovation with their products themed with design. They focus a lot of Korean design and is the brand's success. They have a really advanced department which builds all their technology and retailing. That is basically the retailing model and that is really what makes them stand out. Their brand belief is focusing on simple life with products that reflect an enjoyable shopping experience. How do they succeed? It's their three core principals, which is high quality, their diversified product range and the unique technology in making products. These three advantages not only make the brand unique but is their key to success beyond the other competitors in the industry. Their basic business strategy is to make customers happy and make them feel surprised. This enables MINIGOOD to stand high in the ranks among the competitors around the world.

Zamrin: Also, they have over 2,000 products that come in every month, so there's a wide portfolio of new products to choose from every month. It could be the same product changing in colours which we can't even imagine because they match colours in different ways. Completely re-mapped. That's one thing that differentiates MINIGOOD from the others. They have also come up with a new layout which we will be launching with Shangri La. Also our store in Wattala has a coffee shop as well which no other competitor has.

Tasneem: You can shop and relax at the same time. The whole store concept is not just on product, it's also on how novel are the stores to make a consumer feel alive when they come into the store and that's what they always do. They focus a lot of product display. It sounds easy but it's a lot complicated when you put it into practice. So it's how you create the best visual effect when a customer walks into the store, the correct shelf height so that consumers can easily reach a product and how you make the shop feel less cluttered because we have about 600 different products in the smaller stores and bigger stores have about 1,200 different products. These are the standards that they apply to all their stores and what we hope to do is make our customers feel relaxed and happy from the minute they enter the store to the minute they leave the store.


Q: Is there a specific market that you are targeting here in Sri Lanka?

Zamrin: There is no specific market that we are targeting, we always wanted bring in a brand that serves everyone, regardless of the segment that we wanted to serve. That was our initial fundamental. We never wanted to do a segment where it's to one category of Sri Lanka. It's for anyone and everyone. I have personally looked for a brand like this for close to six years and together we searched for around two years, so that's when we found MINIGOOD. There is no market as such. The market we are targeting is anyone who looks for high quality products at an affordable price. The basic concept is a simple life. That is what drags everyone to the store.


Q: With the rise of the internet, does it affect physical retail sales?

Tasneem: Rise of internet shopping has been a challenge but for businesses like us it has helped create more creativity and stimulated more results. Businesses like us, use Instagram and Facebook on a daily basis to reach consumers and drive more traffic to our stores because it's both location and demographic based. It is a supporting factor because it actually enhances what we do. It helps us manage what online stores can't do and that's deliver an experience. We truly believe that physical sale will always remain in the future. A consumer has to walk into the store to feel the products and experience the store.


Q: Could you share with us MINIGOOD's vision and mission and your plans for the future?

Tasneem: So 'beautiful life starts from here' is MINIGOOD's brand vision and simplify simple to be true is a philosophy of MINIGOOD in the products and the store. The products are also long lasting because it is made so simple. Simple life is their standing principals which is what we hope to follow and drive in the future. Our company's core values are honesty and integrity with a lot of family value and commitment to the country and the consumers. Our speed of growth is actually our key road map and that is what we are going to focus on in the future; more stores, employing a bigger team and developing them and grooving service standards as well.

Pix by Sameera Wijesinghe