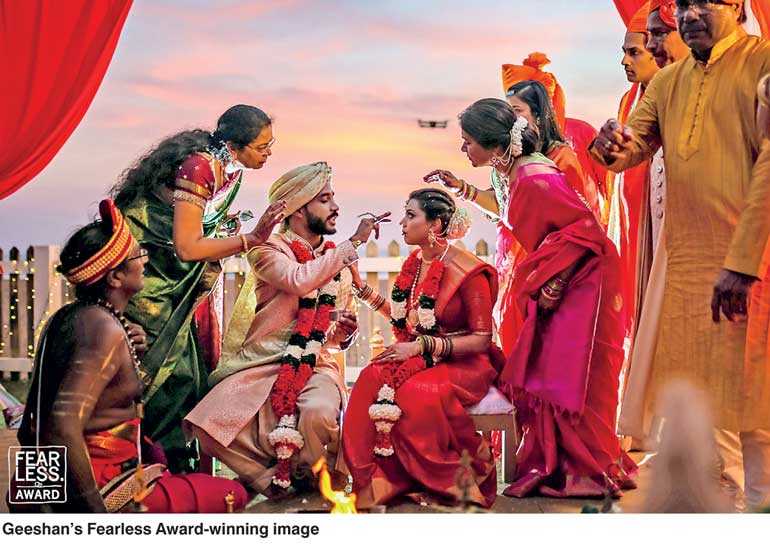 Earning kudos for the country and the industry, celebrated documentary wedding photographer Geeshan Bandara, was recently awarded a sought-after Fearless Award, his second one to date.

Fearless Photographers is a unique community of 3,000 of the world's best wedding photographers. These professionals are not afraid to push the boundaries of photography to surprise and delight clients with extraordinary images of their wedding day. The Fearless Competition is highly contested, with only the top 2% of over 9,000 submissions presented the prized Fearless Award.

Describing the Fearless Award-winning image Geeshan said, "This particular moment was from a recent Indian destination wedding held in Sri Lanka which are always colourful, sometimes chaotic and some of the toughest weddings to shoot. Set against the dramatic backdrop of a Sri Lankan coast, this was even more special."

He explained, "The picture was taken during the 'saat phere' or 'pheras' ceremony. The sun had begun to set, painting the sky varying hues of red and orange. Looking at the image, the eye is drawn to the centre of the frame, giving the impression of a renaissance painting, or a theatrical still." Geeshan believes his raw and unfiltered style, dubbed wedding photojournalism, is unique and remains a nascent art in Sri Lanka. "Each wedding presents the opportunity to bring to life powerful, compelling images – to tell a story. My goal is to make that happen for all my clients."

Wedding Photojournalism is a comprehensive and artistic documentation of the day's events in an unscripted manner. Photographers capture real moments – the ones the bride and groom miss during the day – the laughter, unexpected tears, unbridled joy and everything in between. These are moments a trained and experience eye sees and anticipates.

When asked about the documentary style of covering weddings in Sri Lanka Geeshan said, "There is an increasing desire to move away from the stilted, posed images that show a very static day, to capturing more depth and realism. The ultimate satisfaction is when our clients tell us how happy they were to relive their wedding day and all the moments they missed."

Ensuring these moments are recorded, Geeshan's small team of talented and enthusiastic photographers specialise in photographing the beauty and sentiment of the day as it unfolds. They have photographed covered over 400 weddings, including grand, opulent events, to fun, intimate and private destination weddings.

"We are fortunate enough to have clients from all walks of life, experience many different cultures and shoot all types of weddings. I work hard to document truly memorable moments because I want my clients to treasure their photographs," Geeshan stated.

While Geeshan's first Fearless Award brought him international recognition in 2015, he is also the recipient of a series of other awards including two Reportage Awards, five Wedding Photojournalist Association Awards (WPJA), five International Society of Professional Wedding Photographers Awards (ISPWP) and 12 Professional Wedding Photographers' of Canada Awards (PWPC).