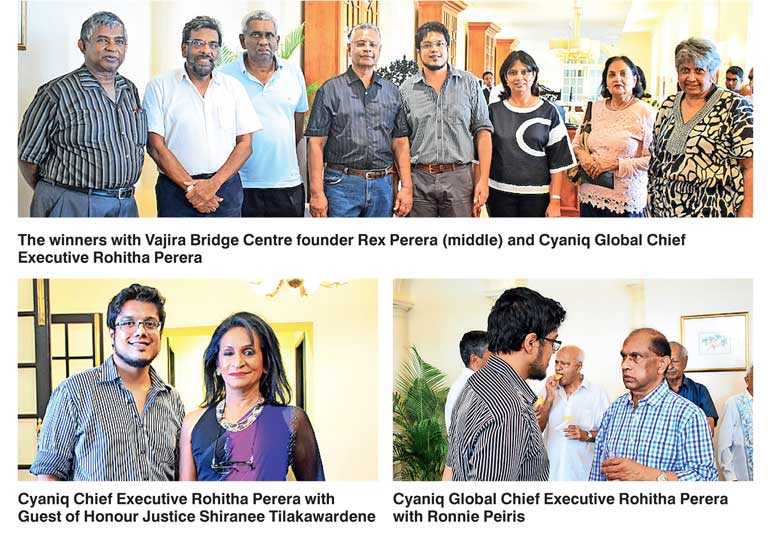 Cyaniq Global, the specialised writing service and full-scope communications consultancy, partnered the Vajira Bridge Centre in hosting the inaugural Cyaniq Bridge Championship at Galle Face Hotel on 8 July. This initiative displayed the company's commitment towards the development of intellectual capital and business level synergies between top-tier corporate entities and executives.

Vajira Bridge Centre Founder Rex Perera stated, "It was an absolute pleasure to have Cyaniq Global and Galle Face Hotel sponsor this inaugural Bridge championship with such enthusiasm, and I am honoured that the Vajira Bridge Centre is at the forefront in helping create much-needed awareness for a valuable game like bridge, which is widely played on a global level."

The event saw the participation of a number of company owners and company directors across organisations such as Virtusa, Sampath Bank, Mount Lavinia Hotel, Fab, Siedles, and also family members from some of Sri Lanka's influential business and political families.

Cyaniq Chief Executive Rohitha Perera stated, "The response by the participants of this inaugural championship event has been tremendous, and as a premier communications consultancy, which positions itself as a specialised writing service and full-scope communications consultancy, we are truly glad to have sponsored this event. The service and ambience of the Galle Face Hotel was truly exceptional in every sense of the word while the level of hospitality was substantial as well. We hope the level of awareness this event has generated will help us in nurturing the next generation to represent Sri Lanka on a global level."

Ronnie Peiris compéred the event while Justice Shiranee Tilakawardene was the Guest of Honour at the event. All gifts, curated and sponsored by Cyaniq Global, were from exclusive brands such as Parker, Mlesna, Kemara, Gerard Mendis, Chathur Spa, Tea Tang, Shirohana Flowers, and the Galle Face Hotel. The Best Ladies Pair were Sharon Rajendra and Shirani de Silva, the Best Mixed Pair were Anthea de Alwis and Dilanjan Soysa, while Lucky Fernandez and Romesh Bandaranaike were the winners of the Rex Perera Challenge Trophy.

With a clear aim to create awareness of the game of bridge, add intellectual value to society, and garner interest in the game from the next generation, Cyaniq Global along with the Vajira Bridge Centre is geared to create more awareness of a game in Sri Lanka that has been favoured by the likes of Warren Buffet, Bill Gates, Margaret Thatcher, and a veritable list of celebrity professionals throughout the world.