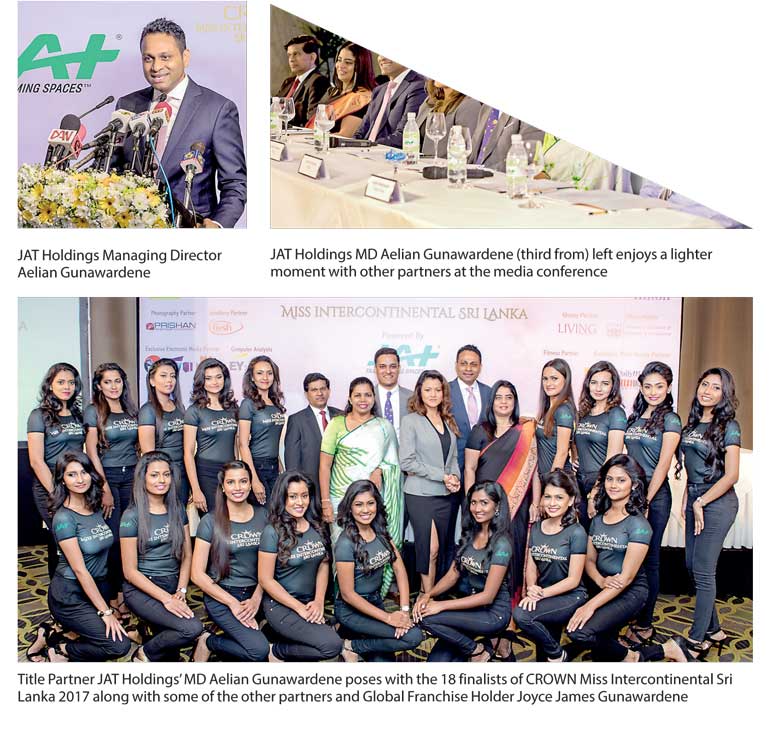 Comes in as Title Partner for Crown Miss Intercontinental Sri Lanka 2017
Pageant's cause aligned with Group's CSR platform of empowering women
Having always believed in the value of trailblazing leadership, JAT Holdings, the licensed manufacturers and sole agent for the UK's premium paints, collaborates with Exceptional Entertainment to aptly bring in Crown Paints as Title Sponsor for the Sri Lankan crowning of one of the three most recognised international pageants in the world.

CROWN Miss Intercontinental Sri Lanka 2017, billed to have its Coronation Pageant at the Hilton Colombo on 24 September, gains immense fillip from this partnership with JAT Holdings, as not only does the Group depict the value of innovative leadership but also dons the crown in setting benchmarks for industry.

This augurs well for this pageant as it uses the axiom, 'Going Beyond Beauty', to showcase young women who truly epitomise the modern-day Sri Lankan power woman, a combination of beauty and intellect that sets the pace for women to become a voice for the disadvantaged and an advocate highlighting issues facing the woman of today.

For JAT Holdings Managing Director Aelian Gunawardene, this is truly an iconic partnership. "Being a pageant that is setting the pace for the pageant industry with some pioneering initiatives that pushes boundaries in terms of creating holistic confident caring women leaders from these contestants, CROWN Miss Intercontinental Sri Lanka 2017 is well aligned with JAT's values which include creating leaders through a knowledge driven culture. As one of the top 10 conglomerates in Sri Lanka and one known to emphasise unwavering quality and unsurpassed innovation, the pageant itself is one that exemplifies all that JAT stands for and is clearly articulated in our tag, Transforming Spaces, which is what this pageant does by transforming the pageant industry space."

Mentoring – a first for any pageant, training and development programmes, fitness training, styling and grooming are all based on international standards and conducted by renowned professionals in the field which is a dynamic that JAT is extremely keen on. "The cornerstone of JAT's continued success is this emphasis on professionalism and placing absolute importance of imbuing professionalism in every facet of our operations."

Gunawardene adds that Crown Paints, with its 200-year history and the largest and most successful paint brands in the UK and Ireland adds fitting hues to the crowning of a queen given that it was also conferred a Royal Warrant by the Queen.

"As a company, we believe strongly in empowering women. Our teams thrive on this platform of equality and meritocracy and hence, as a corporate leader, we believe we must nurture people to maximise their talent, skill and competencies to become spearheads within their communities and the country. This is the ideal springboard therefore for us to build on those qualities, empowering these young women, each of who have displayed immense intelligence coupled with beauty, a winning combination that can be honed for the betterment of society as a whole."

Another facet that has strengthened the partnership is the pageant's cause, the Heavena Residential Shelter for Abused, Trafficked and Homeless Women given that one of JAT's corporate stewardship platforms is aligned with uplifting women.

The project, 'Save the Mothers', under the auspices of the Sri Lanka College of Obstetricians and Gynaecologists saw an infusion of Rs. 30 m into a pivotal state-of-the-art training and simulation centre aimed at reducing the number of maternal deaths to zero, on the premise that, "Even one maternal death is one too many given the destructive aftermath such deaths invariably leave," as explained by Gunawardene.

The pageant's collaboration with Heavena tackles yet another facet of women's issues; abuse, trafficking and homelessness due to these situations and the irreparable damage these have on the psychological and physical wellbeing of both mother and child.