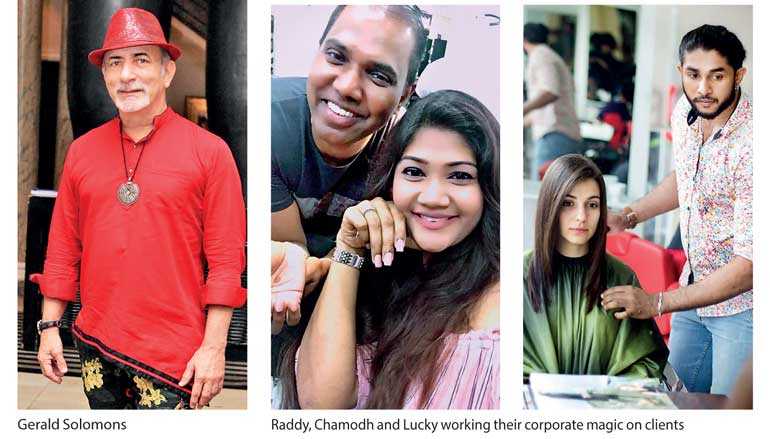 Chagall, Sri Lanka's premier hair and beauty salon, has come up with an exciting new corporate package focusing on men and women who aim at looking their best, both inside and out of their offices.

"Chagall has devised a corporate package aimed at enabling you to transit from the office to a formal cocktail or dinner with the greatest of ease and least possible hassle," said Gerald Solomons, the owner and genius behind Chagall.

"Corporate lifestyles are such today that very often you have to go straight from the boardroom to a cocktail or dinner. The leisurely lifestyle of days gone by when you could go home and have a leisurely wash and change is today very much a thing of the past. A quick touch up of your make-up and an added accessory or two is the most that people have time for and that's why Chagall has devised this corporate package."

Gerald's creed is that everyone needs to look fabulous everyday; not just on special occasions, and that's what Chagall excels in. Chagall has established itself as Sri Lanka's most elite and fashionable salon. Gerald himself has clients from all over the world jetting down, just so that he could style their hair. Gerald, not only makes his clients look special on that all important day, but makes you look special and unique every day!

Having established himself and Chagall as the hairdresser/stylist and salon of the elite, Gerald's doors are open to anyone who wants to look good. Chagall's corporate package will be effective 1 October to 10 December. The offer is valid during regular working hours (9 a.m. to 7:30 p.m.) from Monday to Thursday as well as on Sunday and Poya Day.

The female and male executive packages include a full dressing package, shampoo blow dry, as well as a re style, manicure, pedicure and head massage. Priced with the average executive in mind Chagall's corporate package starts from an affordable Rs. 1,500 and goes up to Rs. 7,500, a pricing that is extremely affordable to the aspiring professionals in the corporate and State sectors.

A firm believer in doing things 'his way' Gerald constantly advises clients to 'step out of the box' and re-invent themselves and he is always right in his advice, be it hair, make up or clothes .

So step out of your box with the team at Chagall who are waiting to work some corporate magic on you!