---
The theme for the season is to 'Come Together' and it's appropriate for the time of year – a season when families and friends get together to celebrate the joy of the season which strengthens the power of togetherness.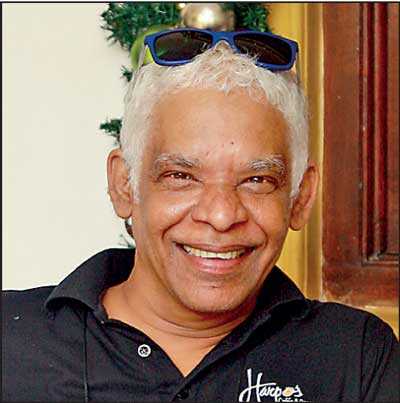 Harpo Gooneratne


"We bring the merriment and acts of giving and sharing into the season at our restaurants with the switching of the Christmas lights and we look forward to sharing the joy of the season with all our guests who have patronised our restaurants right through the year," said MD Harpo Gooneratne.

The Bayleaf, Park Street Mews Restaurant, Curve Tapas Bar, Commons Coffee House – also at the Hatch, Colombo Fort Café & Harpo's Pizza & Pasta Parlours will launch a fun-packed festive program with traditional and new festive specials, exquisite range of beverages, delectable range of desserts along with live music and all that's synonymous with the festive season.

The annual Charity now in its 13th year will be held for 80 kids at the Community Concern centre in Dehiwala on 10 December to share the joy of the season with the less privileged.

Tis the season for great Italian food as they say there's no Christmas like an Italian Christmas! We may be a little biased, but Natale at The Bayleaf restaurant is an exciting occasion to cook up some best-loved Italian seasonal specials by Chef Saroj and his team, passing on to you some cherished Italian roast and pasta dishes. Festive Goodies are available for take away orders, a holiday specials menu from 1 to 23 December and the Christmas specials from 24 to 30 December. New Year's Eve will see a set menu and all the trimmings to make it an enjoyable evening to usher the New Year.

Park Street Mews Restaurant has a special seasonal holiday menu from 1 to 23 December, Christmas specials from 24-30 December with all the traditional favourites and a New Year's Eve buffet for 31 December to usher in the New Year in a relaxed ambiance. Festive goodies for home entertainment can be placed from 1 December.

Curve Tapas Bar continues with its excellent range of tapas including two special festive tapas, a talented line up for live music including "A" Team on Wednesday, Flame on Thursday, Damian and D zone on Friday and Ricky and Legacy on Saturday. Chill out on the street or in A/C comfort to swing this festive season.

Colombo Fort Cafe at the Dutch Heritage complex offers a Euro Med seasonal fare from 1-23 December, Christmas specials 24-30 December and a three-course New Year's Eve countdown dinner on 31 December.

Commons Coffeehouse – first homegrown coffee house in the city – needless to say has an extensive range of festive hot and cold coffees, frappes, turkey menu and delicious desserts to try some new twists on the traditional. Also the Rotti cart is ideal to roll out for holiday home entertainment.

Commons & Hatch – in Fort – the newest addition to the group – offers a relaxed menu with Commons Christmas panini club, chili and juggery marinated turkey breast, chicken carriage burger to tickle your taste buds. Open daily 10 a.m. to 7 p.m. and on Saturday till 3 p.m.

Harpo's Pizza & Pasta Parlours – now also in Ja-Ela and Ethul Kotte – has two festive pizzas: turkey and cranberry pizza and seasonal BBQ pork pizza included to its 30 flavours of thin crust homemade pizza and the fresh homemade pasta menu. Delivery is available on 486 9000 and also on Uber Eats.

Harpo's Roaming Pizza Truck is available as an exciting option for special events for fun-filled home entertainment.

Harpo's fresh homemade retail pasta range of taglaitelle, taglialini and the fresh pasta sauces are available for seasonal entertainment at home with friends. Conveniently available at all well-known supermarkets in the city. All menus are easily accessible on www.harposonline.com.