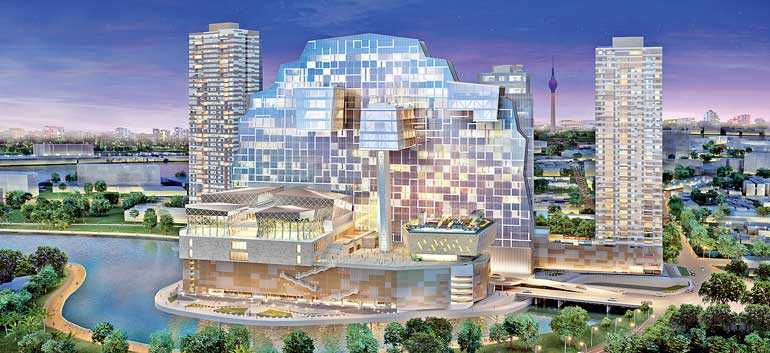 Cinnamon Life – Colombo's most anticipated integrated development – is adding new dimensions to the city's arts and entertainment offering with a line-up of events and international performances slated as a major boost during the forthcoming tourist season.

With a continued agenda of bringing down famed international artiste, celebrities, performers, culinary experts and global travel influencers, the latter half of the year promises to be one of the highest forms of entertainment for both locals and tourists alike.

Cinnamon Life, Colombo's Life Capital, initiated by Sri Lanka's premier listed conglomerate – the John Keells Group, is the realisation of a vision to elevate Colombo into a regional hub with multifaceted entertainment, performing arts, commercial and business experiences that would expand the visiting tourist profile to Sri Lanka.

With 10-acres of integrated spaces, Cinnamon Life designed by globally acclaimed master architect Cecil Balmond will consist of a luxury 800-room five-star hotel, 427 premium residential apartments, a 30-storey office complex, five storeys of retail and unlimited entertainment.

Along with the development of Cinnamon Life, Colombo is fast transforming into a metropolis that is set to increase the current three-five star room capacity from 5367 by an additional 3585 rooms by 2021. Identifying the massive potential for tourist attractions, Cinnamon Life is spearheading the transformation of accessible entertainment and cultural experiences of the highest calibre in Colombo.

Varied diverse events were carried out for the year 2018 starting from the much-talked theatrical play, The Sound of Music. Cinnamon Life proudly presented one of the most famous and best-loved musicals of all time, in Colombo – the Andrew Lloyd Webber & David Ian's Really Useful Group Production of The Sound of Music.

In February 2018, this extraordinary theatrical performance dazzled the audiences in Sri Lanka, enabling them to experience a world-class musical that has made its mark on some of the world's most revered stages including those on the West End and Broadway.

The world famous culinary celebrity of home cooking, Nigella Lawson, became the talk of the town this June, in a series of events hosted with Cinnamon Life from 21 to 23 June in Sri Lanka.

During her visit, Nigella toured the island and experienced Sri Lanka through the vibrantly inspired Cinnamon properties including a tour at the Yala Safari Park, before she made her formal public appearances at a cocktail and an in-conversation brunch with Nigella, followed by a high tea and a book signing.

Recently Cinnamon concluded the inaugural Colombo Music Festival, that was held on 18 August, a Caribbean themed showcase of the most iconic global reggae-fusion artists such as Maxi Priest, Shaggy, Big Mountain and Diana King. The Colombo Music Festival created a vibrant and inclusive atmosphere in par with international musical events at the Havelock Sports Club Grounds Colombo, offering non-stop entertainment from 3 p.m. till midnight.

For the December holiday season, Cinnamon Life is set to present Benny Anderson and Bjorn Ulvaeus' world famous smash-hit musical Mamma Mia! for the first time in South Asia, a classic theatre performance that has been thus far showcased around 440 cities across the globe. Over 75 internationally acclaimed performers will be in Sri Lanka, from the stages of London's West End, to deliver a total of 10 shows from the 22-30 December.

Roshanie Jayasundera-Moraes, Chief Marketing Officer Cinnamon Life stated, "The largest private sector investment of $ 850 million consisting of an 800-room five-star Cinnamon Hotel, 427 premium residential apartments, a 30-storey office complex, five storeys of retail and unlimited entertainment will provide an excellent investment opportunity for anyone looking for a prime real estate investment.

This culinary and entertainment hub will continue to bring to you a series of world class events giving you a glimpse of what to expect at Colombo's life capital which will be the ultimate lifestyle hub locally as well as globally. We encourage everyone to stay tuned as we bring to you many more exciting initiatives.

"Cinnamon Life, following its opening it will be the hub of world-class entertainment," Vice President John Keells Group and Head of Brand Marketing Cinnamon Hotels & Resorts and CEO Cinnamon Life Mall, Dileep Mudadeniya stated.

"It is set to bring to reality the lifestyle, culinary and entertainment aspects to Colombo's social life that was previously beyond our reach. Thus, the globally reputed initiations such as The Sound of Music, the Colombo Music Festival and Mamma Mia! is a step towards realising one of our most aspiring dreams as a star-class Sri Lankan hospitality chain."

With this new benchmark for world-class entertainment and cultural experiences available not only in Sri Lanka but across the region, Cinnamon Life will continue to collaborate across a global platform to further fortify Sri Lanka's emergence among the region's leading entertainment travel destinations, while contributing to the transformation of Colombo's own vibrant social lifestyle.

For more details of this event and other exciting events from Cinnamon Life, visit www.cinnamonboxoffice.com.