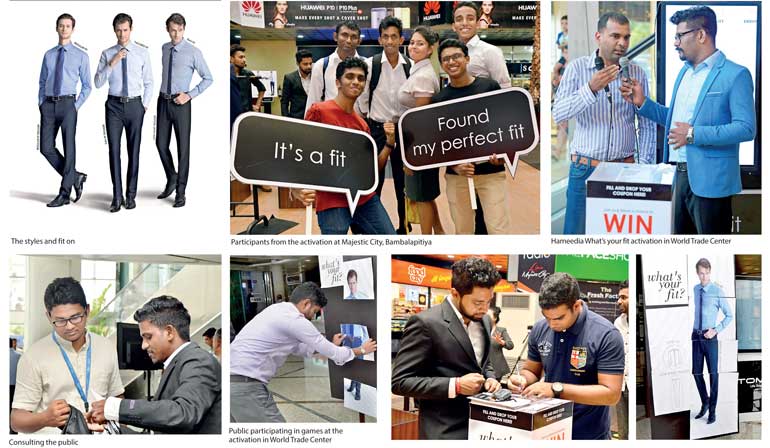 Hameedia, Sri Lanka's premier men's wear specialist renowned for quality and style has dedicated the weekends beginning from 18 August through 30 September to extend their fashion expertise to their loyal customers at Majestic City Mall Lobby, World Trade Centre, Crescat Boulevard, Kandy City Centre and KZone Ja Ela. This indeed would be a wonderful opportunity to meet Hameedia fashion consultants and discuss your concerns, clarify your doubts and receive the expert opinion in determining the next welcome change in your wardrobe. This first ever 'What's your fit?' campaign, is sure to cater to all your style needs, helping you make your own individual fashion statements.

Commenting on the campaign, Hameedia Managing Director Fouzul Hameed said: "Finding the perfect fit is the most important aspect when you buy a shirt, it's a style statement rather than size segregation. Our campaign aims to educate all fashion conscious gentlemen around the country on how the same person can choose different fits customised based on their style preference and personality. I would like to invite all gentlemen around our country to walk in to any of our campaign locations during 18 August to 30 September and explore the world of next generation fashion and rediscover their style statement all over again."

The main campaign commenced on 18 and 19 August at the World Trade Centre, Majestic City and Jaffna. The campaign would also be expanded to other strategic locations on multiple dates as follows: World Trade Centre 25 August, Majestic City on 26 August and on 2, 9, 16 September, at Kandy City Centre (KCC) on, 3, 10, 17 and 23 September, at Crescat Boulevard on 29 and 30 September, at K-Zone Ja Ela on 9 and 16 September each location is set to have hosts and consultants educating the customers on different fits available and how these could be successfully adopted to meet their individual fashion ethos. All locations will also feature raffle draws, games and photo booths to make 'What's Your Fit?' campaign a truly unique experience for their customers.

The Hameedia collection features a wide array of fits, including the modern and trendy 'Slim' fit that follows the frame of the individual's body, the 'Tailored' fit which is quite similar to slim but gives a more perfect balance between regular and tailored and also the 'Regular' fit that resonates a classic and loose fit. Whilst one is able to readily experiment across all these fits with confidence at their stores, worry not, if the ready-made fit is not for you; as all of these fits could be customised to your own preference through their Real MTM (Made to Measure) or fully customise from scratch through their bespoke services.

The campaign will correspondingly be replicated on social media platforms parallel to the mall activation campaign, creating greater awareness and encouraging more dialogue related to individual style and fits.