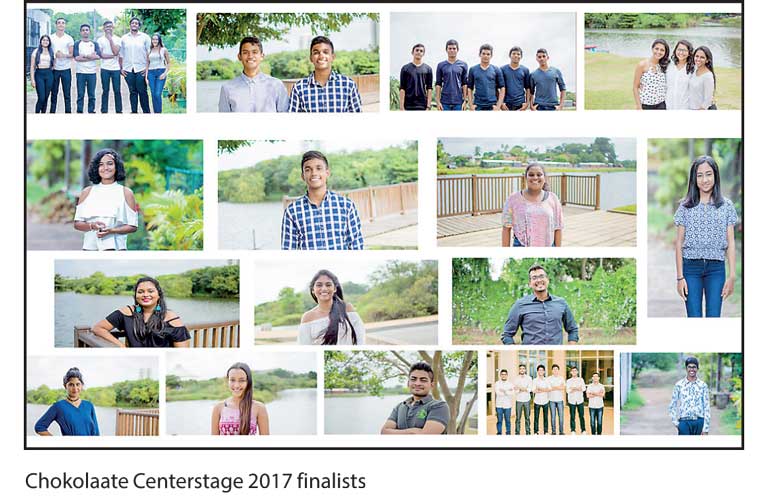 Established in 2006, the leading teen magazine in the country, Chokolaate Magazine has come a long way over the last few decades. The main objective behind the launch of the magazine at the time was to create a platform that highlights the talents of the younger generation and also provide more opportunities where teenagers from all over the country are allowed to showcase their blossoming talents.

Keeping in line with this vision, the magazine initiates and hosts many events such as book swaps, movie marathons and design contests throughout the year. One of the events that will unfold in September is Chokolaate Centre Stage 2017, a talent contest that allowed many youngsters to showcase and display their gifts to the general public and an eminent panel of judges last year.

After the preliminaries that was once again judged by the likes of Shehara Jayathilaka, Yashan de Silva, Krishan Perera, Migara Silva and Roshane Silva, 12 soloists, three groups and two bands were selected to battle it out at the event finale that will be held on 9 September at Bishops College Auditorium from 5:30 p.m. onwards.

The soloists set to take the stage are Udeshika Karunanayake, Vion Jehanathan, Hansini Koralage, Ashanya Premadasa, Chathura Wijesekera, Thishakya Gamage, Dillon Perumal, Thrishal Gamage, Nadia Azad, Jasmine Sherifdeen, Ian Ranasinghe and Nikitha Senaratne. Music for Udeshika Karunanayake is stress relief when she has had enough of studying her favorite subjects such as chemistry or biology. For Vion Jehanathan on the other hand it has been something he has been studying since he was seven, and continues to pursue at Ashanti's School of Music.

In 2012, Hansini Koralage participated in the British Federation of Performing Arts at the age of 9 as a soloist, becoming the youngest All Island winner that year. The youngest contestant this year is Ashanya Premadasa is also a student at Ashanti's School of Music and has managed to secure first and second places during open mic competitions held at the school.

Aside from singing and performing sixteen year old, Chathura Wijesekara also loves to explore the world of music by strumming his guitar while Thishakya Gamage draws inspiration from modern day icons such as Beyonce and Rihanna.

Dillon Perumal was a part of the school choir at St Benedict's College and is part of the band 'FRETS' when he is not employed at his day job. For Thrishal Gamage joining the choir at St. Joseph's Church, Ratmalana was the cornerstone that sparked his interest in singing and performing.

When contestant, Nadia Azad is not seen playing the piano, playing the guitar or song writing, she is most likely to be seen doing a number of other things as her interests in cooking, hiking, Jesus, horse riding, surfing are among the many others. ​14-year-old Jasmine Sherifdeen is also a student at the Ashanthi School of Music and many will remember her role as Wendy in Peter Pan the Musical.

Ian Ranasinghe and his band 'FEEL' won Best Band at Centerstage 2016 and this year hopes to repeat his winning streak in the solo singing category. Nikitha Senaratne wants to make it big in her musical career and her best musical memory is when she got the opportunity to perform at the IIFA Awards held in Sri Lanka. Nikitha's biggest achievement is winning 11 awards from the University of West London including the Best Performer and Vocalist of the Year at the IMSD.

Meanwhile Tetrad, Ascension and Chathu and Diz are the three groups that made it to the final in the Group Singing Category.

Tetrad consists of a trio of fun loving girls named Falan, Matheesha and Nitara. The trio met in school. Ascension meanwhile is made up of Thishakya Gamage, Nadia Azad, Lakshan Wijesooriya, Shimar Ahamed, Stefan Arnolda and Dahan Ranawana.

Chathura and Disanda also known as, Chathu and Diz have been best friends for a very long time and they also attend the same school together.

The bands performing in the band category this year will be Reflections and COCO.

Reflections, with their manager Udara Peiris are set to take the stage. The name 'Reflections' was thought up by lead vocalist Nathal because he wanted each and every member of the band to reflect their own signature sound, talents and musical skills during their performances.

The second band competing this year will be COCO who are a bunch of young musicians with varying musical talents who hope to display "something different" during their performance.

Centre Stage 2017 is supported by AOD, Radicalz, Revport, Urban Records, Gorgeous, Kiss FM, Dynamic AV, Ashanthi's School of Music and Nehemiah Consultans.

Box plan is now available at the Bishop's College Auditorium. For more information please contact Mitchelle on 0777 224645.