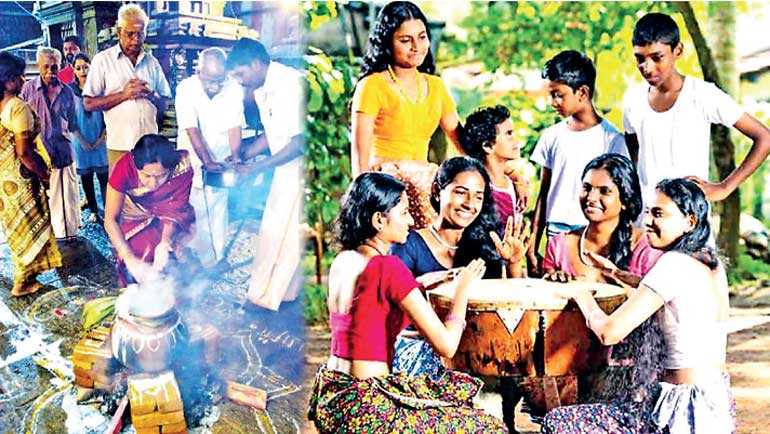 We traditionally celebrate the 'Aluth Avurudda' in mid-April – according to the times given by astrologers
---
By D.C. Ranatunga
---
We Sri Lankans celebrate the New Year twice a year. We celebrate once on 1 January as is the normal custom throughout the world. Then we traditionally celebrate the 'Aluth Avurudda' (Sinhala term for New Year) in mid-April – according to the times given by astrologers. It is known as 'Sinhala and Tamil New Year' since both the Sinhalese Buddhists and Tamil Hindus celebrate the day.

It is generally accepted that the 'koha' (koel/cuckoo) birds start singing closer to Avurudu, indicating that it is time for everyone to get ready to celebrate.

Just as much as the elders wait for Avurudu, the young ones look forward to the Avurudu since it is customary for them to receive gifts, mainly new clothes. The parents also give them money as 'santhosam' which, in the old days, used to be collected in a till rather than spent straightaway.

Auspicious times are given by the astrologists mainly to stop all work for the year and when to start work for the New Year. The time to stop all work in the current year is known as 'nonagathaya' and the parents ask the children not to read or write during that time. The mother does not light the hearth during the period.

Several days before Avurudu, the mother prepares the traditional items made for the occasion. The main items are kevum, kokis and aasmi. There are two main types of 'kevum' – 'athirasa' (plain ones) and 'konda kevum' (with a top piece). While these items can be easily made, making 'aasmi' is a more tedious process. As children we loved to help the mothers in making these items.

The father had a special job to do. He had to ensure that ripe bananas are available for the occasion. If the bananas are not ripened in time he follows a process of covering them using banana leaves a few days ahead.

At the auspicious time while the mother gets to the kitchen to light the 'lipa' at the right time, the father cuts a branch of a tree symbolising starting work for the new year. The children are made to read a book and write a few words. During our school days we used to read a text book and first write 'Namo Buddhaaya' before copying a few words from a text book. The parents and children then sit for the meals. Children who are away from home doing jobs elsewhere would come in time to celebrate Avurudu. The married ones come to see the parents no sooner they finish celebrating Avurudu in their own homes. They would come and offer betel and gifts to the parents and worship them.

A 'bulath heppuwa' will always be ready to be offered to visitors (whether they eat betel or not) as a sign of goodwill. After chatting for a while they are invited for an 'Avurudu feed'.

Once the home ceremonies are over, the children would rush to meet friends and play.