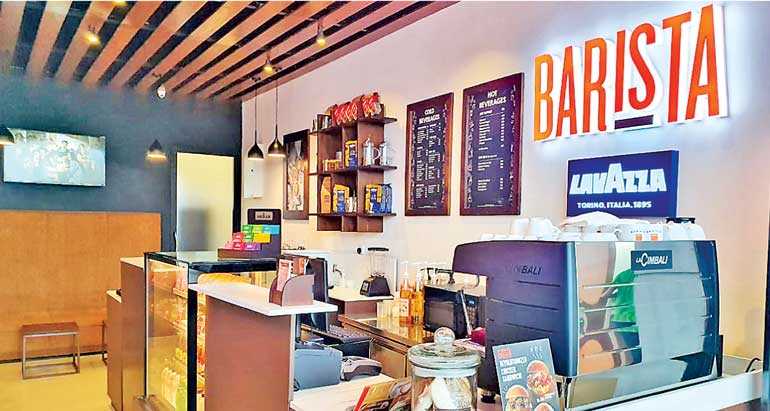 ---
With a rapid expansion plan underway Barista recently opened its eighth outlet at the Southern Highway Service point in Welipenna.

The outlet is an elegant, modern and cosy one where you can sit, relax, charge your phone and sip a perfectly brewed cup of cappuccino while enjoying an array of freshly baked cakes, croissants, muffins and sandwiches. The Barista outlet is the only outlet in the Southern Highway Service area in which you can dine-in when you are heading for those long weekends towards the south. It is also a welcome addition for local and international tourists to have a familiar place to dine at. Adhering with regulations set forth by the health authorities the outlet practices social distancing while sanitisation methods are available for all customers who enter. Staff also go through stringent sanitisation processes before handling and preparing food and serving customers.

"We feel the south will play a key role when Sri Lanka reopens for international travellers and the decision to open an outlet on the Southern Highway was also backed by the need for tourists to see familiar branding and know that they can get safe, hygienic, affordable and tasty food and coffee during their travels," said Barista General Manager Dilupa Pathirana.

It's the right time to rethink, reenergise and rebuild the nation post the adverse effects of the COVID-19 pandemic on the economy and lives of our people. Sri Lanka's largest coffee house chain Barista is gearing up to be a major part of this process by coming out in the forefront of the campaign to restart Sri Lanka. As the first step in this endeavour, barista opened its latest outlet at the Southern Highway stopover point in Welipenna recently.

"As the pioneer of the coffee industry in Sri Lanka Barista has made a promise to always keep a coffee by your side even during toughest of times. While international chains facing difficult times we wanted to take a more positive approach and show the world what it really means to be resilient in troubled times," Pathirana added. Barista began its journey in Sri Lanka in 2002 when the café culture had not set its footprint and coffee was still considered a luxury in Sri Lanka. Over 18 years Barista has created a truly international experience and brews a truly Italian cuppa for all those who enjoy both the coffee and the craft.

Over the past few years a growing numbers of patrons have helped make Barista the most popular international coffee chain in Sri Lanka with seven café's island wide and a host of new initiatives underway. Apart from the internationally acclaimed food and beverages, Barista has also been recognised for its exceptional service standards designed to reflect the warmth and character of traditional Italian coffee houses, whilst also offering facilities such as wireless access and games.

Baristas philosophy has always been to passionately deliver the highest levels of experiential services, maintain consistency in serving the highest quality products and become a globally competitive organisation – one that is driven by an insatiable thirst for excellence. Going by this strongly implemented goal is what helped Barista win the LMD's customer service excellence award in 2019.