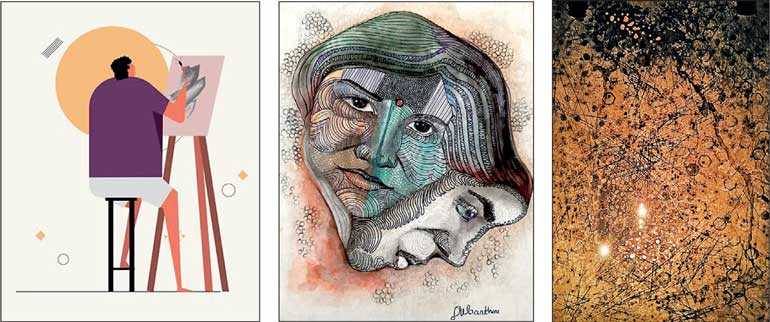 ---
This year will go down in history. The COVID-19 era will be remembered not only for the plague and its detrimental consequences, but also for initiatives taken by artists around the world to bring us closer despite social distancing.

From balcony concerts, at-home performances streamed live on social media to read-a-book initiatives and even an increase in interest in the culinary arts to virtual exhibitions and digital museums, art has inherently taken over the hearts, minds and souls of each individual amid this wretched crisis. ARTRA has, since its inception advocated for the vitality and significance of artistic expression from culture to chaos and their latest initiative, is profoundly created and innovated to celebrate artists and their imaginative prowess.

Through the launch of ARTRA's Artist Challenge in early April, which began as a drive on social media in encouraging artists to share their works and nominate their peers in doing so too, sowed the seeds across artists from all around the island to participate in responding to their own reflections of this pandemic. In doing so, ARTRA brings new meaning to a canvas of works by multiple artists in showcasing each artist's experience of isolation. This canvas curated ARTRA will come in a myriad form, beginning from dedicated online showcase to print, exhibition in the months to come.

In conversation, Editor-in-Chief Azara Jaleel stated, "The arts is of critical importance right now on many levels, primarily for its ability to invoke reflections within each individual. This is what humanity has missed during its rigorous and irresponsible growth trajectory, which ultimately caused this pandemic. Engaging with the arts through making music to dance to painting, provides solace, awakens curiosity and allows us to be in the moment with our thoughts and feelings. It reminds us of our essential humanity. Artists engage with their thoughts on a daily basis in this fashion, so we believe the ARTRA canvas will shed light to interesting perspectives the nation and the world needs to hear. In fact, we have been thoroughly impressed with the submission we have received thus far." The ARTRA Canvas presents an opportunity for artists island-wide to be featured and voice their thoughts, emotions and reflection. Here's how they can be a part of this monumental initiative.
Concept
Share your response to, or reflections on the global pandemic, COVID-19
Criterion
1. Your work of art needs to be original and authentic

2. Works of art submitted need to be in the visual medium such as sketch/painting/drawing/photography/illustrations/digital art/doodles.

3. When artworks are submitted, the artist needs to submit their artist profile, concept note to the work/s submitted within 500 words and place of birth in either English, Sinhalese or Tamil

4. Works need to be submitted to [email protected]rtra.lk by 25 May
Eligibility
1. Submitting artist needs to have been born and living in Sri Lanka

2. Submitting artist needs to be 18 years of age

The guidelines and criterion lead you to a new concept, a never before seen endeavour, that caters to artists across the island and the people of this nation. In this process, ARTRA is paving way for intriguing interpretations and engaging visual themes, healing and comprehension. ARTRA's canvas will showcase not only the ideas and nuances of an artist conscious but fundamental practices that voice out the truth behind a thought, the essence of a brushstroke and definition of a single colour, each with a distinct meaning. The ARTRA Canvas will pose unsaid questions and answer those that exist within one's subconscious.

ARTRA Magazine, established in 2012 is Sri Lanka's exclusive monthly contemporary art magazine exploring visual, performance, applied, written and culinary art. Whilst focusing on providing thematic and timely content to local and international readers, ARTRA Magazine was conceptualised with the aim of increasing consumption for contemporary art in Sri Lanka. The magazine spurs a sense of artistic consciousness beyond that of art circles and art spaces including corporate, industrial and diplomatic circles of which ARTRA's circulation, both print and digital, are strategised to reach a wider audience.

Additionally, ARTRA collaborates with leading art professionals, international art festivals, embassies, corporates and cultural partners in strengthening the local art scene including Collector's Desk, Art & Living, Colomboscope, Dhaka Art Summit, Karachi Art Biennale, Bonjour Cinema and British Council's cultural events to name a few. Having published over 50 editions, ARTRA expands its portfolio of art features/works/services locally and internationally to create a larger understanding, appreciation and value for contemporary art.