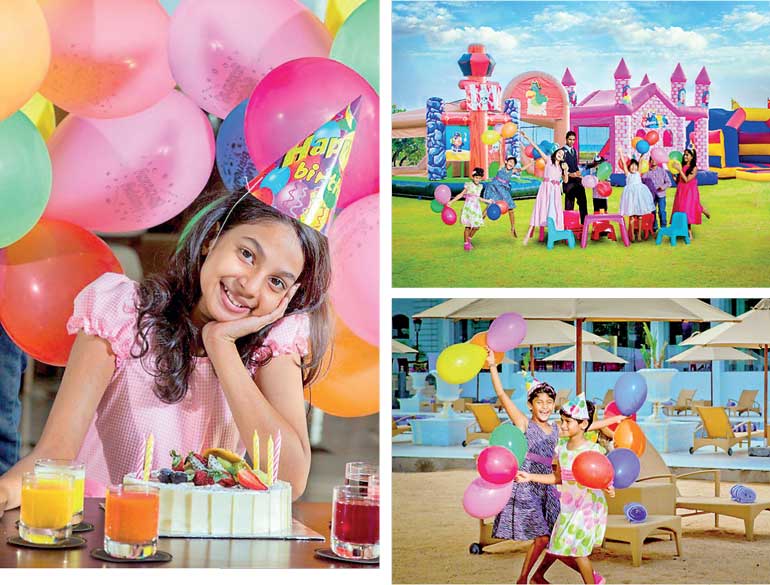 Celebrating important milestones of family members particularly children can leave lasting memories that will be carried throughout their lives. If an unforgettable celebration is what you hope to give your little prince and princess, you should definitely consider the 'celebration central' of Colombo – The Kingsbury.

The Kingsbury is renowned for its awe inspiring banquet venues and scintillating cuisine which has made it a go to choice when it comes to weddings and corporate events. And now to the delight of their junior guests three new kiddies' party packages have been introduced.

Having the space to run around and have bouncy castles and other play items set up is best suited for an outdoor venue. The Kingsbury has not one but two of such venues; The Oval (front lawn) and Honey Beach Club (pool side).

Located right in front of the hotel and overlooking the lotus roundabout is a The Kingsbury's lush meadow- The Oval. This spacious patch of greenery is ideal for a garden themed party for kids to run and play to their hearts content. The soft grass is safest option for those concerned about their hyperactive and accident prone little ones. Add a bouncy castle and some other activities and a fun filled celebration is guaranteed. If a beach party theme is what you are looking for, Honey Beach Club is the perfect venue. The sandy area is spacious and ideal for play items to be set up and the real plus point of this venue is the free usage of the pool! Kids can splash round and have whale of a time they will never forget. The Balmoral, The Victorian and The Winchester can be used as indoor venues to host these celebrations.

There are three packages available from Rs.2,600 (+ service charge and taxes)per child. The kiddie's party menu comprises of hot and cold canapés and desserts with action stations also available as additional options.

There are over 50 items to choose from and The Kingsbury Banquet Team is ever willing to assist you in making those choices. Bouncy castles and other play items can be organized on availability at special rates too!

Give your little prince and princes the unforgettable celebration they deserve at The Kingsbury! Planning your kiddie's party has never been so simple, so decide on the theme and the guest list and set up a meeting with one of the banquet team members today. For more information log on to thekingsburyhotel.com/offers/ or call 0774782042 or 0771087754.