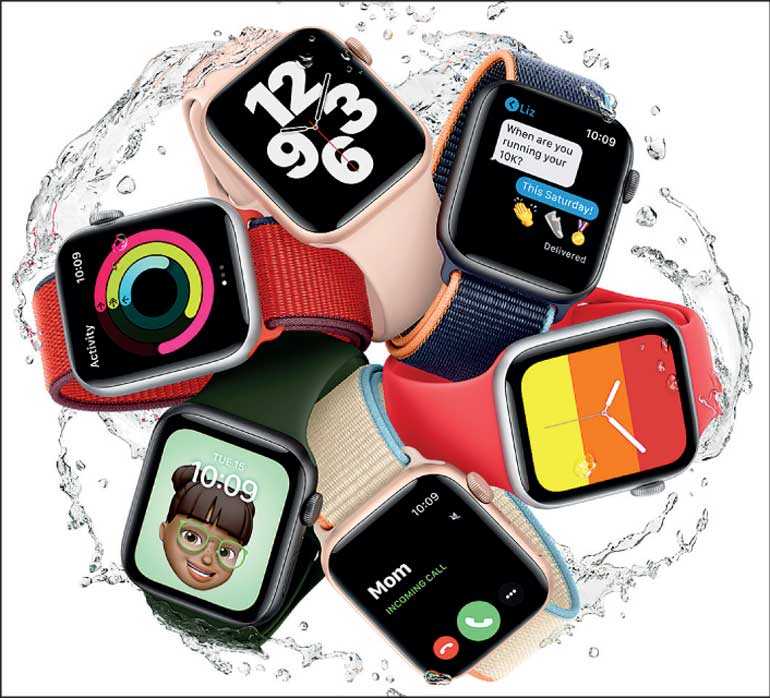 Abans has introduced the all-new Apple Watch Series 6 which has a revolutionary Blood Oxygen feature that offers users even more insight into their overall wellness. Apple Watch Series 6 delivers many notable hardware improvements, including a faster S6 System in Package (SiP) and next-generation always-on altimeter, along with its most colourful line-up yet, and featuring a beautiful palette of new case finishes and bands.

WatchOS 7 brings Family Setup, sleep tracking, automatic handwashing detection, new workout types, and the ability to curate and share watch faces, encouraging customers to be more active, stay connected, and better manage their health in new ways.

Apple Watch Series 6 expands the health capabilities of previous Apple Watch models with a new feature that conveniently measures the oxygen saturation of the user's blood, so they can better understand their overall fitness and wellness. Oxygen saturation, or SpO2, represents the percentage of oxygen being carried by red blood cells from the lungs to the rest of the body, and indicates how well this oxygenated blood is being delivered throughout the body.

To compensate for natural variations in the skin and improve accuracy, the Blood Oxygen sensor employs four clusters of green, red, and infrared LEDs, along with the four photodiodes on the back crystal of Apple Watch, to measure light reflected back from blood. Apple Watch then uses an advanced custom algorithm built into the Blood Oxygen app, which is designed to measure blood oxygen between 70% and 100%. On-demand measurements can be taken while the user is still, and periodic background measurements occur when they are inactive, including during sleep. All data will be visible in the Health app, and the user will be able to track trends over time to see how their blood oxygen level changes.

The all-new Apple Watch SE, which is arguably the ultimate combination of sleek design, superb functions and the best value. This watch is a great option for people to stay connected, be more active and keep an eye on their health. It packs all the essential features of an Apple Watch into a modern design that everyone loves – all at a more affordable price. The Apple Watch SE holds the largest and most advanced Retina display, which allows you to see details and information more easily on your wrist. Thin borders and curved corners made it 30% larger than Series 3, while the interface allows large and easy-to-read app icons and fonts. The S5 System in Package (SiP) and dual-core processor delivers incredibly fast performance up to two times faster than Series 3. The next-generation always-on altimeter provides real-time elevation all day long using a more power-efficient barometric altimeter. This feature detects small elevation changes above the ground and can be shown as a workout metric. The watch also features a built-in compass to provide better directions. Emergency SOS enables you to quickly call for help and alert emergency services with just a push of a button. Fall detection detects when you fall and sends an alert after a hard fall, which can be used to initiate a call to emergency services. The watch utilises the latest-generation microphone to measure sound levels around your environment, and notifies if you the surrounding sound is high enough to cause you damage.

Both Apple Watch Series 6 and Apple Watch SE feature the newly introduced Family Setup, where family members without iPhones can take advantage of the many features and apps on Apple Watch, from making and receiving phone and FaceTime audio calls, to sending and receiving messages and emails, and even connecting with other Apple Watch wearers over Walkie-Talkie. The new Memoji app on Apple Watch allows users to customise a Memoji that can be shared while messaging friends or displayed as a watch face. Parents have the ability to approve all contacts, so kids can safely use the communication features of Apple Watch.

For more information, call its hotline on 0115 999000. The Apple Watch SE and Apple Watch Series 6 are now available at Abans showrooms and BuyAbans.com. Enjoy special interest-free instalment plans on selected credit cards, along with a trusted warranty from Abans.