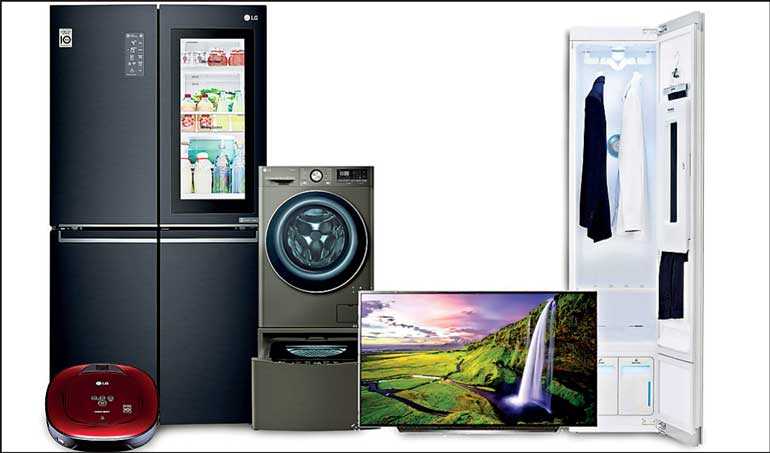 ---
Abans is the trusted homegrown brand name synonymous with quality, innovation and versatility in Sri Lanka, having served people the best global products and services for over 50 years. Armed with the lifelong vision to change the lifestyles of Sri Lankans and make their day-to-day activities convenient in every way, Abans has consistently been at the forefront of offering unmatched quality, the ultimate in technological advancements and superior performance, that ensure comfort and convenience with each new product introduction.

In line with this vision, a series of ground-breaking products was launched this year with the purpose of meeting the demands of hectic and fast-paced daily schedules of people, especially families, and guaranteeing cutting-edge functions that reduce time spent on everyday chores, save a significant amount of electricity, and allow you and your loved ones to experience unparalleled entertainment and maintain much-needed hygiene.

The LG French Door InstaView Door-in-Door Refrigerator in Matte Black, features the unique InstaView glass panel, where you can tap twice and view what's inside the refrigerator. This product contains five separate doors, so you can prevent cold air loss by opening only the section that you require access to. With the largest storage capacities for all your favourite foods and to stock up on groceries; as well as the Inverter Linear Compressor that saves up to 42% on electricity, and the Hygiene Fresh filtration system that removes up to 99.99% of bacteria and contaminants from the air inside the refrigerator, this product is a game-changer for your home.

LG Vivace Front Loader Washing Machines introduced the concept of a twin wash, where you can wash two separate loads at the same time. Bigger loads can be laundered in the top washer, while the bottom washer can be used to wash delicates and smaller items simultaneously, thus saving a great deal of time and energy. These revolutionary washer dryers feature the unique Artificial Intelligence Direct Drive (AI DD) which detects the weight of your laundry, senses the softness of the fabric and chooses the optimal washing pattern for each fabric by itself.

Using deep-learning technology, AI DD offers 18% more fabric protection, making your favourite clothes last longer. LG Steam+™ technology featured in the Vivace Front Loader and LG Steam Top Loader contain an Allergy Care function that eliminates 99.99% of germs, viruses and allergens, a useful function in this time of the pandemic to get hygienic and fresh laundry in no time.

LG Hom-Bot, the square robotic cleaner, takes care of cleaning your floors, so you don't have to spend time vacuuming. This handy and innovative product easily eliminates dust and dirt hiding in the tightest of corners with its long brushes, and corner-detecting sensors, which also help it move freely around the room without knocking onto edges. With an extremely low noise level and next-level Learning Function that enables the Hom-Bot to recognise areas it has previously cleaned, you can sit back and relax without the risk of disturbance or hassle.

LG Stylers welcome a happy and healthier lifestyle, where you can dry clean your clothes easily at home and remove odours, with TrueSteam technology that effectively cleans and sanitises laundry with the touch of a button.

LG OLED Televisions reach new heights in visual excellence, enabling you to enjoy the deepest blacks, richest colours and the most realistic picture quality like never before seen. The α9 AI Processor uses deep-learning technology to offer the best imagery and audio experience, including the Gallery Mode option for immersing yourself in picture quality beyond your imagination.

All newly-launched products can be easily accessed at Abans showrooms island-wide and BuyAbans.com, with more sophisticated and advanced products to be introduced in the future.