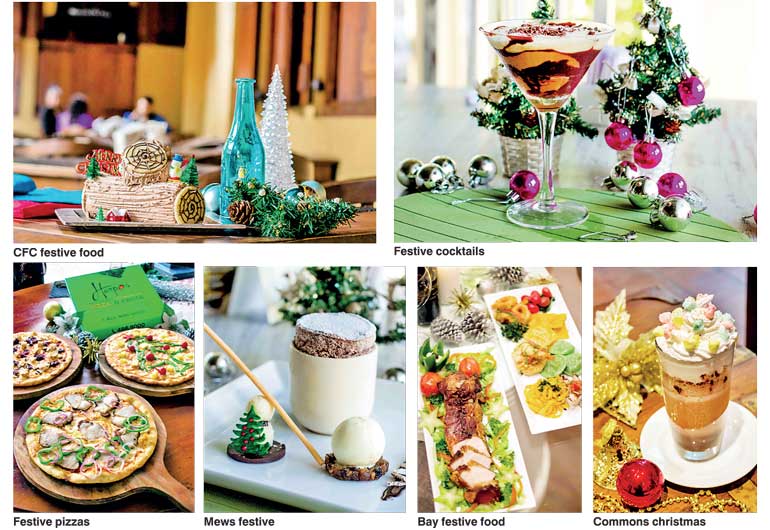 Celebrations of the joy of the season are presented in many forms, from traditional to novel food, exciting cocktails and beverages and quality live entertainment.

The annual charity project – 'Share with a Child' – gets under way on 10 December at the Community Concern Centre, Dehiwala, to support the education program with gifts and a Festive party for 92 kids for the 10th consecutive year.

"The festive season is a time for celebration, also to meet up with your friends and loved ones and most importantly, the essence of the season, is to share all our blessings with the lesser privileged and the needy. Our theme focuses on these and I take pleasure bringing you a festive season packed with food, drinks and entertainment for you to enjoy!" said MD Harpo.

Entertain with ease this holiday season by choosing from the endless list of Christmas menus and seasonal food ideas. From turkey to salads, mince pies to puddings, whatever the festive treats Harpo's Cafes & Restaurants is presenting are sure to be enjoyed.

The festive program commenced on 1 December with all the restaurants aglitter with festive lights and decorated with wreaths, baubles and Christmas trees.

The Bayleaf presents a festive season with truly Italian menus with a Christmas menu from 24-30 December which includes the traditional fare on Christmas Eve and Christmas Day. Festive goodies for takeaway orders from 20-30 December with a range of festive roast to Xmas cakes, puddings and breads. Dining options offer three private dining rooms with a choice of venues for elegant dining.

New Year's Eve presents a gala Italian dinner buffet set in an elegant setting to usher in the New Year in style with DJ music, priced at Rs. 6,000. The 'Neighborhood Bar' redesigned is ideal for Italian festive tapas and exciting cocktails and premium liquor. Reservations on 2695920.

Park Street Mews restaurant, with its chilled out ambience, has seasonal specials with all the trimmings from 1-23 December with a special festive menu and Xmas goodies for private entertainment on special orders, and on 24 and 25 December presents Christmas Eve dinner and Christmas day lunch and dinner, post festive specials from 26-30 December and a champagne dinner to usher in the New Year. Reservations 2300133

Curve – Tapas Bar Music has set the trend for tapas and quality entertainment in the city. The festive season features a lineup of exciting talent from Natalya (guest artist from Canada) on Tuesday and Thursday, Flame on Wednesday, Damian with D Zone on Fridays and CJ with Mintaka on Saturdays. Add an extra level of sparkle to the holiday bash with the festive cocktails and these swanky sips will be the highlight of the night.

Colombo Fort café is presenting a range of sumptuous burgers for December followed up with the traditional festive goodies with a Euro/Med twist for Christmas Eve and Christmas day meals continuing till 30 December. New Year's Eve offers a special dinner menu and a festive cocktail range and spirits to enjoy the season. Reservations 2434946.

The Commons coffee house has a festive calendar starting from 1 December with special turkey menu, kids competition, Christmas goodies with yule log, minced pies, which are not to be missed and a 'Blast thru' News Year's eve menu on 31 December (reservations 2694435).

Harpo's Pizza & Pasta Parlor in Nugegoda celebrates its first Christmas with festive specials from 1 December onwards, promoting the thin crust home grown range with festive turkey pizza, glazed ham and pineapple pizza and roast pork pizza for the season. Delivery on 4869000.

Enjoy 'happy festive moments to meet, celebrate and share' at The Bayleaf, Commons coffee house, Park Street Mews restaurant, Curve tapas bar, Colombo Fort Café and Harpo's Pizza Parlor this season! See www.harposonline.com for all menus and information. Early reservations recommended.