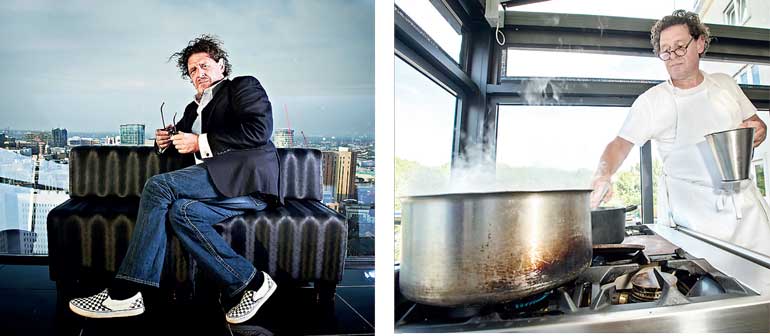 Godfather of modern cooking Marco Pierre White, who is a three Michelin star celebrity chef and Judge of MasterChef Australia and Hell's Kitchen fame, will be in Sri Lanka courtesy of Cinnamon Hotels & Resorts, flown down by the national carrier SriLankan airlines, from 18 to 31 January 2016. As part of his visit to the island, the legendary chef will be presenting a curated Gala British Dinner on 22 January at Cinnamon Grand Colombo. The dinner will be a once-in-a-lifetime opportunity for Colombo to engage with the Godfather of Modern Cooking over a meal designed to delight the senses at every turn.

The themed six-course dinner is curated by Marco Pierre White and his executive chef, in collaboration with the executive chefs at the Cinnamon Grand Colombo. While Marco will recreate some of his signature dishes, the ingredients for this dinner have been brought down from Great Britain, including Scottish Angus Beef, Welsh Lamb, Rainbow Trout, Salmon from Scotland and English cheese. The dinner will be served with exclusive wine and Scottish single malts and prepared by Marco's executive chef under his personal guidance. Over the course of this mouth-watering meal, guests will also be able to interact personally and have a photo opportunity with Marco Pierre White.

The celebrity chef will travel across the island in an attempt to engage with Sri Lankan culture and culinary experiences. During his stay he will deliver a 'master class' to chefs and other culinary professionals, while the highlight of his tour would undoubtedly be the Great British Gala dinner.

Cinnamon Hotels & Resorts have been a brand that continues to create moments that inspire great living with one-of-a-kind ideas and top-notch personalities. The brand's recent enhancement and visits by other world class celebrities including Nigel Barker continues to add to this notion, and Marco Pierre White's visit is most certainly one of the momentous events that marks Cinnamon's long term commitment to inspire 21st century living.

Marco Pierre White's tour of Sri Lanka is presented by Cinnamon Hotels & Resorts in collaboration with the British High Commission, the national carrier SriLankan airlines, HSBC, Knorr Sri Lanka, Land Rover Sri Lanka, Sri Lanka Tourism, Quintessentially Lifestyles and Trekurious.