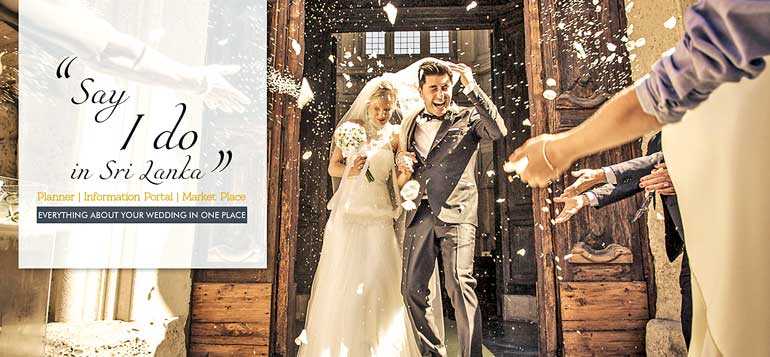 A wedding can be one of two things; a fairytale out of a Disney classic or a nightmare of the worst kind. It all depends on the planning. But the planning itself can be the most stressful of all. The answer to every bride, groom, family of the couple, retinue, and even the wedding planner is Retinue.lk.

Sri Lanka's first online wedding concierge will be launched soon with the motive of bringing every aspect of planning a wedding to one simple to use place. The brainchild of Elon Venture Catalysts' Vidushan Premathiratne, Retinue.lk also aims to promote Sri Lanka and its unique locations as the perfect wedding destination.

Retinue.lk was developed to present Sri Lanka's wedding experience to the world and position the country as a leading global wedding destination. The main aim is to attract destination weddings to Sri Lanka by reaching out to foreigners, locals living or working abroad and the time constrained corporates. The online platform helps them prepare for their wedding in a simple and easy to use way.

Apart from this Retinue.lk is also unique in that it brings everything about having a wedding in Sri Lanka to one place. The main three elements comprises of a Blog, the Marketplace and a Planner. The blog will provide all the pertinent information/advice and inspiration required to host a wedding in Sri Lanka, while the marketplace will facilitate finding all your favourite vendors and products. Users can book/pay and communicate directly with chosen vendors and keep track of all the proceedings right up until the big day. Finally, the planner will help a couple stay organised, manage the guest lists, send invites and even get their family and friends involved in coordinating the intricate details of a perfect wedding.

With an extensive network of vendors ranging from wedding planners, banquet halls and unique wedding venues, hotel, caterers, photographers and videographers, jewellers, hair and make-up artists, designers, décor suppliers, bands and deejays, dance acts and so much more, Retinue.lk comes fully equipped to help busy couples work their way around planning the perfect wedding. The site also has the unique option of users reviewing and rating vendors to provide true life testimonials for services provided. Reviewing and recommending can also be done by vendors themselves who have preferred partners to work within the industry.

Taking the concierge service beyond just the "big day" itself, Retinue.lk also has the ability to support organising other wedding related events like Bachelor and Bachelorette Parties, Home-Coming Functions and specific religious functions as well.

From a vendors perspective Retinue.lk gives them a chance to showcase the best of their work and creates an open market free of charge. Cross-references among vendors also allow businesses to further strengthen their networks within the industry. Vendors can maintain their own account and update with information and images as and when required.

With online chat support and the ability to contact vendors directly, Retinue.lk is also hoping to reach out to expatriates and foreign couples who can book destination weddings in Sri Lanka with ease. Further plans include coupled offers amongst vendors, and the ability for vendors to have surge pricing during peak wedding seasons, etc.

For more information call Retinue.lk on 0773 706704 or visit www.retinue.lk.