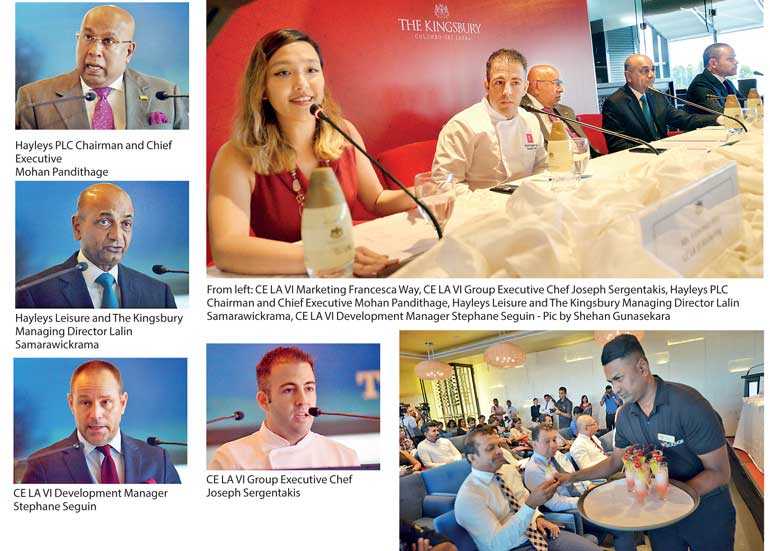 By Shannon Jayawardena

The Kingsbury recently partnered with the award winning CE LA VI lifestyle brand in a $2 million investment to elevate Colombo's nightlife landscape in form of a restaurant and lounge concept. It is to be officially launched on 28 July on the hotel's rooftop.

CE LA VI is a globally recognised trademark with brand presence in Singapore and Hong Kong and is ideally known for their iconic rooftop locations, innovative modern Asian cuisine, mixology and its world class music entertained by veteran DJs from across the world.

Kingsbury Chairman and Chief Executive Mohan Pandithage said: "CE LA VI is an international, luxury, lifestyle dining and entertainment brand which is to transform Colombo's nightlife. This exciting partnership will offer our guests, a sophisticated entertainment and culinary destination which is totally new to Sri Lanka."

As the country's tourism sector is growing hand in hand with the rapid expansion of the city's high end infrastructure, Pandithage believes that the city will see growing numbers of discerning leisure and business travellers. With this he is certain that CE LA VI Colombo is well set to become their number one choice.

Undoubtedly Colombo has positioned itself to be the next big city and is now accepted as a cosmopolitan tourist destination hence is the very reason CE LA VI has ventured their presence to Sri Lanka noted Brand Officials at the media conference.

Hayleys Group Leisure Sector Managing Director Lalin Samarawickrama stated: "We are very excited that CE LA VI is coming to Colombo and very soon the brand will grow more across the world. We explored the avenue of getting into new concepts and immediately got into bringing the brand to the city. Kingsbury as you know is a new brand and we always said that we will bring something different to our customers and this is it."

The rooftop is to be specialised as an indoor and outdoor cocktail lounge, featuring a world class Japanese restaurant. Samarawickrama further highlighted the fact that they have obtained liquor licence until 4 a.m. and will be in the forefront on both dining and nightlife.

CE LA VI Development Stephane Seguin noted: "CE LA VI means this is life and while we enjoy life in the fullest, we are enjoying a journey of the five sensors. We aim to deliver one of Sri Lanka's most celebrated and sophisticated nightlife and dining venues."

He further added that they are very much eager to bring the brand to Colombo, all set to a beautiful sea and sunset view. Colombo will be the first in the stream of CE LA VI's new destinations this year, Seguin highlighted.

Group Executive Chief Joseph Sergentakis said: "We are very pleased to join in collaboration with this great hotel and we are honoured to work with the local chiefs, exchanging ideas. We are very lucky to be here in Sri Lanka."

CE LA VI further aims to stimulate the minds and fuel the spirit at the rooftop location while embarking on an experiential culinary and entertainment adventure and this will be the first time the city will be offering an international luxury lifestyle, dining and entertainment brand.

"We do feel that Colombo is one of the emerging markets and we want to be the first in the world to provide this opportunity. We don't follow trends, we set trends," noted CE LA VI Marketing Francesca Way.