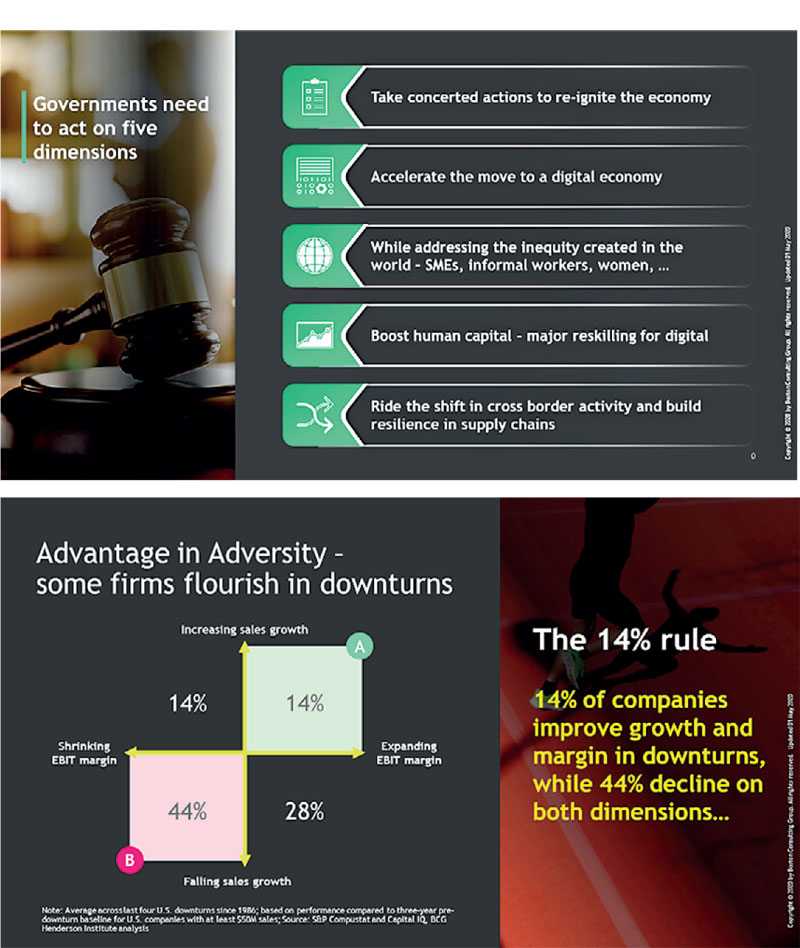 Alpesh Shah, who leads the Boston Consulting Group (BCG) in India and South Asia, addressed 100+ CEOs on 10 February in Colombo at a flagship event organised by the International Chamber of Commerce (ICC) on the 'Most Admired Companies in Sri Lanka'. He delivered a speech on the key imperatives for the Government and business leaders of Sri Lanka to revive the economy from the setback caused by the ongoing pandemic. Following is a condensed version of his speech:
---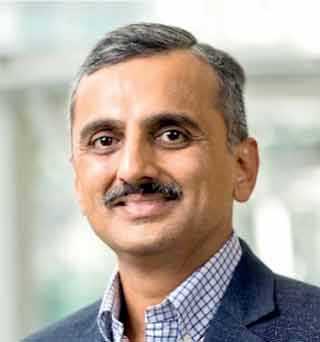 Boston Consulting Group Managing Director and Senior Partner Alpesh Shah
---
Inarguably, 2020 was challenging for mankind as the world battled unparalleled disruption. The pandemic severely affected the global economy and Sri Lanka was no exception. Nearly all the economies globally have experienced degrowth – by latest estimates, US at 5-6%; Europe at -7-9%; Japan at -5-7%, and India at -7-9%. China is the only outlier at a 1-2% growth. Sri Lanka's GDP contracted by ~5% while rating agencies slashed the country's credit rating. Sectors such as Retail, Transport, Hospitality, Real Estate, Auto, and Energy were particularly hard hit.

The global pandemic has brought to the forefront the universal imperative for governments to play a larger role in shaping the future of their citizens. Against this background, I believe that governments need to prepare for action along five key dimensions.

Five dimensions on which governments must act

1. Double down on the existing and new paths of growth to regain growth momentum. While there is no singular approach, the answer lies in building an ecosystem of digitisation, innovation, and entrepreneurship.

2. Governments need to enable and accelerate the shift to a digital economy. COVID has resulted in the accelerated adoption of digital across various customer segments and needs, with resulting implications for governments and corporates. The Sri Lankan Government bodies will need to reimagine their journey to build a digital economy. They need to adopt a citizen-centric mindset to deliver government services in an efficient and seamless manner.

For example, creating National Identity (ID) Cards and a National Persons Registry can be very helpful. In Chile, the national ID-linked basic account enables direct payments into the bank accounts of more than two million Chileans. In Indonesia, where there are just four doctors per 10,000 people, the government has turned to telehealth firms to deliver remote consultations and prescribe and deliver medications.

Another case in point is Italy's Digital Solidarity initiative orchestrated by the Italian government. Through this government companies, particularly SMEs and self-employed people, can register to access digital teaming and remote working tools at zero cost. Further, services such as virtual teaming, cloud services, and e-learning are also offered by providers on the portal.

3. Governments need to address the inequity that has been created in the world. There are three segments that I would like to call out:
Low income/informal sector workers – for example, there is a 17% loss in wages for the lowest paid 50% of workers across Europe, vs. 6.5% for the rest
Women's economic security is more at risk because of the pandemic
The impact on SMEs has been relatively higher than on large corporates
As governments gear up to navigate the economic shifts in the aftermath of the pandemic, they need to be cognisant of this inequity and proactively address/reduce this imbalance.
4. Governments need to focus on boosting human capital. Economic development demands investments in skill development. From university and college curricula to employee upskilling and digital learning, funds have been injected to build strong human capital in many countries, including Sri Lanka. In the current environment, with unemployment, temporary underemployment, or cuts in working hours increasing, the opportunity cost of training has become lower. This opens sizeable opportunities for investment in training and upskilling. Singapore has opened Government-backed training centres to support some of the worst hit sectors by the pandemic such as tourism, aviation, land transport, art, retail, food services, and logistics.
5. Governments need to ride the shift/slowdown in cross border activity and build more resilient supply chains. As global trade flows digest the aftershocks of the pandemic, the adjustments to global supply chains will potentially continue. Self-reliance is the need of the hour – and onshoring and nearshoring are now becoming as critical as offshoring. In order to build more resilient supply chains, the government will need to proactively plan, localise, regionalise, or otherwise secure the crucial supply lines for food, medical supplies, and healthcare equipment. Further, the government also need to re-evaluate existing bilateral and multilateral trade agreements—and envision ones that effectively enable the supply of critical components and materials.
Five key imperatives for businesses
Changing gears from government to corporates, I would like to highlight five key imperatives for businesses in 2021.
1. Unleash the power of the frontline. Growth will come as a result of meeting customers' changing demands. Businesses have become progressively more complex, and as a consequence, in many cases, the frontline has been lost in that matrix. It is time to simplify and to give the frontline more power. Many of the most successful companies attribute their success to decentralisation and the ability to make key decisions close to the customer. Managers have their own P&Ls and autonomy and it is the delegation of authority and trust that drives the company.
2.Double down on a sense of purpose. Nowadays people long for inspiration, connection and a sense of purpose. It is up to business leaders to ensure that these needs are being proactively met at the workplace. However, this is becoming increasingly challenging to accomplish in an environment where we have fewer in-person meetings, more isolation, and a "bigger" world to contend with. Effective CEOs go to lengths to emphasise the very important "our role in the world".
3.Go local and build bridges. After decades of growing smaller, the world has suddenly grown bigger as countries choose to focus on local needs and concerns. Big companies now need to offer local answers to operate as local players. Geopolitical forces and the mobility-limiting pandemic have amplified this bigger-world phenomenon. Succeeding at this sort of localisation in an environment of restricted mobility and interaction will require the building of new bridges between diverse sets of people as well as new techniques for building them.
4.Integrate digital and technology into everything. Data and technology must be at the core of the business. The successful company will be "bionic" – human- and machine-driven. Only bionic firms will be able to innovate and optimise offerings fast enough, and thus, continually adapt to new online platforms, ever-changing consumer behaviours, and emerging opportunities.
5.Successful businesses will simplify. Businesses need to de-clutter and simplify their processes. To enable this, businesses must ensure that funding is available for continuous innovation, R&D, and investments in new tech business models.
"I would like to reiterate that the uncertainty created by COVID-19 can be a harbinger of change for Sri Lanka's economy. Countries, governments, and businesses that take a long-term view will be able to navigate the current crisis more effectively and be better prepared for the next one.
Let me now share the 14% rule. At BCG, we have studied several downturns over the last 25 years and created the 14% rule based on empirical data. It has been observed that through these economic downturns, a certain percentage of firms flourish – 14% of companies improve growth and margin in downturns, while 44% decline in both.
In order to be a part of the 14%, I believe that CEOs/business leaders need to look at this transformation journey by leveraging the power of three – the head, the heart, and the hands. The head to boldly envision the future, the heart to inspire and empower people, and the hands to execute and innovate with agility.
The need to constantly reinvent is fundamental for both governments and businesses as they create a blueprint for Sri Lanka's recovery. On this road, the ones who embrace adaptive capacity will stay ahead and be better prepared for the future.
---
(Boston Consulting Group is a premier global management consulting firm founded in 1963. BCG partners with leaders in business and society to tackle their most important challenges and capture their greatest opportunities.)
---