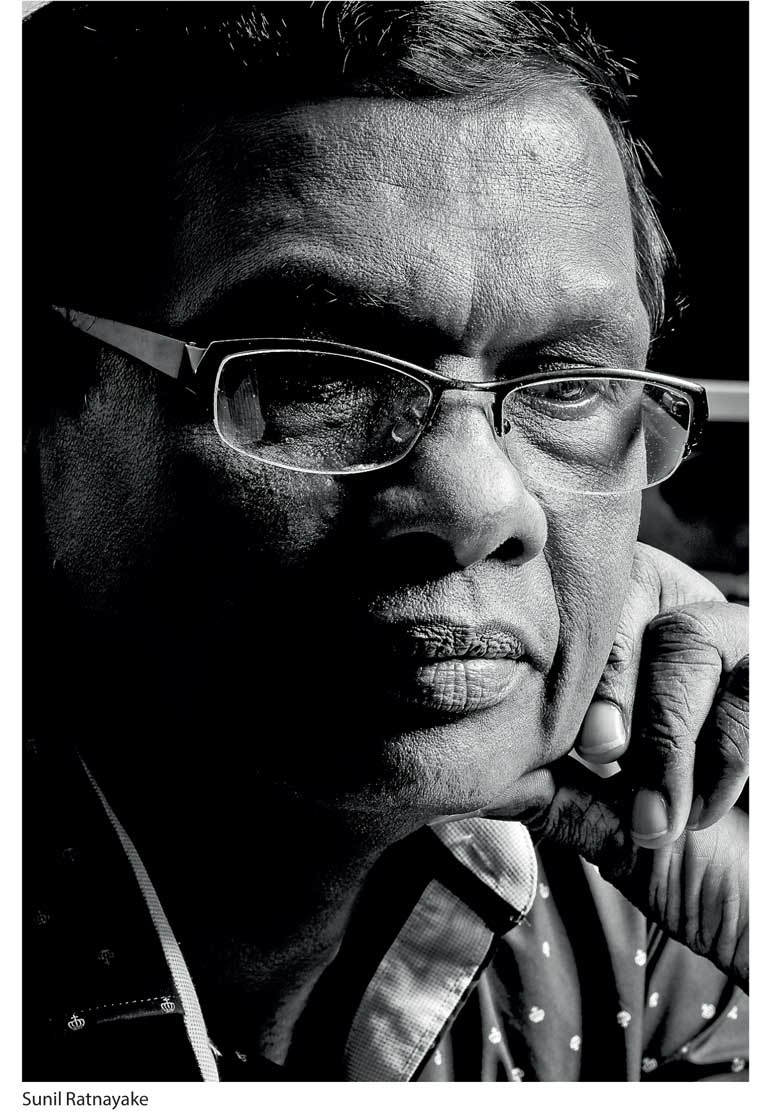 Country's oldest production house Teleview's Chairman and Managing Director Sunil Ratnayake recaps three decades of pioneering, entrepreneurial and artistic initiatives
Says film tourism can be
SL's next highest foreign exchange earner
Latest technology, creativity and marketing are ingredients for a successful film and tele-series industry
Most SL television viewers have a low taste for tele-dramas
Tele-drama producers need to be with the mega tele-series trend to retain in the industry
No Government support received so far
With highly-talented producers, SL cinema reaching international market is not a distant dream
Sri Lanka, which is known to be a natural film location, would soon be promoted as a destination for film tourism among international film producers, the Consultant of the Global Film and Television Production of the Ministry of Tourism and award winning tele-drama producer

Sunil Ratnayake said.

Ratnayake said that the present Government was keener than previous governments to promote the film and tele-series industry.

"I hope we can take this industry to the international market and also make

Sri Lanka a destination for international films like New Zealand which practices film tourism, to bring more foreign exchange," he said.

In a candid interview with the Daily FT, Ratnayake, who is the Chairman and the Managing Director of the country's oldest production house, Teleview, recalled his

30-year-long journey in the tele-drama industry, the achievements, the success of his business model and the future of the industry.

Following are excerpts

of the interview:
Q: Can you recall the beginning of your 30-year-long journey in the tele-series and film industry?
A: I entered the field with a Betamax recording system, which was a very primitive recording system in the 1980s. I had very humble beginnings which gave me strength and courage to go through all eras of cameras, starting from the VHS, low band, I band, supper high band, beta brand and presently the digital era. Since my young days, I was always curious to learn about the film industry. During those days we didn't have televisions and our friends working abroad would send pictures of themselves proudly standing in front of televisions to show us what was called a TV. I had a thrust for learning about the technology.

My brother, who was working in Saudi Arabia, had sent the Betamax recorder. As a television set is a luxury those days, I had joined four of my friends to purchase five black and white television sets imported from India. I shared the video cassettes with late Upali Wijewardena, who also had a television set and a video player. The former Chairman of the Board of Investment Upul Jayasuriya was practicing in Badulla and he was the link between myself and Wijewardena to exchange video cassettes. One day, I had noticed that the Betamax video recorder had a recording icon. I wanted get a video camera but didn't have money.

I worked at the Highways Department as a Civil Engineer and sought a job in Saudi Arabia to save money to get the camera although I didn't know how to do video recording. I worked with a company which constructed power plants under a five-year plan. I had a good training on videography as I had to shoot the terrain of the proposed power plants, views of the people in the vicinity and even the details about the hard materials like soil, rock pieces and sand available in the location. I had to do the presentation using the video clips. I worked for four months and 21 days to collect money, bought a camera and returned to Sri Lanka.

I was surprised that I could do wonders with that primitive video camera and I did my first video documentary called 'Badulu Siri' which gave the kick start to embark on my 30-year-long journey. The then Minister Vincent Dias had shown the video to the late Prime Minister R. Premadasa, who gave me the chance of becoming a provincial reporter of the Badulla District for Sri Lanka Rupavahini Corporation (SLRC). While doing reporting from Badulla, I learnt the ABCs of video technology from the SLRC and I must pay gratitude to the present Deputy Director General Technical Rohan Perera for giving me the opportunity.

Then, I got the a professional Sony three tube colour broadcasting camera for Rs. 1.3 million in 1983 and started the production house called Surasi but I changed it into Teleview in 1986.
Q: You owned the world's best and latest camera, the Arri Alexa Super XT. What is the purpose of making such an expensive investment while Teleview has other latest cameras?
A: I am very enthusiastic about technology and I have always brought the latest video cameras in the world. I purchased this camera system with the ultra-prime lens package and other necessary equipment for Rs. 100 million. Over 80% of the Hollywood productions use these German-made camera systems.

My main purpose is to get foreign exchange to Sri Lanka by making the country a destination for films. Renowned Hollywood filmmaker Steven Spielberg, who was here in Sri Lanka to shoot his Indiana Jones trilogy, 'The Temple of Doom,' has said "Sri Lanka is a natural film set".

Sri Lanka's beautiful natural locations were selected to film Academy awarded movies – 'The Bridge on the River Kwai,' 'Indiana Jones' and 'Water'. Therefore, we have to use this opportunity to make Sri Lanka a film destination to attract more world renowned film producers.

Recently, Sri Lanka has earned Sterling Pounds 3.2 million foreign exchange from the British TV series for Season 1 called 'Karma Hospital' as it was filmed here. They also created job opportunities for over 200 locals including technical staff in the film industry. Forty-eight top class British artists stayed in Galle for over six months and this has also created livelihood opportunities for villages.

Sri Lanka is being automatically promoted as a unique tourist destination when the international films, which are shot in Sri Lanka, get telecasted and launched theatre screenings.

Previously, they had to hire the high tech camera systems from neighbouring countries at higher costs if they are shooting films in Sri Lanka. But, I know that we can attract more international film producers as the Arri Alexa Super XT camera system with ultra-prime lens package and necessary other equipment are now available in Sri Lanka. Most of the films nominated for Oscars were shot using Arri Alexa camera systems.

I am happy that heavyweights in the local film industry have commended the availability of Arri Alexa camera system locally and they are positive that we also can produce world class movies using the latest camera technology.

We had a grand launch of the Arri Alexa camera and I was happy to hear when Hans Salzinger, the Global Director Sales of Arri Camera who was greatly impressed by the launch organised by me, saying that he wanted to hire me for their next camera launch in the Hollywood.
Q: Do you think that technology alone can make the film industry more attractive? What is about the creativity of the film producers?
A: Yes, I totally agree with this. It is three-fold. Latest technology, creativity and marketing are the main factors that blend together to create a successful film industry. Otherwise, it is difficult for a producer to retain and also make a name in the industry.

I believe that I am blessed with these three factors. It is the secret in me winning several prestigious awards – Entrepreneur of the year, Business Excellence and the Achiever of the Year by different Chambers of Commerce.

Since 1986, Teleview has produced the highest number of tele-series in Sri Lanka and has become the most award winning company in the country. It is a remarkable journey started with my first tele-drama – Randoratuwa, which won the most popular tele-drama award in 1987.

The best example for creativity is the historical tele-drama 'Dadubasnamanaya' produced in 1995. We won a total of 14 Sumathi Tele Awards and also won eight awards at the UNDA award ceremony in the same year.

I was selected to follow management courses in Hong Kong, Japan and Singapore. When I returned from Japan, I transformed Teleview into a business model incorporating Japanese management strategies. This made me to become the only producer in the entertainment industry to win both creative and business awards."
Q: Contrary to the tele-series, with high quality story lines, produced years back, presently the viewers are been bombarded with tele-series with poor story plots. How do you see this trend?
A: I agree that the quality of the stories has dropped significantly. Most of the tele-series are revolve around love stories and family issues. There are about 25 tele-series lined up for a day in all TV channels.

Those days, it took three or four days to produce one episode but now it takes just one day to shoot two episodes. On the other hand, the taste of the majority of the Sri Lankan television viewers has also dropped and they like to watch tele-series talk to their emotions.

But, nearly 30% of the viewers still want quality tele-dramas but the TV channels are unable to cater them as the production process is costly and time-consuming. Most of the reputed producers are also caught in this trend as they want to survive in the field.

Most importantly, we can't remain in the field if we deviate from the trends. Otherwise, we have to quit the field. This is a business and within this business I am trying my best do quality productions while being in the trend. If the trend is for mega tele-dramas, we will also compel to produce mega tele-series but they should be high end tele-series. Teleview always wants to maintain our reputation for producing quality tele-series – be it a normal tele-series or a mega series.
Q: Sri Lankan viewers are now influenced by Indian and Korean dubbed mega tele-dramas. Do you think that these tele dramas have affected the local industry?
A: Yes, definitely there is an impact. But the TV channels also need finances and they are struggling as they are not getting enough profits. They also lack finances to produce these mega tele-series. The cost is much less when you get a foreign tele-series and dubbed into Sinhala than producing similar tele-series. Even though, local tele-series industry has been badly affected, we have no options due to poor financial situation.

I don't totally reject these mega tele-series as they give the opportunity to our viewers to enjoy high quality mega tele-series like 'Ashoka,' which is historical and also produced on a massive financial budget. 'Oshin' is another quality mega tele- series, which became very popular among local viewers.
Q: Then Teleview has stepped into TV commercial production?
A: Yes, this is an area which creativity plays a major role. Our team proved it and bagged the SLIM Gold Award for the Most Outstanding Television Commercial in several times including, this year.

Teleview is the pioneer in introducing digital 3D animation technology to the industry and my team has created the country's first 3D animated TV advertisement – Vanik 'Road Roller'.
Q: What was the purpose of establishing the Teleview Technology Academy?
A: When I was doing my tele-dramas I found that the technical staff, whom I recruited from the film industry, were not professionals and sometimes it was difficult to work with them due to lack of decency. I also faced the issue of getting trained technical staff when those who were well-trained under me were hired by other TV stations. When this happened, I got really disturbed and wanted to find a solution as my trained staff had left Teleview and it had badly affected our production process. This was the main reason that I had started the academy. I recruited the best from the courses to my technical staff and the others were hired by the other TV stations.

However, today I am happy that most of the top posts in the technical side of all the TV stations are held by the students of this academy. They are very disciplined and creative technical officers. With the introduction of the 3D technology and also winning several prestigious awards by the Teleview, more students enrolled in the academy. This offers the young production enthusiasts an opportunity to train under reputed professionals in the industry.
Q: Can you spell out your future plans to improve the academy?
A: My main dream is to upgrade the academy into a university, which offers degree courses, post graduate diplomas and master degrees. We are planning to open the Teleview Technology University from next year. At the moment, we are collaborating with some of the reputed universities in the world to introduce these courses.

The academy is affiliated with the Institute of International Management in Hong Kong to offer diplomas. We are going to expand our academy to have islandwide centres and also have plans to set up another Teleview Village in Haputale. The other two Villages, which are permanent shooting locations provide latest filming facilities, are at Badulla and Maharagama.
Q: Can you tell about the tele-drama 'Bawathra,' which is the first local tele-drama that revolves around the story of an alien?
A: This is the very first science fiction which used 3D animation. The animated character named 'Eelu', an alien, became popular among local viewers. I believe that if Sri Lanka wants to become an industrialised nation, the first important step towards it, is upgrading the science and mathematical knowledge among our people. This allows people to think new and also out-of-the box. But unfortunately, this knowledge among Sri Lankans remains very low. The majority of our people don't know that there are other planets in space where there are more advanced people than us.

We also don't have a culture to read science fiction. This is why villagers believe in unseen devils and link the unusual happenings to reactions of gods or devils. Sometimes there are circles seen in the paddy fields and villages relate these marks to a reaction of a devil. When a bright light is seen travelling from one mountain to another, they say that they have seen a god. If they know about our Milky Way and the planets around us, they will know that it might be an alien who has landed on paddy fields or is flying over the mountains.

Countries like Japan have developed more because their people have a good scientific knowledge. I love to know more about space and other planets and wanted to give my knowledge to people through a tele-series but not through documentaries.

I tried to link these mysterious occurrences happened in Sri Lanka to tell a story about aliens. I selected the characters close to their hearts and made them re-think their own experiences in a different way. This is what I did with 'Bawathra' tele-drama and I knew that if I produced a documentary it would be a failure as it would not touch their hearts. In third world countries, documentaries based on science fictions are utter failures but I got the best ratings as I made this story closer to ordinary people's lives.
Q: You have a reputed production house and enough finances to do experiments. But do you think that an ordinary producer can embark on such a project with no support from the Government?
A: My answer is yes and no. Yes, because it needs a high technical knowledge, facilities for high-tech filming and a massive investment. I did 'Bawathra' as I can afford to do the production. Yes, they need someone's support but I am doubtful as to who will support such an expensive production.
Q: How do you comment the support you got from successive governments over the last 30 years?
A: Simply nothing. I can say that the present Government has an interest in upgrading the industry and to support us but no other Government has had an interest in this field. Being a Consultant of the Ministry of Tourism, I am doing an honorary service as I want to use my resources and experiences to upgrade the film and tele-series industry to capture the international market. On the other hand, we can't be begging and waiting for the Government to support us. If you have strength, creativity, professionalism and money, you need to kick-start your journey in this field.
Q: You are a guru in this industry; what is your advice to young producers and directors?
A: This is not a bed of roses. They have to make many sacrifices and need to have patience. Most importantly, be ready to learn more and be a professional in the industry. The sky is the limit if they are enthusiastic to embark on this journey.
Q: You said 'Bawathra' has been selected by an international publisher?
A: There are some requests from my friends and fans to make it an international science fiction as this is the first of its kind in Sri Lanka. We have approached Penguin Publishers in Australia and they have shortlisted 'Bawathra' to publish the book. It is a great achievement in my journey in television production.
Q: What is your next step in this three-decade-long journey in the production industry?
A: My next desire is to embark on a journey to take the production industry to the international level to tap the international market. Since we have the capabilities in creativity, technology and marketing skills combined with high quality film and tele-drama production skills, I think capturing international market will not be a distant dream.

I have fulfilled the long-standing requirement of getting world class technology by bringing down the Arri Alexa Super XT camera system with ultra-prime lens package and necessary other equipment. We have so many talented and creative professionals who can produce high quality stories that suit the international audience. I have several plans to start producing films and tele-series targeting the international market.

The Ministry of Tourism has appointed me as the Consultant of the Global Film and Television Production. Here, I am promoting Sir Lankan productions and facilitating the international producers to come to Sri Lanka for shooting. My target is to promote Sri Lanka as a destination for film tourism like New Zealand.

I have already written 'Bawathra 2' and also another tele-drama named 'Beyond the Sky' – a science fiction drama. We will start filming of both tele-series soon. I also plan to start documentary film making, cartoon film production and movie productions to reach the international market. Since I am already into 3D animation and documentaries, my third target is to have a joint venture with Japan and China, where we have to deal with top level local and international artists and technical crew.

I humbly enjoy the happiness of giving a lot back to my country and people during the last 30 years. But my last wish is to contribute more to the country where I was born and bred and also the industry in which I have spent more than half of my life. I also have a special wish to contribute more to the environment, which gives us life.