Reuters: US President Donald Trump said a "major, major conflict" with North Korea was possible over its nuclear and ballistic missile programs, while China said the situation on the Korean peninsula could escalate or slip out of control.

Trump, speaking to Reuters on Thursday, said he wanted to resolve the crisis peacefully, possibly through the use of new economic sanctions, although a military option was not off the table.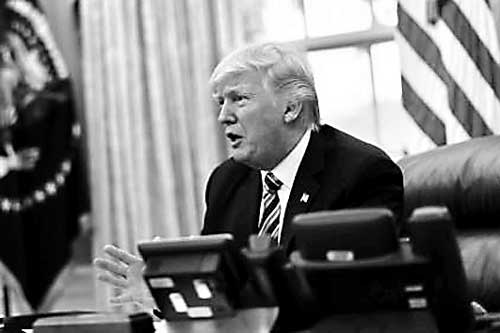 "There is a chance that we could end up having a major, major conflict with North Korea," Trump said in an interview at the Oval Office.

"We'd love to solve things diplomatically but it's very difficult," he said, describing North Korea as his biggest global challenge.

Chinese Foreign Minister Wang Yi said there was a danger that the situation on the Korean peninsula could escalate or slip out of control, his ministry said.

Wang made the comments in a meeting with a Russian diplomat on Thursday at the United Nations, the ministry said in a statement.

China, the only major ally of North Korea, has been increasingly uncomfortable in recent months about its neighbour's pursuit of nuclear weapons and long-range ballistic missiles in violation on U.N. resolutions.

The United States has called on China to do more to rein in Pyongyang and Trump lavished praise on Chinese President Xi Jinping for his efforts, calling him "a good man".

"I believe he is trying very hard. I know he would like to be able to do something. Perhaps it's possible that he can't. But I think he'd like to be able to do something," Trump said.

U.S. Secretary of State Rex Tillerson said on Thursday that China had asked North Korea not to conduct any more nuclear tests. Beijing had warned Pyongyang it would impose unilateral sanctions if it went ahead, he added.

"We were told by the Chinese that they informed the regime that if they did conduct further nuclear tests, China would be taking sanctions actions on their own," Tillerson said on Fox News, without specifying what sanctions he was referring to.