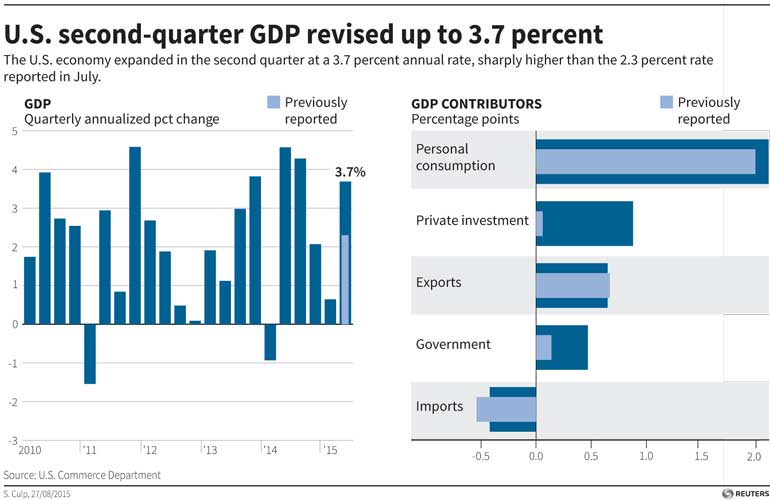 The US economy grew faster than initially thought in the second quarter on solid domestic demand, showing fairly strong momentum that could still allow the Federal Reserve to hike interest rates this year.

Gross domestic product expanded at a 3.7% annual pace instead of the 2.3% rate reported last month, the Commerce Department said on Thursday in its second GDP estimate for the April-June period.

The GDP report, which was released in the wake of a global stock market sell-off, should assure investors and cautious Fed officials that the United States is in good shape to weather the growing strains in the world economy.

"The US economy entered the current market turbulence with momentum, which will help it to shrug off the drag from China and other developing economies," said Diane Swonk, Chief Economist at Mesirow Financial in Chicago.

Concerns over slowing economic growth in China sent global equity markets into a tailspin last week, raising doubts that the US central bank would raise its short-term interest rate next month. Markets have since recouped some of the huge losses.

On Wednesday, New York Fed President William Dudley said that prospects of a September lift-off in the central bank's key lending rate "seems less compelling to me than it was a few weeks ago."

US stocks rose sharply on the GDP data, a day after posting their biggest one-day gain in four years. Prices for US government debt fell, while the dollar firmed against a basket of currencies.

"The Fed could certainly hold off until later this year, citing the recent market turmoil, but the economic fundamentals would also justify a small September rate increase," said Stuart Hoffman, chief economist at PNC Financial Services in Pittsburgh.

The upward revisions to second-quarter GDP growth also reflected the accumulation of $ 121.1 billion worth of inventories, $ 11.1 billion more than previously estimated. That meant inventories contributed 0.22 percentage point to GDP instead of subtracting 0.08 percentage point as reported last month.

While the huge inventory build will likely weigh on growth in the third quarter, the blow could be softened by rebounding business investment in capital goods.

Economists had expected that second-quarter GDP growth would be revised to a 3.2% rate. The economy grew at a 0.6% rate in the first quarter. Output expanded 2.2% in the first half of the year compared to growth of 1.9% during the same period in 2014.

Strong domestic demand

Underscoring the solid economic fundamentals, a measure of private domestic demand that excludes trade, inventories and government expenditures rose at a 3.3% rate in the second quarter, instead of the previously reported 2.5% pace.

Consumer spending, which accounts for more than two-thirds of US economic activity, grew at a 3.1% rate, rather than the 2.9% pace reported last month. Consumer spending got off to a brisk start in the third quarter, with retail sales rising solidly in July.

A strong labour market, cheaper gasoline and relatively higher house prices are boosting household wealth, helping to support consumer spending.

The employment picture was further brightened on Thursday by a separate report from the Labour Department showing initial claims for state unemployment benefits slipped 6,000 to a seasonally adjusted 271,000 for the week ended 22 August.

It was the 25th straight week that claims remained below the 300,000 threshold, which is usually associated with a strengthening labour market.

Economists also said they expected the recent stock market rout to have only a limited impact on the economy.

"As long as this is a garden-variety correction, the impact on the US economy should be modest," said Ryan Sweet, a senior economist at Moody's Analytics in West Chester Pennsylvania.

The Commerce Department said investment in non-residential structures was revised to show an increase rather than a contraction, reflecting stronger spending on commercial and healthcare construction.

Spending on residential construction which includes brokers' commissions was raised. More gains are likely this quarter after a third report on Thursday showed an increase in contracts to purchase previously owned homes in July.

In the second quarter, business spending on equipment was not as weak as initially thought.

The energy sector continued to weigh on growth as it struggles with the lingering effects of deep spending cuts by oil-field companies like Schlumberger and Halliburton in the aftermath of a more than 60% plunge in crude oil prices in the past year.

Spending on mining exploration, wells and shafts plunged at a 68.3% rate in the second quarter, the largest decline since the second quarter of 1986.

The trade deficit was smaller than previously reported, adding 0.23 percentage point to GDP growth.

The GDP report also showed a rebound in after-tax corporate profits, but a strong dollar and lower oil prices remain a constraint.