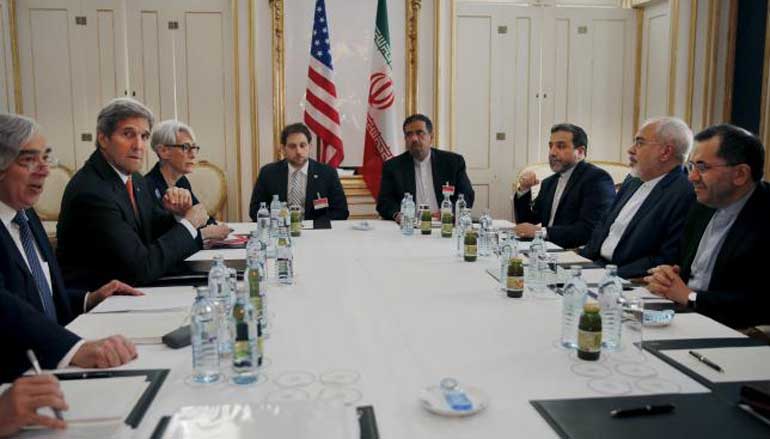 U.S. Secretary of Energy Ernest Moniz, U.S. Secretary of State John Kerry and U.S. Under Secretary for Political Affairs Wendy Sherman (L-3rd L) meet with Iranian Foreign Minister Mohammad Javad Zarif (2nd R) at a hotel in Vienna, Austria 28 June, 2015 - REUTERS
Reuters: Iran and world powers gave themselves an extra week to reach a nuclear accord, extending a deadline due to expire on
Tuesday, while US President Barack Obama said there would be no deal if all pathways to an Iranian nuclear weapon were not cut off.

With talks in the final stretch, Iran's president Hassan Rouhani also spoke out, saying his country would resume suspended atomic work if the West breaks its promises.

Iran and six world powers are working towards an accord that would see Tehran halt sensitive nuclear work for at least a decade in exchange for the lifting of economic sanctions, potentially the biggest breakthrough in decades of hostility between Washington and Tehran.

'Ultimately this is going to be up to the Iranians' to meet the requirements set out by the international community, Obama said during a news conference in Washington.

Obama's remarks were likely to be seen as a response to Iran's Supreme Leader Ayatollah Ali Khamenei, who last week seemed to place a hurdle in front of the talks by ruling out either a long freeze of sensitive nuclear work or opening military sites to inspectors.

President Rouhani, a pragmatist elected two years ago on promises to reduce Iran's international isolation, said on Tuesday Tehran would resume halted nuclear work immediately if the powers failed to keep their promises under any accord. "If we reach a deal, both sides should be committed to it," Rouhani said in Tehran, the state news agency IRNA reported. "If the other side breaches the deal, we will go back to the old path, stronger than what they can imagine."

Rouhani has been a strong supporter of negotiations but has less power in Iran than the more hardline Khamenei.

In a positive sign for the talks, Western diplomats said the International Atomic Energy Agency (IAEA) was expected to report next month that Iran had complied with a preliminary deal to reduce its low-enriched uranium stockpile.

An IAEA report in May said the stockpile had increased above the required level, but Tehran met a 30 June deadline to reduce it, the diplomats said on condition of anonymity.

Tuesday was the official deadline to reach a long-term deal that would build on the preliminary agreement. But with the prize tantalisingly close and the atmosphere seemingly positive, the week-long extension came as no great surprise.

US State Department spokeswoman Marie Harf said the sides had agreed to extend the preliminary agreement 'until July 7 to allow more time for negotiations to reach a long-term solution'.

A successful negotiation could help ease decades of hostility between Iran and the United States. But many US allies in the region, including Israel and Saudi Arabia, are sceptical, as are hardliners in both Washington and Tehran.

The powers negotiating with Iran are the five UN Security Council permanent members – Britain, China, France, Russia and the United States – plus Germany.