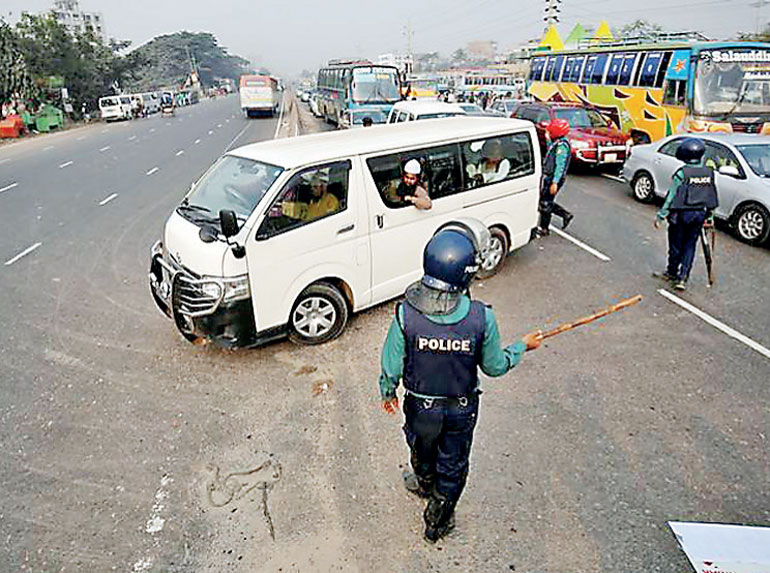 Bangladeshi police officers stop a vehicle carrying Muslim activists who were trying to join a long march towards Myanmar to protest against the deaths of Rohingya Muslims in the Rakhine state of Myanmar, in Dhaka, Bangladesh, December 18, 2016. REUTERS/File Photo
Reuters: The United States is "deeply troubled" by the findings of a United Nations report that said soldiers in Myanmar's Rakhine State had committed atrocities against minority Muslims, the State Department said on Monday.

Washington was still studying the report, but urged the Myanmar government "to take its findings seriously and redouble efforts to protect the local population," a spokeswoman for the department, Katina Adams, said.

"We are deeply troubled by the findings," Adams said, referring to the Feb. 3 report from the U.N.'s Office of the High Commissioner for Human Rights in Geneva. (Report: bit.ly/2kwtWGq)

The allegations should be investigated "in a thorough and credible manner," and those responsible for any violations held accountable, she said, adding that Washington was continuing to call on the government to restore fully humanitarian and media access to the area.

The U.N. report issued on Friday said Myanmar's security forces had committed mass killings and gang rapes of Rohingya Muslims and burnt their villages since October in a campaign that "very likely" amounted to crimes against humanity and possibly ethnic cleansing.

Myanmar has said it is conducting a lawful counterinsurgency campaign.

While denying observers and independent journalists access to the conflict area, officials have accused Rohingya residents and refugees of fabricating stories of killings, beatings, mass rape and arson in collaboration with insurgents who they say are Rohingya terrorists with links to Islamists overseas.

Former U.S. President Barack Obama made a priority of encouraging democratic change in Myanmar after decades of military rule.

The new administration of President Donald Trump has yet to outline its Myanmar policy, but has drawn fire for announcing a temporary ban on entry to the United States from seven Muslim-majority countries, citing the threat of terrorism.