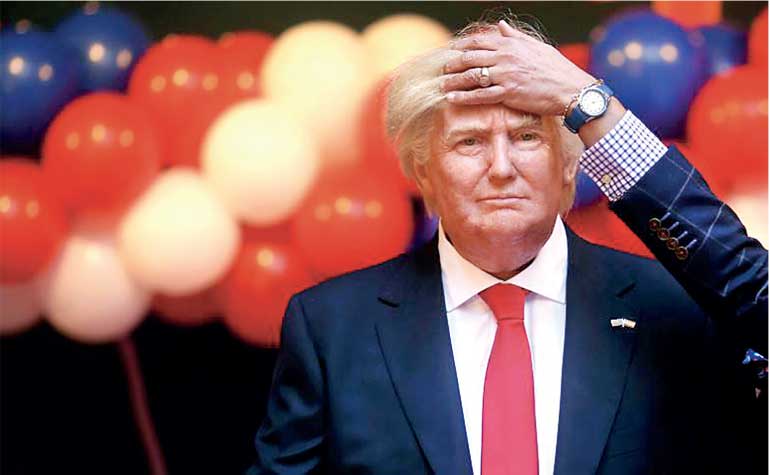 A museum worker fixes the hair of a life-sized wax statue of U.S. President-elect Donald Trump during an unveiling ceremony at Madrid's wax museum in Madrid, Spain, 17 January, 2017 - REUTERS
Reuters: The United Nations expects global economic growth to rise to 2.7% this year and 2.9% in 2018, up from 2.2% in 2016, and said Brexit and US President-elect Donald Trump's tax policies could have adverse effects.

In its annual economic forecast published on Tuesday, the UN said there was uncertainty created by Britain's vote to leave the European Union and predicted the British economy would slow to 1.1% in 2017 and 1.3% in 2018 from an estimated 2.0% in 2016.

If Trump's plans for tax reforms protected U.S. producers then this could pose a "huge threat to the multilateral system and the WTO," said Alfredo Calcagno, head of macroeconomic and development policies at the UN economic agency UNCTAD.

Cutting corporation taxes might also generate a US budget deficit in the short term, "and that could bring us towards a challenge for the global economy," he told a news conference in Geneva.

The UN report, based on data with a cut-off date of 11 November, just after the US presidential election, forecast US growth would rise to 1.9% in 2017 and 2.0% in 2018 from an estimated 1.5% in 2016.

China's economic growth was seen slowing slightly to 6.5% in 2017 and 2018 from 6.6% in 2016, while India's economic growth was expected to rise slightly to 7.7% in 2017, compared to 7.6% in 2016.

The UN global forecast is lower than one published on Monday by the International Monetary Fund, which forecast overall global growth at 3.4% for 2017 and 3.6% for 2018.

Calcagno said this difference was in part due to the IMF's use of purchasing power parity, which he said pushed up its estimates for developing countries, where growth tends to be higher.

The United Nations also estimated global foreign direct investment fell significantly in net terms in 2016, largely driven by China being a net generator of investment. It gave no figure for global FDI, but said direct investment into developing countries fell to an estimated $ 209 billion in 2016 from $ 431 billion in 2015.

FDI, largely consisting of corporate acquisitions and start-up projects abroad, is often seen as a precursor to trade and economic growth. Flows to developing countries trended upward from 2000 to 2011, but then dried up amid weak growth in emerging economies and low commodity prices.