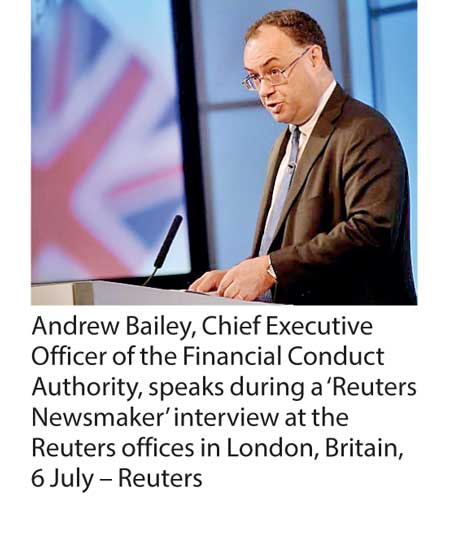 London (Reuters): Authorities should not dictate where financial firms are located once Britain leaves the European Union, Andrew Bailey, chief executive of the UK's Financial Conduct Authority told a Reuters Newsmaker event on Thursday.

Future financial sector relations between Britain and the EU should be based on regulatory cooperation "but not exact mirroring" of rules, Bailey also said.

"Firms should be able to take their own decisions on where they locate, subject to appropriate regulatory arrangements being in place which preserve the public interest," Bailey said. "Authorities should not dictate the location of firms."

Banks, insurers and asset managers based in Britain are drawing up contingency plans to shift some operations to the EU after Brexit in 2019 in case access to the single market is closed off.

But Bailey questioned whether restricting trade in this way is an inevitable or necessary response to Brexit.

"When I hear people say firms need to re-locate in order to continue to benefit from access to EU financial markets, I start to seriously wonder."

France and other EU countries want the clearing of euro denominated derivatives, which London dominates, moved to within the EU after Brexit.

But Bailey said that joint oversight with the EU of clearing houses in London is "something that is very clearly preferable to the cost and risk that is introduced by a location based policy."

Such joint oversight was already working well between the UK and United States regulators, he added.

He dismissed talk in the EU that given the sheer dominance of Britain's financial services sector, the largest in Europe, there should be specific rules for treating the UK, rather than the existing general regime for recognizing non-EU financial firms.

Non-EU financial firms in the United States, Singapore and elsewhere can currently offer their services if their home regulation is deemed by Brussels to be "equivalent" or as tough as the bloc's laws.

This regime should be applied to Britain in the same way.

"It would not be the best outcome to adopt a special treatment for the oversight of outsourced service provision arrangements involving the UK and EU when there are already arrangements in place which can form the basis of an equivalence arrangement," Bailey said.

Britain has worked hard over the years to build up relations with EU and national regulators across the bloc, he said.

"No good will come from a breakdown of these relationships since we are pursuing common public interests," Bailey said.