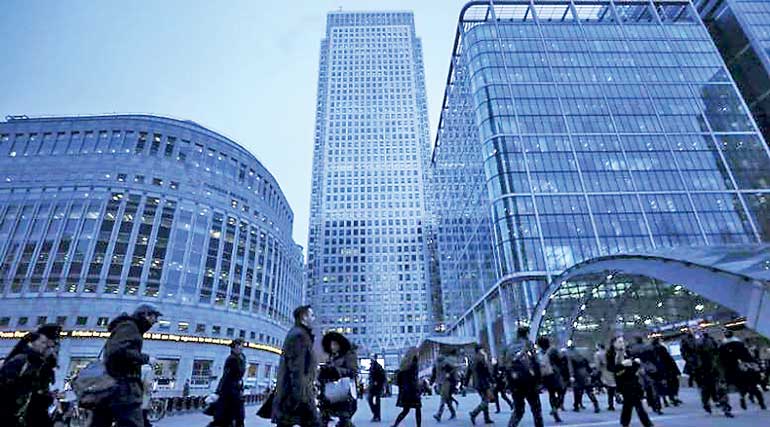 London (Reuters): Britain's economy accelerated at the end of 2016 but growth for the whole year was weaker than previously thought and there are signs of weakness ahead, data showed, suggesting the Brexit vote will start to take its toll in 2017.

The pound fell after the figures, which no longer showed Britain as the fastest-growing major advanced economy last year.

Gross domestic product rose by 0.7% in the fourth quarter compared with 0.6% in the previous three months, marking the strongest showing since the fourth quarter of 2015, the Office for National Statistics (ONS) said.

While the figures were boosted by a rebound in trade, business investment fell and slowing household spending growth raised questions about the outlook for 2017. The ONS trimmed its estimate for 2016 growth to 1.8% from 2.0%, reflecting weaker stock-building that led to a downward revision first quarter figures.

Germany's economy grew by 1.9% in 2016, data showed earlier this month.

Separate ONS data showed Britain's dominant services sector expanded in December at the slowest pace in seven months.

Angus Armstrong, director of macroeconomics at Britain's National Institute of Economic and Social Research, said the familiar pattern of consumers driving the economy was likely to fade.

"The UK economy needs another driver if it is not to have a significant slowdown in 2017," he said. "The pattern of strong consumer spending and weaker business investment can only be a limited one."

Brexit squeeze

The ONS said household spending increased 0.7% on the quarter, slowing from 0.9% in the third quarter and marking the weakest growth in a year.

The Bank of England has said it expects overall economic growth this year of 2.0%, much stronger than most economists polled by Reuters expect. But it also predicts a growing squeeze on consumers as inflation rises due to the pound's fall since June's vote to leave the European Union.

There are already signs this has started. Data last week showed retail sales fell in each of the three months to January and the BoE this month signalled that it is in no hurry to raise interest rates with so much Brexit-related uncertainty ahead.

Business investment fell 1.0% in the fourth quarter compared with the July-September period. Investment by companies was 0.9% lower compared with the fourth quarter of 2015.

Firms are expected to rein in their investment plans as Britain negotiates its departure from the EU, a process that Prime Minister Theresa May is due to kick off in coming weeks.