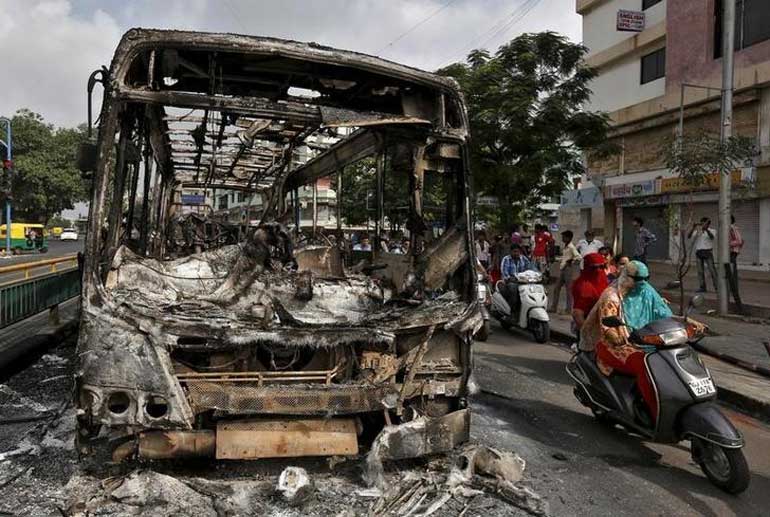 At least three people were killed in clashes between police and protesters in Gujarat on Wednesday after a huge rally by a powerful clan demanding more government jobs and college places.

Prime Minister Narendra Modi called for calm after a curfew was imposed and a unit of the army deployed in the state he ran for more than a decade before leading his nationalist Bharatiya Janata Party (BJP) to victory in last year's election.

"I appeal to the people of Gujarat to maintain peace. Violence will never achieve anything," Modi said in a statement broadcast on television.

At least half a million members of the Patidar, or Patel, community rallied on Tuesday in the city of Ahmedabad to demand changes to policies that, they argue, unfairly favour groups at the lower end of India's social order. Police officer Ramesh Chavda said three people across the state were shot dead by police. Four protesters were critically wounded in clashes, he said.

Clashes broke out after the arrest of the movement's leader, 21-year-old activist Hardik Patel, prompting police to fire tear gas and to baton-charge protesters. "They have burnt down nine police stations and over three dozen buses," P.C. Thakur, Gujarat's top police officer, told Reuters earlier. "We had to impose a curfew to control the clashes."

The Patels, a wealthy business community in India and overseas, have been a driving force in the economy, dominating the thriving diamond trade, oil processing and textiles.

But they say that caste-based reservations deprive them of opportunities. They insist the Government should put an end to affirmative action policies that favour Muslims, low-caste Hindus and Other Backward Classes - a collective term covering socially and educationally deprived groups.

"We are upper caste but we are victims of reservation," Hardik Patel said. "If the constitution of India guarantees equal rights to all, then why is the government failing to implement it?"

Caste-based reservations have always been a sensitive issue in India, used often as a tool for what is called vote-bank politics.

Modi said in a speech in May that India must overcome its caste-based divisions.

Caste politics are likely to play a role in a forthcoming election in Bihar, whose chief minister belongs to the Patel community and has sympathised with the Gujarat protesters.The BJP is targeting gains in Bihar, home to one in 12 Indians, to boost its representation in Rajya Sabha where it lacks the majority it needs to pass economic reforms.