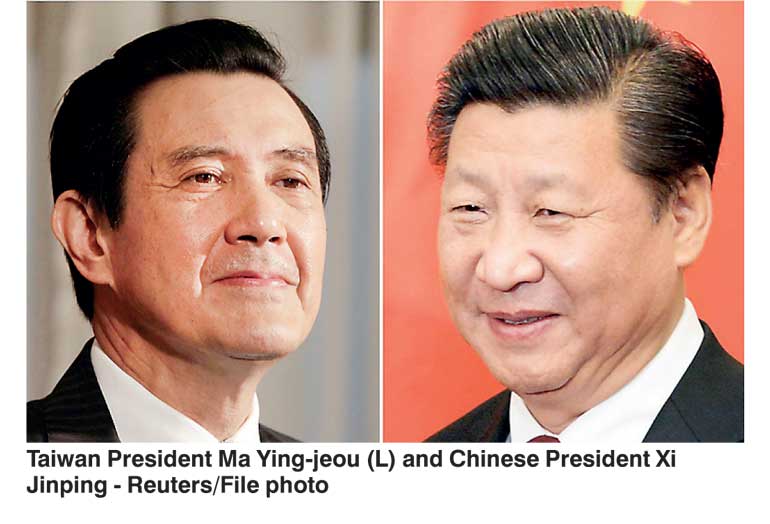 Reuters: Chinese President Xi Jinping will hold talks with his Taiwanese counterpart Ma Ying-jeou in Singapore on Saturday in the first such meeting of leaders from the two rivals since the Chinese civil war ended in 1949.

The unexpected but historic meeting carries risks for both presidents, political experts said.

It comes at a sensitive time in Taiwan, with presidential elections being held on Jan. 16 amid rising anti-China sentiment, particularly among younger Taiwanese who worry about Beijing's influence over the island and don't believe Taiwan benefits from closer economic ties with its giant neighbour.

Ma's office said in a statement the purpose of his trip was to "consolidate cross-strait peace and maintain the status quo". Ma would not sign any agreements, nor issue any joint statements with China, it added.

Zhang Zhijun, head of China's Taiwan Affairs Office, said the two leaders will "exchange views on promoting the peaceful development of cross-Taiwan Straits relations", according to a statement carried by the official Xinhua news agency.

He called it a milestone in relations that will help manage conflict and disputes and would gain "wide support from all walks of life across the Strait and the international community".

"This is a pragmatic arrangement made in accordance with the one-China principle under the situation where the political dispute across the Taiwan Strait has yet to be resolved," Zhang added.

Ma, who is set to step down next year due to term limits, has made improving economic links with China a key policy since he took office in 2008. He has signed a series of landmark business and tourism deals, though there has been no progress in resolving their political differences.

China deems the island a breakaway province to be taken back, by force if necessary, particularly if it makes moves toward independence. No peace treaty has ever been signed to formally end the civil war.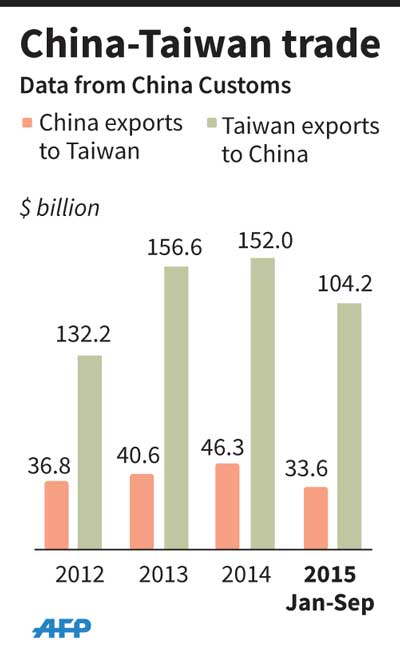 Taiwan opposition upset

Taiwan's main opposition Democratic Progressive Party (DPP), which traditionally favours independence, slammed what it said was a lack of transparency about the meeting.

Key parliamentary leaders had not been informed, DPP secretary-general Joseph Wu told Reuters by telephone.

"This kind of situation needs to be explained fully to the people and calm down the anxiety of the people in Taiwan that President Ma has not overpromised China anything that would hamper Taiwan's current status and its long term interests," Wu said.

The DPP's candidate Tsai Ing-wen is favourite to win the poll in January. Tsai has said she will "maintain the status quo" but has not elaborated on how she plans to do so.

Experts said China could be trying to influence the election, adding Ma was taking a risk in meeting Xi with the poll only 10 weeks away. The move could also backfire on Xi if there was widespread opposition in Taiwan to the meeting, they said.

China could be trying to show that ties will improve if Taiwan continues to be ruled by Ma's pro-China Nationalist Party, or Kuomintang (KMT), said Aaron Friedberg, professor at the Woodrow Wilson School at Princeton University.

"It's conceivable that they had something like that in mind. They may be rewarding President Ma for policies that he has pursued, that in general have tended to favour closer relations between Taiwan and the mainland," Friedberg said.

Bonnie Glaser, an Asia expert at the Center for Strategic and International Studies in Washington, said there had been a shift in public opinion in Taiwan towards more skepticism about the relationship with China.

"It's hard to see how this (meeting) is really going to help his party remain in power," Glaser said.


Protesters at Parliament

Small groups of protesters gathered outside Taiwan's parliament on Wednesday, where the cabinet would meet with leaders of parliament and the island's political parties to discuss the trip.

Ma will hold a news briefing on Thursday, the presidential office said.

White House spokesman Josh Earnest told reporters it was too early to call the meeting a turning point.

"We would certainly welcome steps that are taken on both sides of the Taiwan Strait to try to reduce tensions and improve cross-strait relations," Earnest said. "But, you know, we'll have to see what actually comes out of the meeting."

Chiang Kai-shek's Nationalists fled to Taiwan following their defeat by Mao Zedong's Communists at the end of the Chinese civil war. Since then Taiwan has been self-ruled.

Previous Chinese attempts to influence Taiwan's elections have backfired.

In 1996, then-Chinese President Jiang Zemin ordered live fire missile tests and war games in the seas around Taiwan to try and intimidate voters not to back Lee Teng-hui, who China believed was moving the island closer to formal independence.

The crisis brought the two sides to the verge of conflict and prompted the United States to sail a carrier task force through the Taiwan Strait in a warning to Beijing.

Lee won the election by a landslide.

In March this year, Ma flew to Singapore to pay his respects after the death of the city-state's first prime minister, Lee Kuan Yew, a diplomatically sensitive visit given China's stance that Taiwan is a renegade province.

Both China and Taiwan have good ties with Singapore.

In 1993, Singapore was the location of the first direct talks between China and Taiwan since 1949.
China urges US not to threaten its sovereignty
Reuters: Last week's US naval patrol in the South China Sea threatened China's sovereignty and security interests, and the US should not take any more dangerous actions that threaten China's sovereignty, Chinese Defence Minister Chang Wanquan said.

Chang made the comments to US Defence Secretary Ash Carter on Tuesday in Kuala Lumpur, China's Defence Ministry said in a statement released on Wednesday.