LONDON (Reuters): Global stocks, the euro and peripheral euro zone bonds all rose on Monday, lifted by a wave of optimism that Greece and its international creditors will strike a last-minute deal that will see Athens avert default.

Financial markets appeared willing to give the protagonists in the saga the benefit of the doubt. German stocks jumped 2.5% and the 10-year yield on Spanish and Italian bonds fell as much as 12 basis points.

In early European trading Germany's DAX was up almost 3% at 11,360 points, France's CAC 40 up 2.5% at 4,945 points and Britain's FTSE 100 up 1.4% at 6,802 points.

Greek stocks opened 6.5% higher, with Greek banks soaring 15%.

The broader EuroFirst300 index of the leading 300 European shares was up 2% at 1,560 points, with prices also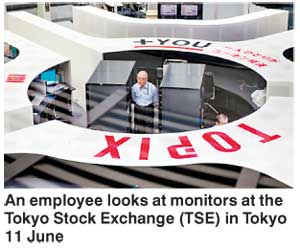 boosted by merger and acquisition activity.

In Asia, MSCI's broadest index of Asia-Pacific shares outside Japan rose 0.9%, its biggest rise in more than two months, while Japan's Nikkei stock index added 1.3%.

Chinese mainland markets were closed on Monday for a holiday, after posting their biggest weekly loss since 2008 last week.

US stock futures ESc1 pointed to a 0.8% rise at the open on Wall Street.
Sunny day?

In bond markets, Spanish and Italian 10-year yields were both down around 10 basis points at 2.19%, the lowest in 10 days.

The flip side of investors' renewed appetite for risk was a fall in safe-haven German bonds, which pushed the 10-year Bund yield up as much as 10 basis points to a 10-day high of 84 basis points.

Many investors were still cautious about Prime Minister Tsipras' proposals, however, because it was not immediately clear how far they yielded to creditors' demands for additional spending cuts and tax hikes, nor whether creditors can stomach the offer.

Athens is running out of cash to repay a 1.6 billion euro IMF loan due at the end of the month, unless it secures new financing from international creditors.

Bank of Greece Governor Yannis Stournaras met senior bankers on Friday and told them to brace for a "difficult day" on Tuesday if no deal is reached, two bankers at the meeting told Reuters. "The market is preparing for a relief rally regardless of good or bad news out of Greece," said Ipek Ozkardeskaya, market analyst at London Capital Group.

"Either way, the clouds of uncertainty should dissipate to provide more visibility across the market. Whether a thundery or a sunny day, investors need to know what to wear."

The euro rose as much as half of a percent earlier in the global session to trade above $1.14, before easing back to flat on the day at $1.1355. On Thursday last week, it hit a one-month high of $1.1440.

The dollar was up 0.3% against the yen at 123.00 yen but little changed on a trade-weighted basis. The dollar index was last trading at 94.1.

In commodities trading, copper futures CMCU3 rose about 0.3% to $5,677 a ton, moving away from last week's three-month low hit on worries about demand in top metals consumer China and uncertainty in the Greek debt talks.

Crude oil futures rose too. Brent crude was up 0.7% at $63.42 a barrel, while US crude futures was up almost 1% at $60.18.