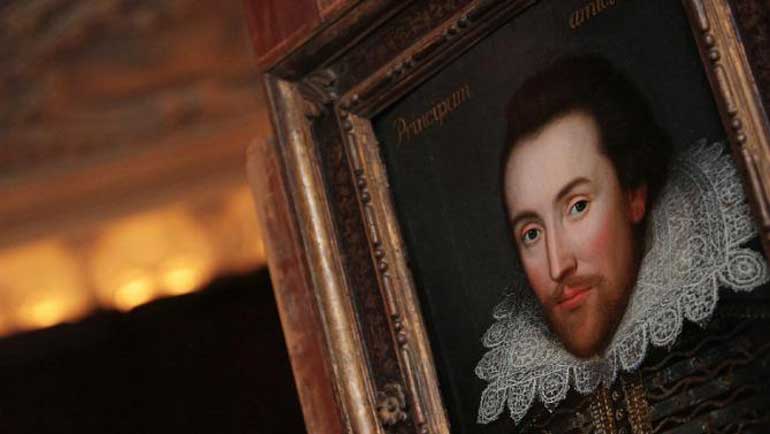 William Shakespeare is one of seven men represented on Britain's new passport which has sparked a row as only two women are depicted in the design (AFP Photo/Leon Neal)
AFP: A new British passport design provoked a sexism row when it was unveiled on Tuesday, drawing criticism for featuring seven men and just two women to represent the country's cultural heritage.

The complex design covering the passport pages is aimed to be harder to forge, and depicts mathematician Ada Lovelace and writer and architect Elisabeth Scott.

But the two women are far outnumbered by men, who included playwright William Shakespeare, mathematician Charles Babbage and artists John Constable, Antony Gormley and Anish Kapoor.

"Instead of being celebrated and remembered, great British women are being airbrushed out of history," said Sam Smethers, chief executive of gender equality campaigners the Fawcett Society.

"This is completely unacceptable."

The decision caused a storm of controversy on social media, and opposition lawmakers called on netizens to urge the interior ministry to include more women, such as writers Beatrix Potter, Jane Austen or Virginia Woolf.

"Half a millennium of national achievement is embodied by just two women," wrote journalist Nell Frizzell in an opinion column in British daily the Guardian.

"I would love to hand over a passport at customs that made me proud to be British; that from its very pages wove together the best of our men and women, reflecting and celebrating what my female forebears had achieved."

But the passport office defended the design.

"It wasn't something where we said: let's set out to only have two women... we tried to get a range of locations and things around the country," said Mark Thomson, director general of the passport office.

"We've got 16 pages, a very finite space. We like to feel we've got a good representative view celebrating some real icons of the UK."

The design of the passport, which changes every five years, is due to be phased in from December.

It includes enhanced holograms and security fibres, with Thomson calling it "the most secure passport we have ever produced".