Reuters: A Russian airliner that crashed in Egypt's Sinai Peninsula broke up in mid-air, an official of a Moscow-based aviation agency said on Sunday after visiting the disaster site, but stressed it was too early to draw conclusions from this.

Russian authorities also ordered Kogalymavia airline, operator of the Airbus A321 which came down on Saturday killing all 224 people on board, not to fly its jets of the same model until the causes of the crash are known.

The jet, which Kogalymavia flew under the brand name Metrojet, was carrying holidaymakers from the Red Sea resort of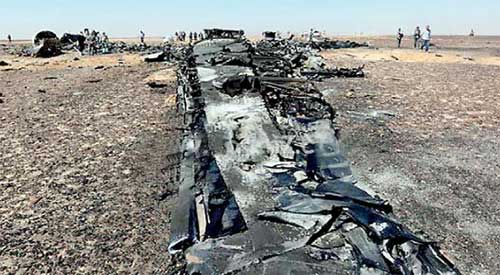 Sharm el-Sheikh to St Petersburg when it crashed into a mountainous area of central Sinai shortly after losing radar contact near cruising altitude.

"The destruction happened in the air, and fragments were scattered over a large area of around 20 square kilometres," said Viktor Sorochenko, director of the Intergovernmental Aviation Committee. However, he warned against reading anything into this information. "It's too early to talk about conclusions," he said on Russian television from Cairo.

The Moscow-based committee represents governments of the Commonwealth of Independent States, which groups Russia and other former Soviet republics.

Egyptian analysts began examining the contents of the two 'black box' recorders recovered from the airliner although the process, according to a civil aviation source, could take days. However, Russian Transport Minister Maxim Sokolov told Russia 24 television that this work had not yet started.