AFP: Israeli police said Sunday they had completed a probe into allegations Prime Minister Benjamin Netanyahu and his wife used public funds for their private villa, with the findings now passed on to prosecutors.

Police gave no indication of the results of their investigation, though Israeli media reported that they recommended charges against Sara Netanyahu.

The announcement comes days after the release of a separate official report into alleged overcharging and conflict of interest involving Netanyahu's past travel expenses.

Sara Netanyahu was questioned by fraud squad detectives last year as part of a 15-month investigation over claims the couple spent taxpayers' money on garden furniture and electrical repairs at their private villa in the exclusive coastal resort of Caesarea.

A police statement said Sunday that the inquiry began in February 2015 and examined "suspicion of commission of criminal acts including fraudulently obtaining a benefit, fraud and breach of trust."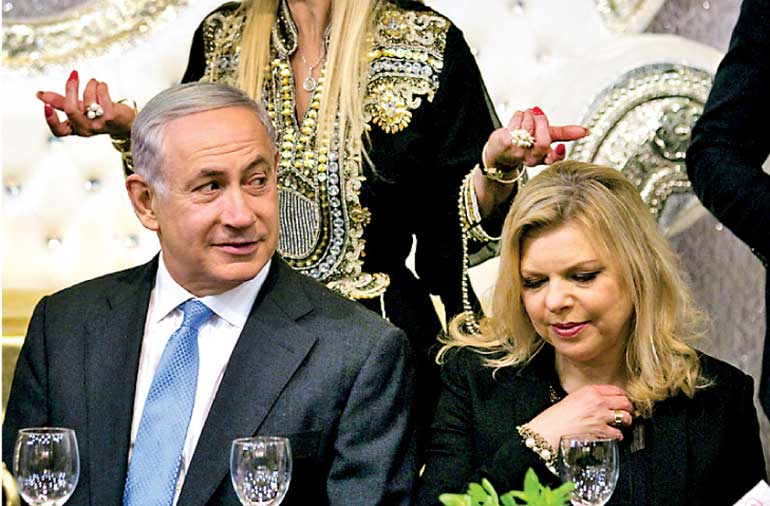 Israeli Prime Minister Benjamin Netanyahu with wife Sara - Reuters


"All of the alleged evidence... was passed to the Jerusalem district attorney, who has been following the investigation, for the purpose of studying the material and reaching a decision (whether to prosecute)," it said.

The statement did not comment further but Israeli media said the police recommended that the district attorney file charges against Sara Netanyahu and others, but not her husband.

Among the allegations is that Sara Netanyahu pocketed at least $1,000 from deposits on empty bottles returned from the official residence between 2009 and 2013, money that should have gone to the treasury.

In 2013, Netanyahu reimbursed the state $1,000 but the premier's former butler has said that the figure should have been six times higher.

The Netanyahus have dismissed the allegations as a smear campaign.

On Tuesday the Israeli state comptroller issued a report on Netanyahu's foreign trips, some with his wife and children, in 2003-05 when he was finance minister.

"Trips by Mr. Netanyahu and his family, funded by external bodies during the period in which he served as finance minister, deviated from regulations on the subject and as such could give the appearance of obtaining a benefit or of a conflict of interest," the report said.

It did not allege criminality but said some of its findings had been passed to the attorney general's office and could therefore not be publicised for the time being.