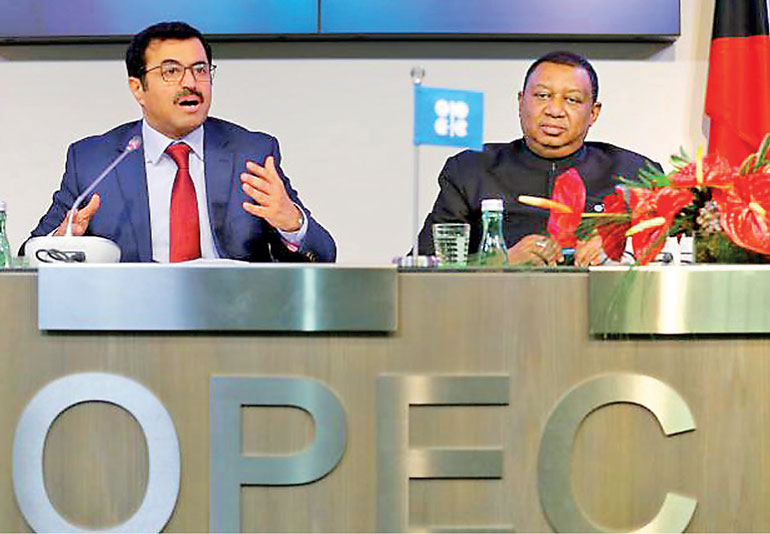 Reuters: OPEC agreed on Wednesday its first oil output cuts since 2008 after Saudi Arabia accepted "a big hit" on its production and dropped its demand on arch-rival Iran to slash output.

Non-OPEC Russia will also join output reductions for the first time in 15 years to help the Organization of the Petroleum Exporting Countries prop up oil prices.

Brent crude jumped over 9% to more than $50 a barrel as Riyadh reached a compromise with Iran and after fast-growing producer Iraq also agreed to curtail its booming output.

"OPEC has proved to the sceptics that it is not dead. The move will speed up market rebalancing and erosion of the global oil glut," said OPEC watcher Amrita Sen from consultancy Energy Aspects.

Iran and Russia are effectively fighting two proxy wars against Saudi Arabia, in Yemen and Syria, and many sceptics had said the countries would struggle to find a compromise amid frosty political relations.

Saudi Energy Minister Khalid al-Falih said ahead of the meeting that the kingdom was prepared to accept "a big hit" on production to get a deal done.

"I think it is a good day for the oil markets, it is a good day for the industry and ... it should be a good day for the global economy. I think it will be a boost to global economic growth," he told reporters after the decision.

OPEC produces a third of global oil, or around 33.6 million barrels per day, and under the Wednesday deal it would reduce output by around 1.2 million bpd from January 2017.

Saudi Arabia will take the lion's share of cuts by reducing output by almost 0.5 million bpd to 10.06 million bpd. Its Gulf OPEC allies - the United Arab Emirates, Kuwait and Qatar - would cut by a total 0.3 million bpd.

Iraq, which had insisted on higher output quotas to fund its fight against Islamic State militants, unexpectedly agreed to reduce production - by 0.2 million bpd.

Iran was allowed to boost production slightly from its October level - a major victory for Tehran, which has long argued it needs to regain market share lost under Western sanctions.

Clashes between Saudi Arabia and Iran dominated many previous OPEC meetings.

"If you get this deal done, it would be huge. You remove a lot of oil from the market and you get the Russian participation," said veteran OPEC watcher and founder of Pira consultancy Gary Ross.

He said oil could rise to $55 per barrel.

Falih had long insisted OPEC would do an output-limiting deal only if non-OPEC producers contributed.

OPEC president Qatar said non-OPEC producers had agreed to reduce output by a further 0.6 million bpd, of which Russia would contribute some 0.3 million.

Russia, which had long resisted cutting output, pushed its production to new record highs in recent months.

"Russia will gradually cut output in the first half of 2017 by up to 300,000 barrels per day, on a tight schedule as technical capabilities allow," Russian Energy Minister Alexander Novak told a briefing in Moscow.

Novak, who spoke an hour after OPEC announced its deal, did not say from which output levels Russia would cut.

A combined output reduction of 1.8 million bpd by OPEC and non-OPEC represents almost 2 percent of global output and would help the market clear a stocks overhang, which had sent prices crashing from levels as high as $115 a barrel seen in mid-2014.

Non-OPEC Azerbaijan and Kazakhstan have said they might also cut.

OPEC suspended Indonesia's membership on Wednesday since the country, a net importer, could not cut output, Qatar said.

The move will not affect OPEC's overall reduction as Indonesia's share of cuts will be redistributed among other members.

Bob McNally, president of Washington-based consultancy Rapidan group, said on Twitter that compliance with cuts would be key: "In deals with Russia, OPEC is like (the late U.S.) President (Ronald) Reagan used to say: 'Trust but verify'."

OPEC will hold talks with non-OPEC producers on Dec. 9. The organization will also have its next meeting on May 25 to monitor the deal and could extend it for six months, Qatar said.
Brent crude oil prices surge to nearly $52/bbl after OPEC agrees output cut
Reuters: Oil shot up over 10% after producer club OPEC and Russia cut a deal to reduce output to drain a global supply glut, but analysts warned prices could recede as other producers stand ready to fill the gap.

The Organization of the Petroleum Exporting Countries (OPEC) agreed on Wednesday its first oil output reduction since 2008 after de-facto leader Saudi Arabia accepted "a big hit" and dropped a demand that arch-rival Iran also slash output. The deal also included the group's first coordinated action with non-OPEC member Russia in 15 years.

"OPEC has agreed to an historic production cut," analysts at AB Bernstein said. "The cut of 1.2 million barrels per day (bpd) was at the upper end of expectations (0.7-1.2 million bpd). An additional cut of 0.6 million bpd from non-OPEC countries could significantly add to what has been announced by OPEC."

Following the announcements, the price for Brent crude futures, the international benchmark for oil prices, shot up over 10% from below $ 50 on Wednesday to $ 51.92 per barrel at 0256 GMT.

Yet as markets re-opened in Asia on Thursday, some doubts over the cut began to emerge.

"This is an agreement to cap production levels, not export levels," British bank Barclays said. "The outcome is consistent with... what OPEC production levels were expected to be in 2017 irrespective of the deal reached."

Meanwhile US bank Morgan Stanley said, "Investor scepticism remains on individual countries' follow-through (on the cut), which is keeping prices below year-to-date highs (of $ 53.73 per barrel in October) for now."