Oil prices fell on Monday as oversupply concerns, a firmer dollar and lacklustre US nonfarm payrolls data weighed on global markets, but a rebound in Chinese stocks after a two-day holiday helped prop up prices.

The long Labour Day holiday in the United States may also lead to thin trading until U.S. markets open in the next session.

"I think there is a bit of investor relief China's stock market opened relatively firm," said Ric Spooner, chief market analyst at Sydney's CMC Markets.

China's main indexes rose on Monday in the first trading after a two-day holiday during which further restrictions on futures trading were announced.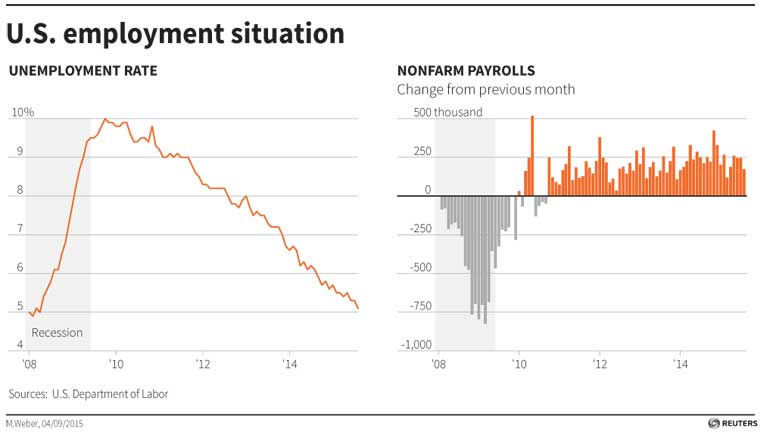 Oil prices have seesawed in recent weeks due to turmoil in global stock markets after a devaluation of its currency and weaker economic data raised concerns about a slowing Chinese economy.

A surprise build in US crude inventories and fears of a global oil glut, a stronger dollar and uncertainty on a possible interest rate hike when the US Federal Reserve policymakers meet next week all weighed on sentiment, Spooner said.

"There is a 30% probability attached (by investors) to a September (rate) increase," Spooner said.

Brent crude for October delivery fell 49 cents to $49.12 a barrel as of 0621 GMT, after ending the previous session down $1.07, or 2.1%. The European benchmark fell almost 1% last week.

US crude for October delivery, also known as West Texas Intermediate, was down 41 cents at $45.64, after settling 70 cents down, or 1.5%, in the previous session.

"US nonfarm payrolls turned out weaker than expected, causing oil prices to fall on anticipations of a weaker economy," Singapore's Phillip Futures said in a note on Monday.

US jobs data on Friday showed nonfarm payrolls increased 173,000 last month compared with economists' forecasts of a 220,000 gain.

A surprise gain in US crude stocks of 4.7 million barrels in the week to 28 August, the biggest one-week rise since April, added to worries of an oil glut.

That was despite the number of US oil rigs falling by 13 to 662 last week, according to Baker Hughes data, the first decline in rig counts in seven weeks.

"If we continue to see cuts in production it may be a constructive development" for oil prices, Spooner said.

A firmer US dollar also hurt oil prices by making the commodity more expensive for holders of other currencies.

Investors are now waiting for second-quarter Eurozone GDP growth figures on Tuesday to give oil further direction.
Dollar nurses losses after US jobs offer little clarity on Fed move
Reuters: The dollar nursed its losses on Monday, after dropping on mixed US employment data that failed to bring much clarity as to the timing of the US Federal Reserve's long-awaited interest rate hike.

Nonfarm payrolls rose a less-than-expected 173,000 last month, a slowdown from July's upwardly revised gain of 245,000 and the smallest rise in five months. But the unemployment rate dropped to a near 7-1/2-year low and wages accelerated.

"The problem is that these numbers are probably consistent with 2 to 2.5% GDP growth at best, good enough to begin the normalisation of US rates but not good enough to serve as a locomotive for the rest of the world," Steven Englander, global head of foreign exchange strategy at Citi, said in a note to clients.

The figures came against a backdrop of anxiety about falling global equities and China's slowing economy, which have led investors to pare back bets that the Fed would raise interest rates as early as at its meeting this month.

Trading activity was likely to be thinner than usual on Monday, with US markets closed for the Labor Day holiday.

The dollar added about 0.1% against the yen to 119.18, moving away from its session low of 118.60 on Friday, when it sank 1%.

The euro gained about 0.1% to $ 1.1149. The European common currency has benefited as investors unwound euro-funded carry trades, in which they borrowed euros to invest in high-yielding currencies.

Data from the Commodity Futures Trading Commission released on Friday and Reuters calculations showed that speculators further cut back bullish bets on the US dollar in the week ended 1 September for the second straight week, to their lowest level since July last year.

The dollar skidded to a seven-month low of 116.15 yen on 24 August, while the euro rose as high as $ 1.1715, as China-driven panic gripped markets around the world.