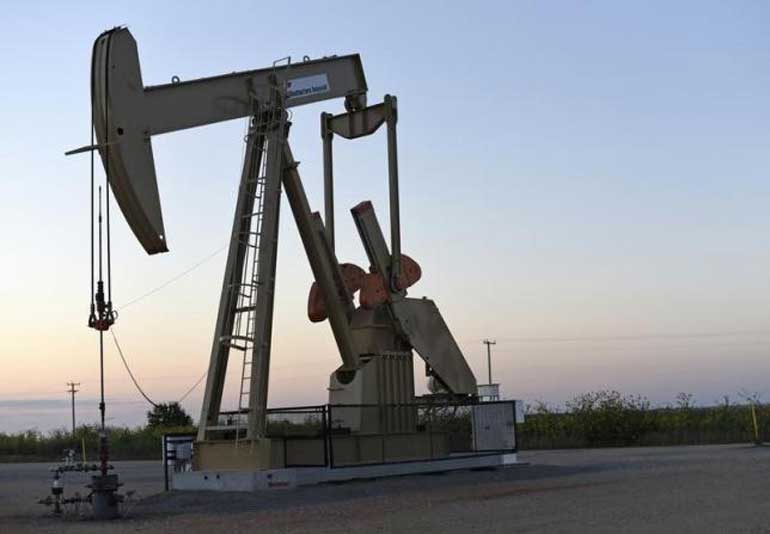 A pump jack operates at a well site leased by Devon Energy Production Company near Guthrie, Oklahoma 15 September
LONDON (Reuters): Oil prices edged higher on Wednesday after a report showed inventories fell at a key US delivery hub last week, but without further evidence of more aggressive output cuts, gains were expected to be temporary.

Investors are awaiting official inventory data due out later on Wednesday that is expected to show further stockpiling at a time when the world's largest oil exporters are pumping at record rates to retain market share.

Brent December crude futures were up 38 cents at $47.19 a barrel at 0905 GMT, having fallen to their lowest since mid-September on Tuesday and unwinding the rally that took the price to a peak of $54 earlier this month.

US crude for December delivery CLc1 rose 40 cents to $43.60 a barrel, up from Tuesday's nine-week low of $42.58.

"I'm bearish going into Q1 ... and what was quite telling is the last rally did not go further than $54 and it was just sold down," SEB analyst Bjarne Schieldrop said.

"The whole signal that OPEC members are undercutting each other is not sending a great signal to the market."

Iraq's southern oil exports have reached 3.10 million barrels so far this month, indicating continued high output from the larger members of the Organization of the Petroleum Exporting Countries.

The premium for crude for delivery in 12 months' time over that for December delivery, or contango, rose to its highest in six weeks, often a sign that investors expect supply to be far more plentiful in the near term.

On the physical market, the contango in the North Sea derivatives market, which underpins Brent futures, rose to its highest since early September this week, reflecting how excess barrels are weighing on near-term prices.