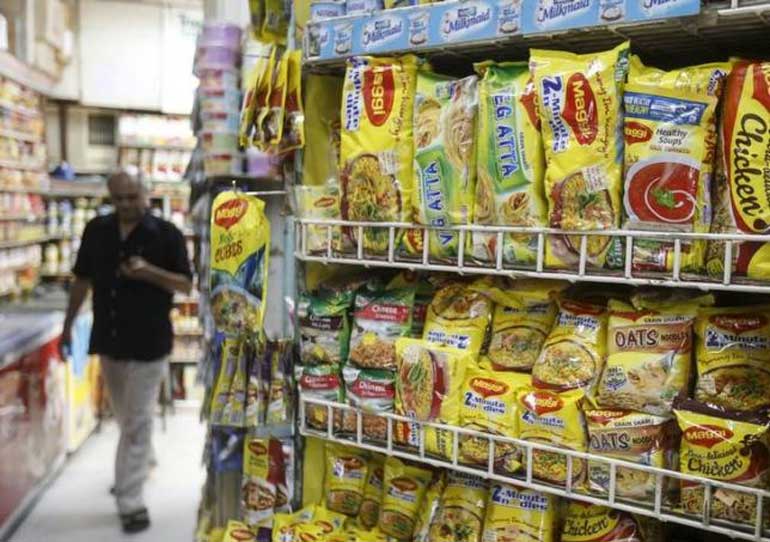 Packets of Nestle's Maggi instant noodles are seen on display at a grocery store in Mumbai, India – REUTERS
Reuters: Nestle SA's Maggi noodles comply with food safety standards, authorities in Goa said, in the first such ruling since the popular instant snack was pulled from stores after another state lab reported high lead content.

Nestle was drawn into its worst crisis in India when food safety inspectors in Uttar Pradesh found high lead content in some noodle samples. That resulted in a nationwide recall of Maggi noodles which authorities deemed 'unsafe and hazardous'.

The Swiss food and beverage maker challenged the findings in court, which last week asked for a retest of the samples.

On Wednesday, the Food and Drugs Administration of Goa said it had sent Maggi samples to a local government-approved laboratory for testing in June following the recall.

"This is a total report and the lab testing shows that Maggi samples are in compliance with the food safety standards as per the Food Safety and Standards Rules," Goa FDA director Salim Veljee said by phone. "Lead is below permissible limits."

Nestle India Ltd did not immediately respond to an emailed request for comment. Its shares were up 5.8% in morning trade versus a 0.8% rise in the broader market.

Nestle India reported a second-quarter loss last Wednesday after a plunge in sales following the recall.

"Nestle India is making all efforts and will continue to engage with authorities to bring Maggi Noodles back on the shelves," Managing Director Suresh Narayanan said last week.