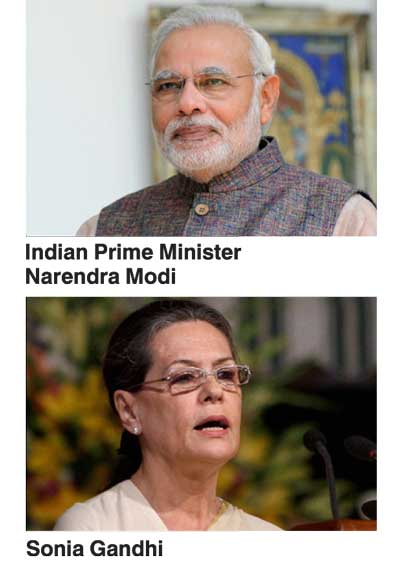 Reuters: Indian Prime Minister Narendra Modi hosted opposition Congress party leader Sonia Gandhi for talks on Friday to try and break a deadlock over launching a new indirect tax, in a bid to put his economic recovery agenda back on track.

The face-to-face meeting between the rivals was the first since Modi rose to power 18 months ago, and could herald a long-awaited compromise on the proposed goods and services tax (GST), billed as the biggest tax reform since independence.

While there was no immediate breakthrough after the 30-minute meeting, Finance Minister Arun Jaitley told reporters that the Congress party has raised its concerns, and both parties were expected to meet again soon.

Gandhi and former Prime Minister Manmohan Singh left Modi's official residence by car without talking to reporters.

Modi, 65, has raised India's global profile with a series of trips abroad but suffered his biggest setback as Prime Minister when his nationalist party crashed to defeat in a big state election this month.

That loss, aides and analysts said earlier, means Modi will have to show more willingness to compromise on the GST after Congress – which first proposed the tax when it was in government – set a series of non-negotiable demands.

"The government is under tremendous pressure to get GST cleared," said Rakesh Sinha, director of the India Policy Foundation, a think tank with close ties to the government.

"Modi's engagement with the opposition is only way to prove that every effort is being made to accelerate the pace of economic growth. He is willing to discuss, debate and negotiate now."

Financial markets ticked higher on Friday as TV channels flashed news that Modi had for the first time reached out to Gandhi. Her son and heir-apparent Rahul, the target of a series of public attacks by the BJP, did not attend the talks.

Analysts cautioned that while the outlines of a compromise on GST were taking shape, there was no guarantee that a bargain would be struck.

"Clearly it is not given that today's talks will be a blanket 'yes' or 'no' to what the government wants," said Ashish Vaidya, head of trading and asset liability management at DBS India. The GST would create a common market in Asia's third-largest economy and, the government estimates, add 2 percentage points to economic output.

Yet horse trading has threatened to wreck efforts to simplify taxes: BJP-ruled states have called for an extra state levy and a GST rate of over 20%, raising concerns of yet more red tape and tax evasion.

Congress wants to cap the GST at below 20%, scrap the state levy and create an independent mechanism to resolve disputes on revenue sharing between states.