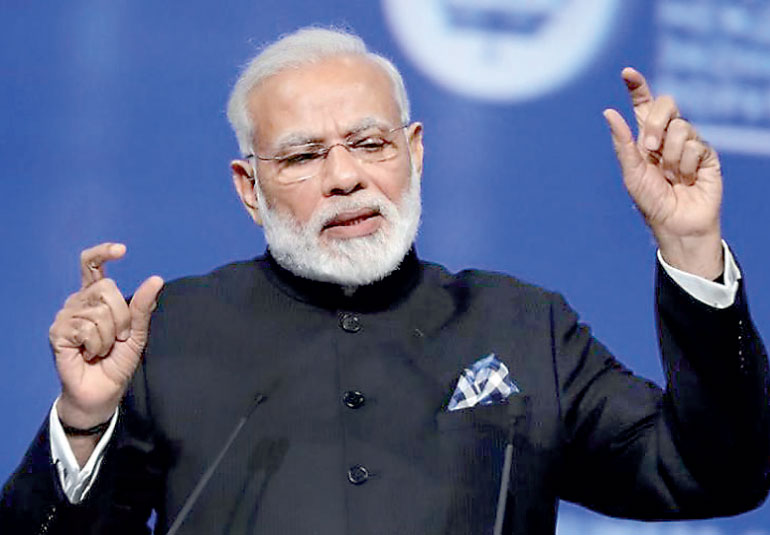 Indian Prime Minister Narendra Modi gestures during a session of the St. Petersburg International Economic Forum (SPIEF), Russia, 2 June, 2017 - REUTERS
Reuters: Prime Minister Narendra Modi will hold talks with U.S. President Donald Trump in Washington on June 26, the Indian foreign ministry and the White House said on Monday, the first meeting between the leaders.
Ties between the two big democracies grew rapidly under the administration of former President Barack Obama which saw India as a partner to balance China's growing weight in Asia.
But Trump has focused on building ties with China, seeing it as key to tackling regional problems such as North Korea's nuclear programme.
The Indian ministry said Modi's talks with Trump would lay the ground for a further expansion in ties, allaying some of the anxiety that had crept in about a drift in relations.
"Their discussions will provide a new direction for deeper bilateral engagement on issues of mutual interest and consolidation of multidimensional strategic partnership between India and the U.S.," the ministry said in a statement. In Washington, White House spokesman Sean Spicer said the two leaders will discuss topics including economic growth, the fight against terrorism, expanding defence cooperation and growing U.S.-India trade. "You can expect the two of them to set forth a vision that will expand the U.S.-India partnership in an ambitious and worthy way," Spicer said. The United States has emerged as a top arms supplier to India and the two sides will be looking to move forward with deals such as unarmed drones that India wants for its navy, sources said. One issue that the two leaders face is resolving conflict arising out of the push they are both making at home to boost industry and create jobs.
Modi has been driving a make-in-India campaign to press foreign arms suppliers to set up factories in India and transfer technology instead of selling off-the-shelf, which has made India one of the world's biggest arms importers without any domestic production base. Trump, on the other hand, has railed against firms moving factories outside the United States and has demanded U.S. companies invest at home as part of his "America First" campaign.
Trump's review of a visa programme under which thousands of skilled Indian workers go to the United States is also a top concern for India.