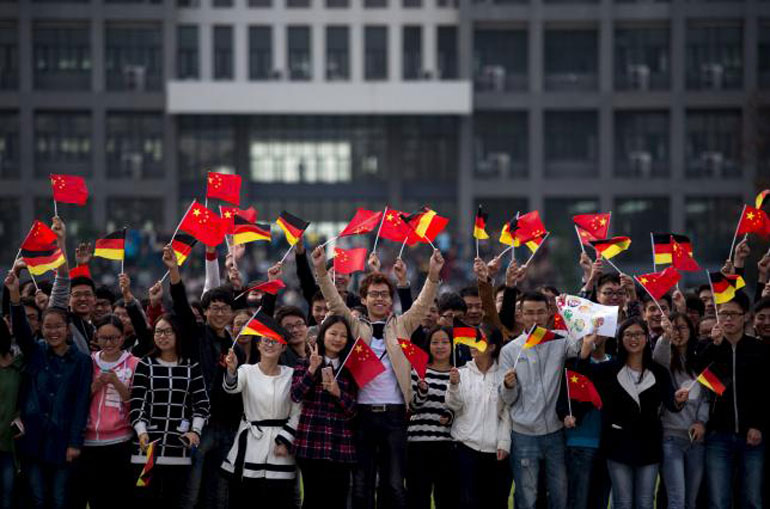 Students with flags await the arrival of German Chancellor Angela Merkel at the German University in Hefei 30 October
HEFEI, CHINA (Reuters): German Chancellor Angela Merkel said Germany, in principle, favoured granting China "market economy status" - a shift that would make it harder for the EU to protect local industry from Chinese competition - but said Beijing still had work to do.

The European Union and other World Trade Organization (WTO) members need to decide whether to grant China "market economy status" (MES) at the end of 2016.

The WTO recognized when Communist China joined the body in 2001 that local prices were not set by market forces, but expected that 15 years later Beijing would play less of a role in directing the economy.

During her two-day visit to China, Merkel said on Friday that China still had to some work to do before it could be granted MES and the status would also be subject to checks by the European Commission.

"Germany supports, in general, China's claim to get the market economy status. At the same time China has to do some homework, for example in the area of public procurement," Merkel said while visiting the eastern Chinese city of Hefei.

"But we want to advance the process – as we want to do that with the EU-China investment agreement," she added.

At a German-Sino business congress in Hefei, Merkel called for better protection of the steel and solar industries against unfair international competition, a complaint some manufacturers make against China.

Merkel said the steel sector needed "a certain amount of market protection" as steelmakers have pointed out that environmental regulations differ from country to country, impacting cost advantages.

"I also hope that we can extend the rules already in place in the solar sector," she added.

China makes nearly half the world's 1.6 billion tonnes of steel and experts estimate its mills have about 300 million tonnes worth of excess steelmaking capacity.

Chinese Premier Li Keqiang, speaking during an appearance with Merkel in Hefei, said Germany and China wanted to come to an agreement by 2016 to stop computer-based industrial espionage.

Merkel had already said on Thursday that Germany wanted both sides to agree to abstain from industrial espionage.